Host your online live event
Whether you are a music venue, artist or publisher in need of an interactive stream with high quality, or a company that wants to stream an event, training or internal communication: with our Live Streaming Platform you can easily set up a secure live event for your audience.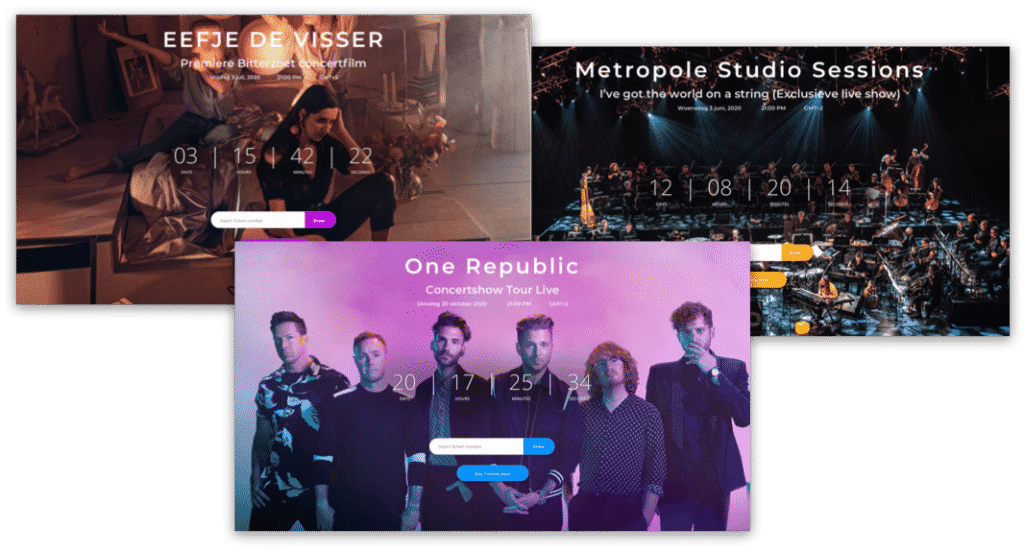 Streaming events live is more relevant than ever
The hunger for live entertainment remains high, even now. Artists are eager to perform. Events can still take place and tickets can be sold via a live stream. Streaming 'staged events' to the living room is becoming a new standard, now but also later. VIXY has developed a platform that makes it easy to offer your events via a live stream.
Your event online in five steps
1. Your own online stage
The more viewers the better, which is why it is also important to announce each event on all your social channels. We create a unique landing page with an SEO-friendly URL where viewers can access your livestream with a unique code. The streaming page in the look & feel of the event. To put the ticket buyers in the mood, we show a countdown timer and a button to where the tickets can be bought.
Own branding: customizable on artwork, header, logo
Secure environment: one simultaneous viewing session per code
Support for both live and on demand content
Ultra-fast video playback via worldwide CDN
Adaptive bitrate technology: automatically the highest possible video stream quality (1080p)
Optional: place for extra widgets or sponsorship banners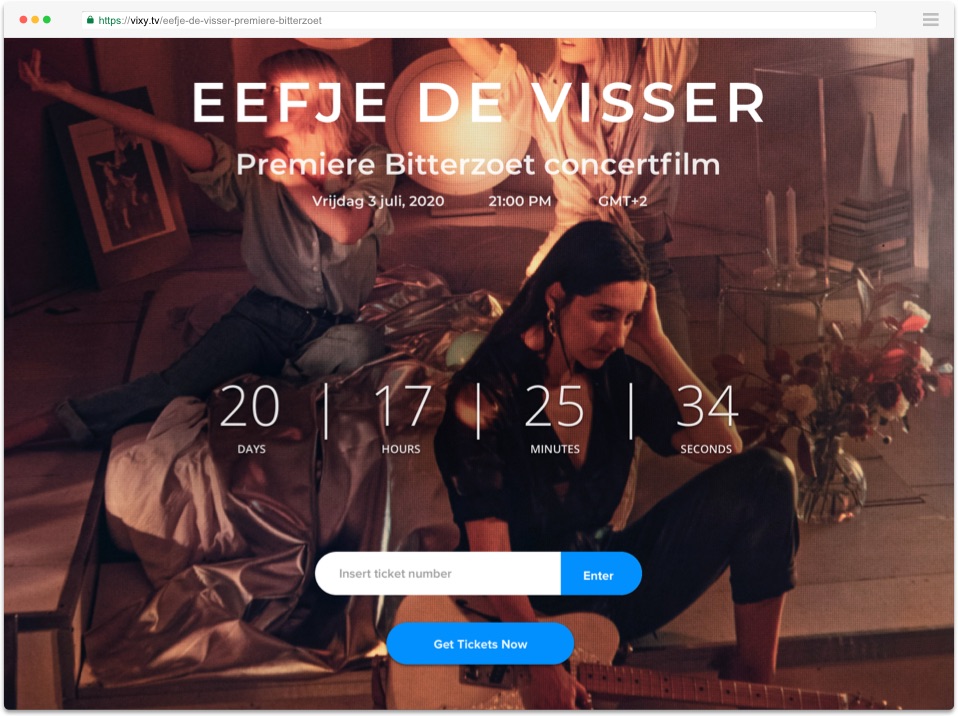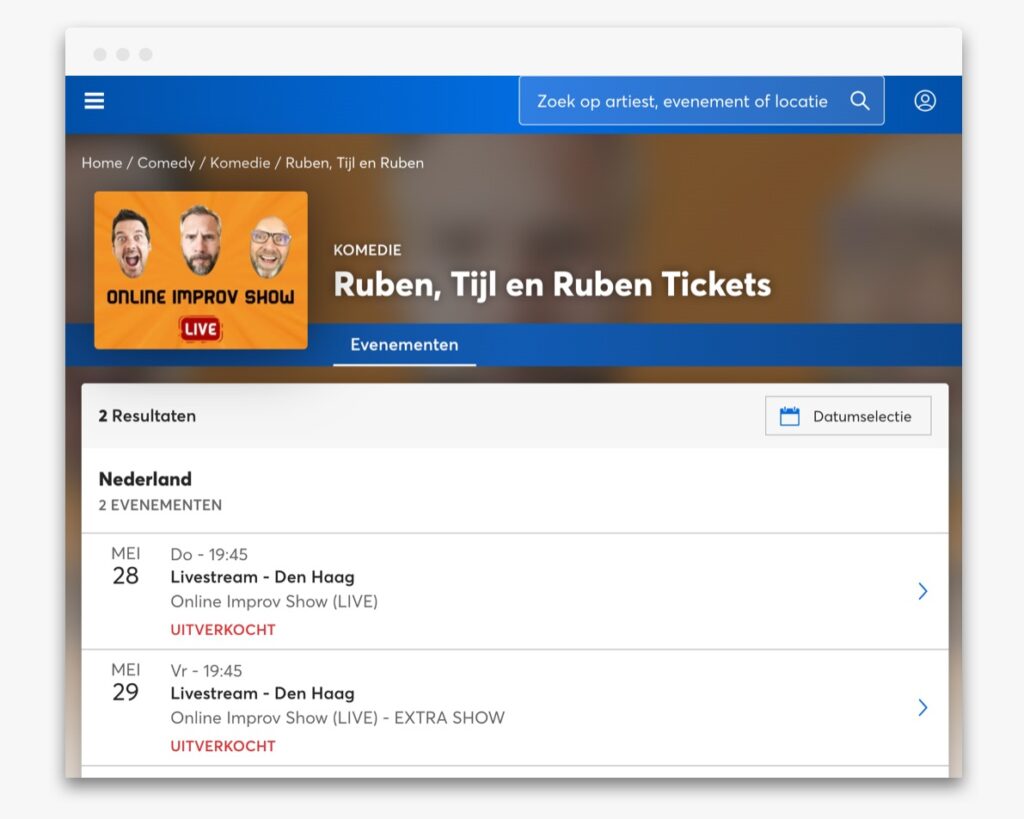 2. Extra income through your own or our ticketing partner
You can work with one of our ticketing partners such as  Ticketmaster or Eventix for a complete solution and unburdening, or we link our streaming solution to a ticketing partner of your choice.
Sale of unique tickets / codes
Selling sponsorship / advertising via artwork on the registration and streaming page
Promotional: selling access to exclusive content
Support for ticket sales of physical events
Donations (via Ticketmaster or PayPal)
3. Sell tickets & confirmation email
Selling tickets for a live streaming event works just like fans are used to. Via the event page, a fan chooses how many tickets he or she wants to buy, and then enters the regular ordering process. It is important that your ticket partner can generate unique codes per ticket. We then import the list of codes into our back-end.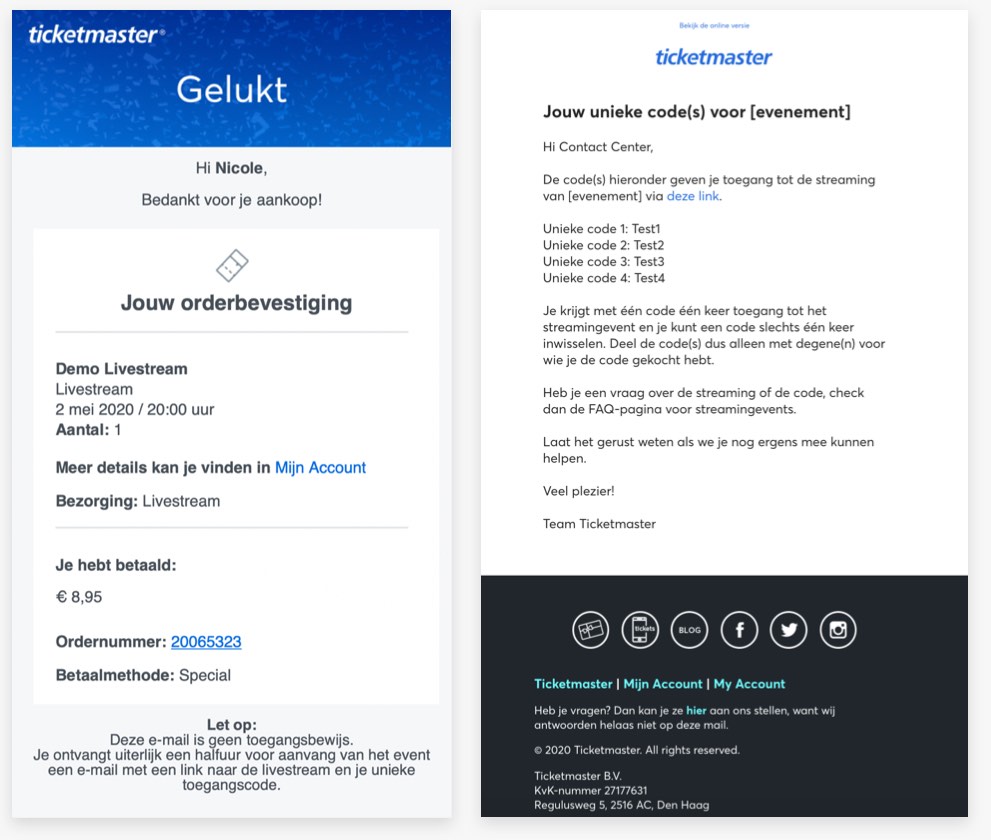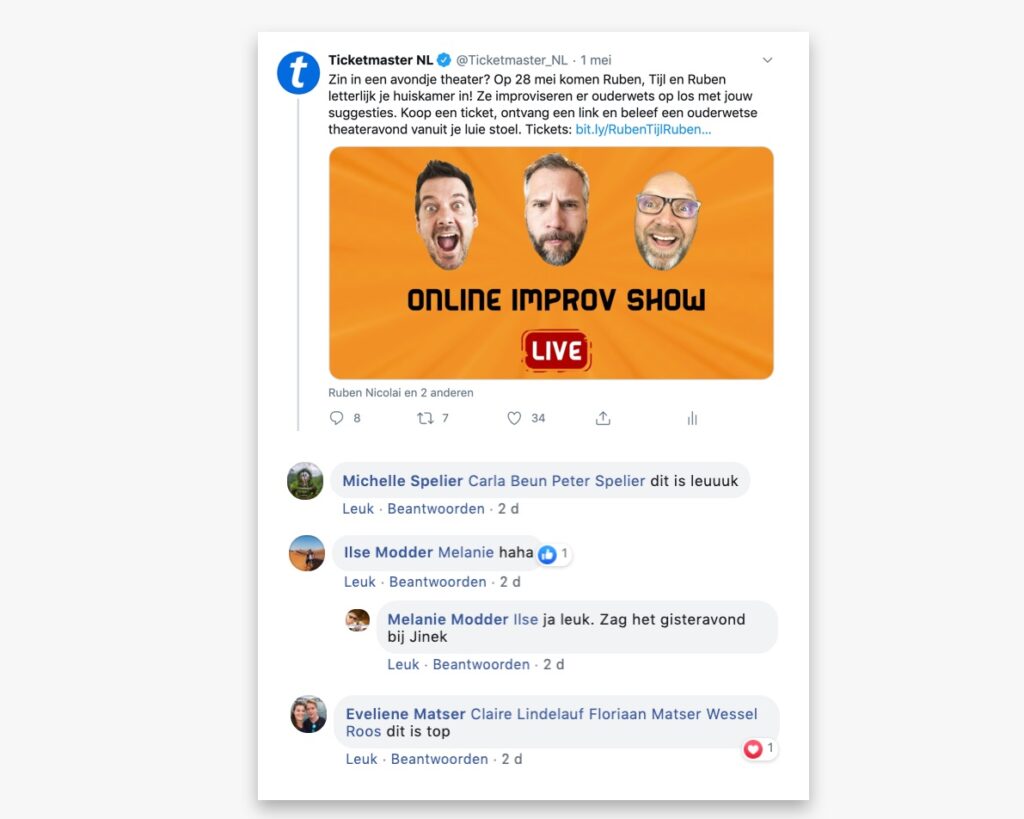 4. Promote your event, increase your reach
The more the merrier! So promote your event to get the most out of it. Make use of social media, newsletters, any means that you have available to attract as many viewers as possible. In addition to your own promotional channels, we can bring your event to the attention of thousands of fans in collaboration with Ticketmaster.
5. Your live streaming event goes live!
Via the link from the mail, your fans will go directly to the landing page. They enter the unique code and see the video player. For questions your viewers can check the FAQ. The stream can be viewed on a laptop, tablet or phone and can be cast to your TV via Chromecast or Apple TV. The show can begin!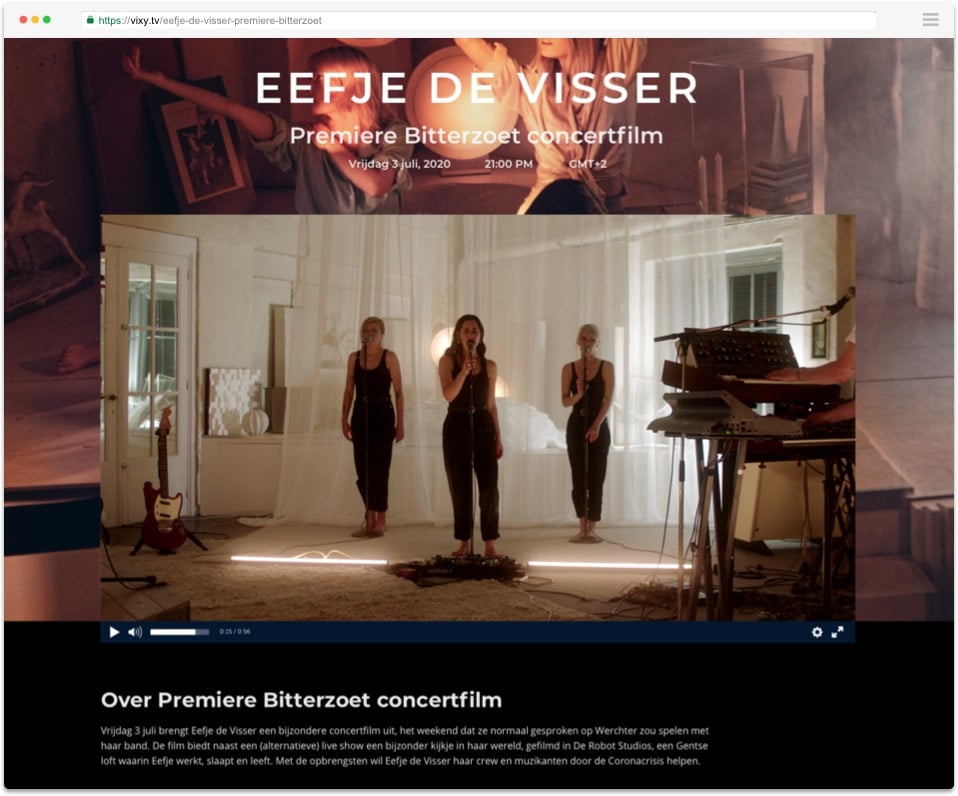 Organize your own live streaming event!
We charge an all-in service fee of € 0.75 per ticket (the more tickets you want to commit to, the lower the fee). This price includes the setup & branding of the eventpage, testing the live stream, encoding & streaming and project management.
We have a partnership with Ticketmaster and Eventix.io for complete unburdening. In addition to ticket sales, they also take care of promoting the event and providing support during of the event.
What do you have to arrange yourself?
It is important that the location has a fast and stable internet connection. You will receive an RTMP URL from which you can stream, no encoding of the stream on location is required, this is done in the cloud.
Camera registration and production
From multi-camera registration to virtual studios and cloud production. We are happy to talk you through the process or, if desired, put you in touch with one of our production partners.