Organize a webcast?
Webcasts improve your online presence. With a webcast you can transfer your expertise and promote your products and services worldwide.

How to organize a webcast?
The live webcast is recorded and can be broadcast via the internet, social media and intranet. Viewers can then view the stream in combination with, for instance, the PowerPoint presentation on their own PC, laptop or mobile device.
We are specialists in connecting worldwide locations live. As a result, you are able to give fellow speakers on the other side of the world a place at your event. You can offer your total program to online participants by means of live streaming via online platforms such as the desired website, social media and the intranet.
Interact with the audience and transform passive viewers into active participants. By engaging in interaction, you increase engagement and get more out of your webcast. Participants can optionally ask questions to the presenters via the Q&A module. In addition, encourage the viewer to take action during the webcast with calls to action.
1. Camera setup
A live recording is made with the help of one or more cameras, a central control set and a stable internet connection.
2. No need for extra software
Our webcast solution is completely web based: there is no need for extra software or an app to initiate the webinar or to follow it.
3. Invitation email and landing page
From an email outreach, the landing page is the place where people will be directed. Create a landing page that converts in registrations.
4. Interactivity with polls and chats
Invite participants by email and let them ask questions via a public or private chat. Use polls for user feedback.
5. Realtime overview participants
During the webcast our analytics will give you a realtime insight in your participants.
6. CRM integration & Follow up
Present end pages with a call to action to convert participants, integrate e.g. Leadpages or Mailchimp for follow up.
The webcast process
A live recording is made with the help of one or more cameras. From the central control set, instarts of graphic elements and pre-recorded items can be displayed. Short lines, clear communication and continuity ensures that you can concentrate on the content of your event.
Our webcasting team takes care of the entire technical production chain, from recording to making live events available on-demand. This can be done per event, but can also be integrated within your company so that these tools are available for everyone within the organization.
We take care of the project management side of things. Such as decor, light & rigging, registration and projection technology. As part of the NEP Group, we have a worldwide network of experts who can offer you support anywhere in the world. With our designers, operators and technicians we have all the expertise in-house.
We can also host, post-process your registered content and ensure that it is made available on demand.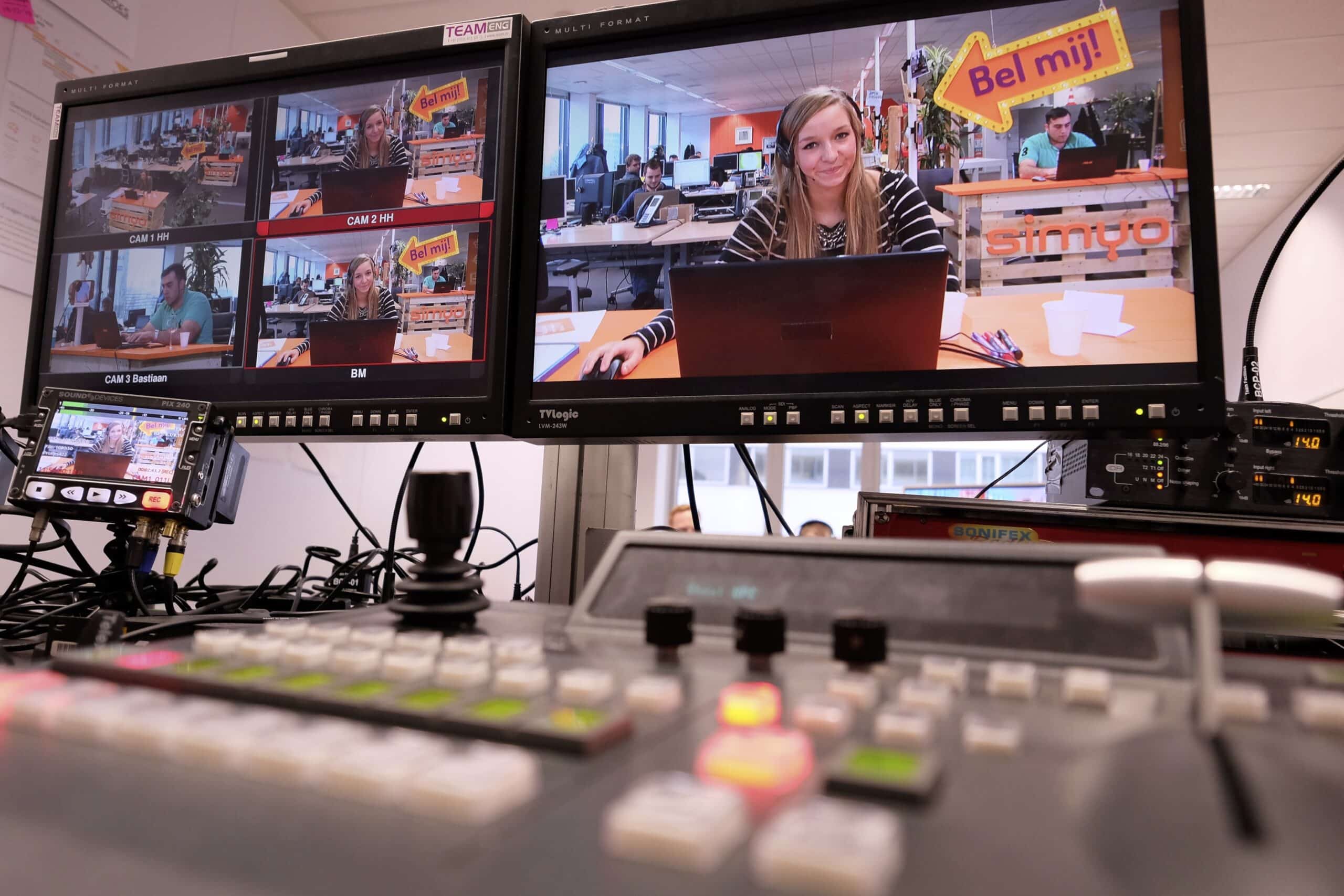 Services we provide:

Productional and editorial preparation
Our worldwide network of professionals provides all expertise for you to realize your concept.

Technical production
The right technical expertise on-site for every production. From camera direction to encoding technology and remote camera operations.

Visual design and graphics
From a standard player to embed, to a customized webinar in the corporate style of your company.

Crew
We provide professionals who take care of everything, so you can fully focus on getting your message across to your target audience.

User Registration
Participants register via the registration page, receive a confirmation in the mail and optionally a reminder and / or follow up.

Streaming via our Live platform and social media
One central location, our live platform for streaming, registration, analytics, sharing on social media and so on.

Delivery of the on demand version
Easily put the on demand version of your webcast online. After your webcast it's instantly ready to edit and upload.

Extensive analytics
Improve your online result with in-depth video analytics. Get insight in the viewing behavior of your users and keep improving.
Interact with your target audience
The platform stores relevant participant data such as chat questions, click behavior and survey, poll and test results. Thanks to the statistics, you know exactly what your target group demands, so that you can approach the outcome of the webcast with this information.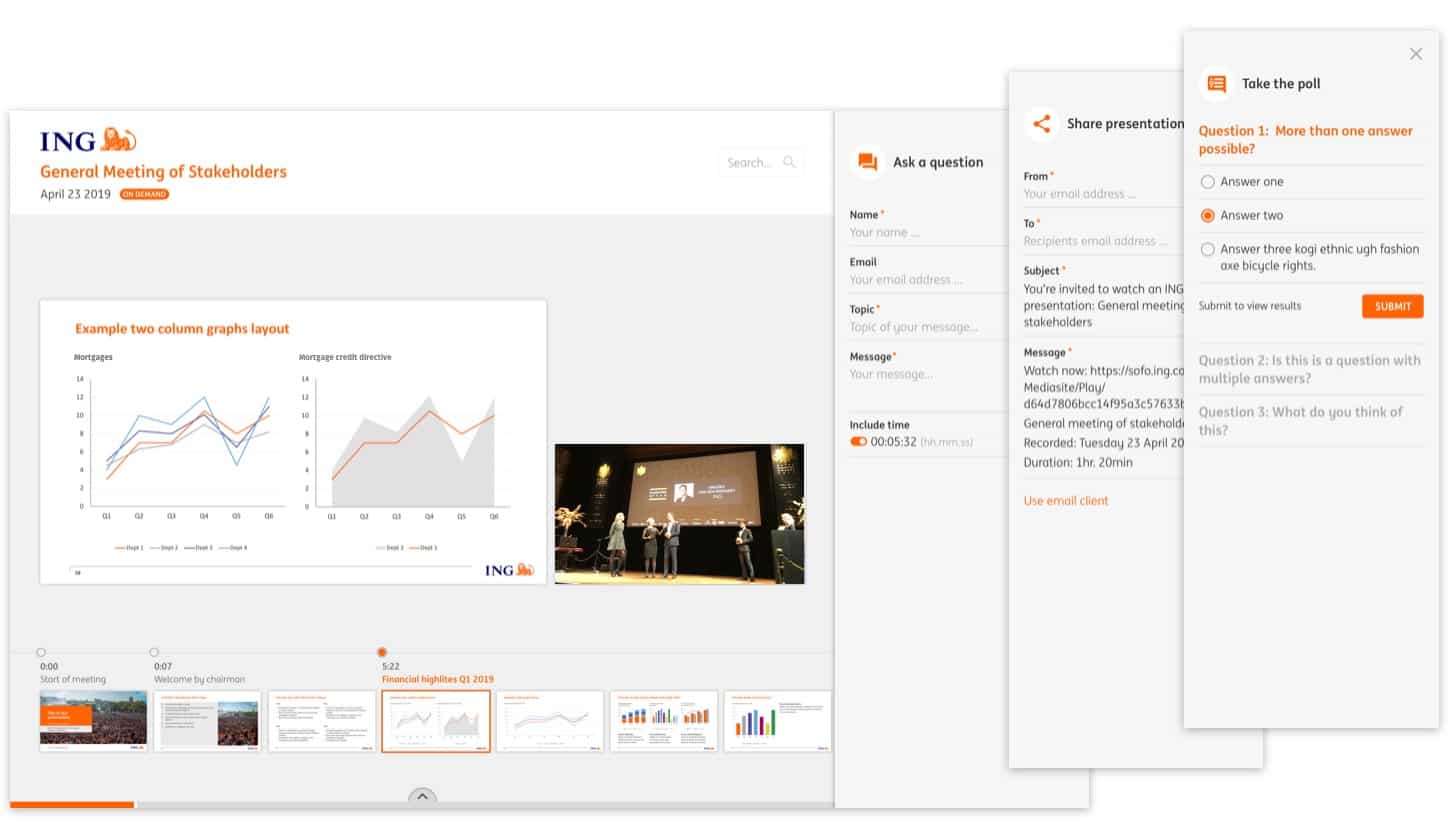 In-house live studios
In addition to offering event support, we also build and manage in-house studios with our customers. Video is a fully-fledged means of communication and your own studio gives your organization the flexibility to easily use video for internal and external communication.
Do you want to regularly webcast yourself? Then we can set up your own in-house webcasting studio for you. We help you to optimally use your own studio with webcast system. Of course you can also always use our own complete, multifunctional in-house studio.
Looking to organize a webcast yourself?
Webcasting is becoming an increasingly common part in internal and external communication. As a result, many companies are looking to be able to webcast themselves. Webcasting should be easy to use, as often as you want. It must be easy to set up while still using all the possibilities that current digital technology offers. And all this within a well-arranged prize tag.
Let our experts advise you. We are happy to help you choose the right live streaming solution.
Organize your own webcast!
A webcast improves your online presence. Request more information or your own secure live event via the following link.
VIXY is the corporate label of NEP the Netherlands