Organize a webinar?
Webinars improve your online presence. With a webinar you can transfer your expertise and promote your products and services worldwide.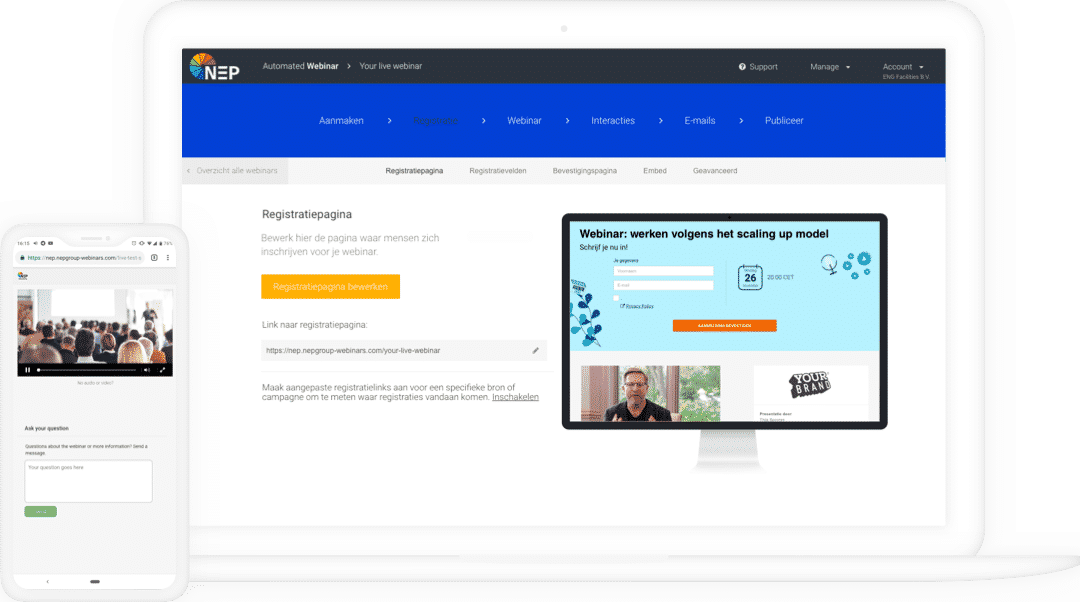 What is a webinar?
You can think of a webinar as a training, meeting, workshop, event or as an online meeting. The participants or the audience are all present online. It can be a product or a service that you want to promote from your company to an online audience, or a theme with which you will strengthen your reputation as an expert in your industry. Your target audience can watch your broadcast online from their own trusted environment, via any device.
Webinar is actually short for web-based seminar. Unlike a webcast, no physical audience is present at  a webinar. This is an important difference. Similar terms used for a webinar are Web Event, Online Seminar, WebCast or Virtual Event.

The power of a webinar
Like we said before, webinars improve your online presence and visibility. With a webinar you can transfer your expertise and promote your products and services worldwide. You can record a webcast in advance and broadcast later, you can broadcast live or simply make it available on demand after the broadcast. The average viewing time for webinars has been increasing for years now, right now the average viewing time is 58 minutes. No other means of communication is this effective.
Webinars are also extremely effective in bringing together ideas and perspectives. Interact with the audience and transform passive viewers into active participants with our smart webinar software.
A selection of the benefits
Wide reach – Personal – Low threshold – Interactive – Concurrency – Keeping and sharing knowledge – Measurable – Effective
Why a webinar?

Marketing & Sales
Reach your target audience, interact and get more leads with an effective webinar format which will contribute to the growth of your lead database.

Internal communication
Use webinars for internal communication, like informing employees or for a management update if you really want the message to have a strong impact.

Training & Education
Reach your target audience, interact with them and get more leads with an effective webinar format which will contribute to the growth of your database.

Investor relations
Communicate transparently and simultaneously with all your investors and other stakeholders around the world. We offer both webinars on location to conference call webinars.
How does a webinar work? (In 7 steps)
1. Simple camera setup
Basically, all you need is a computer with a decent internet connection, built-in camera and a microphone.
2. No need for extra software
Our webinar solution is completely web based: there is no need for extra software or an app to initiate the webinar or to follow it.
3.  Invitation email and landing page
From an email outreach, the landing page is the place where people will be directed. Create a well-arranged landing page that converts in registrations.
4. Pre-run presentation
Extensively test your webinar presentation in advance so that you are sure that everything will run smoothly once you're live.
5. Interactivity with polls and chats
Invite participants by email and let them ask questions via a public or private chat. Use polls for user feedback.
6. Realtime overview participants
During the webinar our analytics will give you a realtime insight in your participants.
7. CRM integration & Follow up
Present an end page with a call to action to convert participants to the next step, integrate your webinar with e.g. Leadpages, ActiveCampaign or Mailchimp to follow up your participants.
Interact with your target audience
By using the chat, viewers can ask questions, both anonymously or publicly, to a team of moderators. The live webinar is complete solution that allows you to evaluate the statistics of your webinar. Through the "call to action" functionality it is possible for the viewer to request information, order a product or plan an appointment with you directly.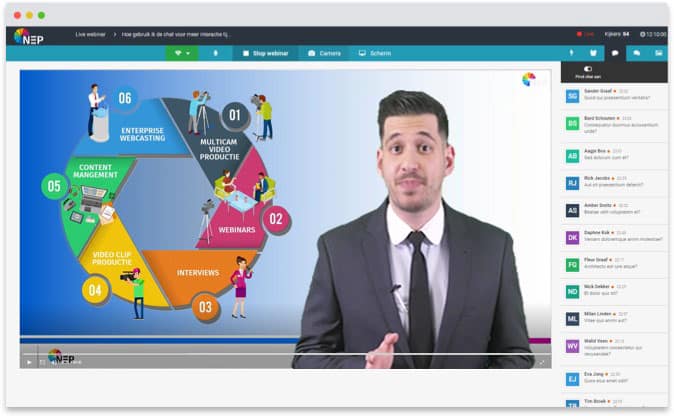 Generate leads with interactive webinars
Everyone can actively be heard in the broadcast through e-mail, chat and polls. This makes a webinar THE best tool to generate leads. With each webinar you get new contacts, growing your mailinglist of viewers or even new panel members, who also bring their own followers. This makes a webinar broadcast different from webcasting.
In house webinar studio
Do you want to organize a webinar in a professional on a regular basis? Then we can custom design your own in house webinar studio to fit your needs. We help you to use your own studio with webinar system to it's full potential.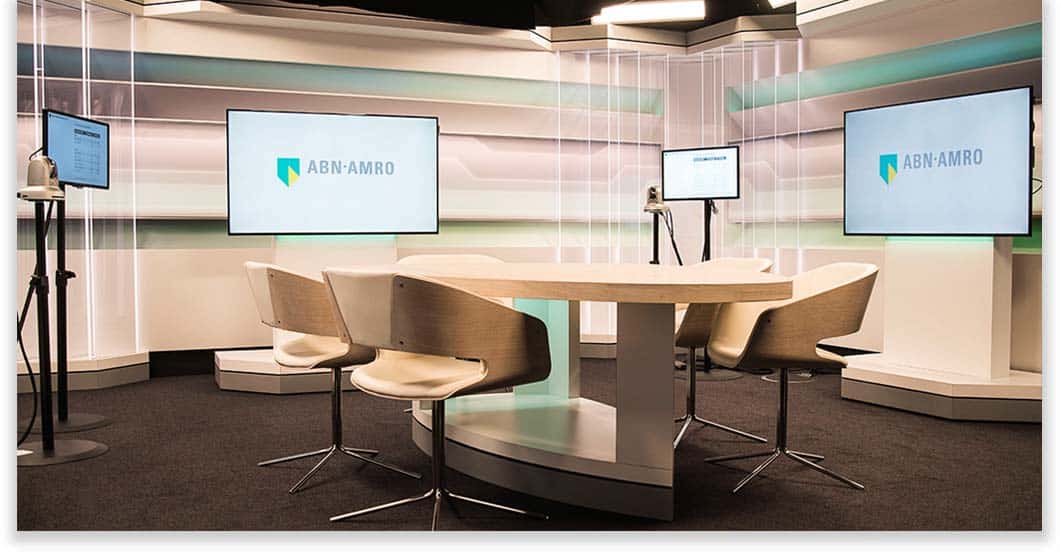 What does a webinar cost?
De live webinar solution is a versatile marketing and sales tool with which you can set up a webinar at low costs and in the short term. You have webinars from simple to professional and from self-service to full-service.
Full-service webinars
With a full service webinar you will be fully supported in all steps for setting a webinar. From the organization to technology and audiovisual resources. The webinar can take place in both your own studio or at an external event location.
Expect a starting price between €2.250 and €5.000 per webinar including all preparations, use of a professional webinar studio and webinar technology.
Self-service webinars
With a self service webinar you produces your own webinars. When you make use of special webinar software you can organize a webinar yourself. More and more organizations have their own webinar studio set up at their office for professional webinars.
Organize your own webinar!
Interested in organizing a webinar for your audience? Request a free demo or more information via the link below.
VIXY is the corporate label of NEP the Netherlands