How GDPR effects video production and marketing
VIXY makes professional video management accessible for your organization. You can count on reliable video hosting and ultra fast video playback worldwide with VIXY.
Easily determine where and when your video can be watched, enrich your video player with interactions, generate leads to your site and link your video player with the ad network of your choice.
The General Data Protection Regulation (GDPR) has been hitting the headlines for years, but in May 2018 the two year post-adoption grace period was finished. The law is now fully enforced, making it an essential piece of legislation for organizations over the world to understand and implement.
GDPR impacts a number of obvious areas: email lists, customer databases, website cookies, credit card information.
But there is one area that needs the same level of consideration: video content.
A GDPR refresher
We've all heard the acronym GDPR thrown around and have by now (hopefully) taken steps to make sure our organizations are compliant. GDPR (known as AVG or Algemene Verordening Gegevensbescherming in the Netherlands) is the regulation of any sort of data that websites of businesses, brands, organizations – anyone on the internet – collect.
That data might be from a person signing up for an email subscription, an online customer buying products, someone browsing an organization's website, or otherwise interacting with brands, advertising or other online media. Such as a person buying access to watch a video online.
No matter how big or small the data is, this new legislation is an all-encompassing piece of privacy regulation, and being GDPR/AVG compliant now that the grace period is over is vital.
There are 7 principles which GDPR is built around:
Lawful, fair and transparent – people have to know who is collecting their data, why, and where it will be stored.
Purpose limitation – there needs to be a lawful and legitimate purpose for collecting that data in the first place.
Data minimization – collected data must be relevant and limited to the minimum amount required for the purpose.
Accuracy – data must be kept up to date where necessary, with particular focus on not retaining old or outdated information that isn't required.
Storage limitations – data must have a period after which is is deleted, the period being relevant to what you need the data for.
Integrity and confidentiality – security must be appropriate and data should be protected against loss, damage or accidental sharing or usage.
Accountability – organizations must demonstrate how they comply with the GDPR principles clearly.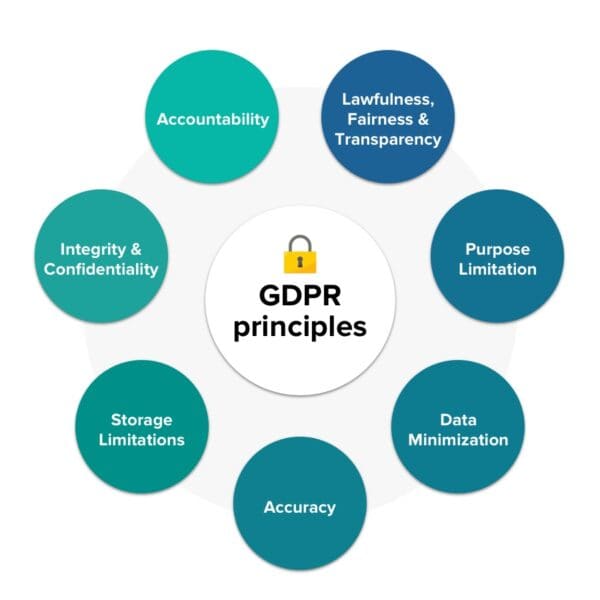 GDPR was created to ensure trust between those whose data is collected whilst they move through the internet, and those that collect said data. The new regulation enforces that trust and holds businesses to previously unseen high standards. The word 'consent' is key in complying with GDPR: businesses must make sure that any data collected is done so after explicit consent from individuals.
With these concepts in mind, how does GDPR law affect filming and video production in terms of creating content, and distributing this content to consumers?
Simplify GDPR and video marketing
If all of the above sounded like a headache, then you wouldn't be the first to think that. Now that the grace period is over many organizations are discovering new bumps in the road to being fully GDPR compliant.
As mentioned before when it comes to GDPR there are inherent pitfalls in hosting your video content marketing on free websites such as Vimeo or YouTube. Add that to other downfalls – a lack of personalisation, ownership, security, uniqueness and control over your organization's content – and the solution of a personalized online video platform for your business becomes the best option.
VIXY offers organizations a chance to professionally manage, publish and analyze their video content. As well as making sure your video content is being created, hosted and promoted in the best ways for your business, VIXY can offer peace of mind. With a centralized video platform it is easier to see what a customer's journey is through your video content marketing strategy, and even clearer to see what data you are collecting. VIXY is a great way to help cure the GDPR headache and at the same time enhance your video content in the way it deserves.