Interactive Video
Interactive video is an innovative way to reach your online targets, from encouraging user interaction, providing customer support to increasing time on site, leads and boosting online product sales.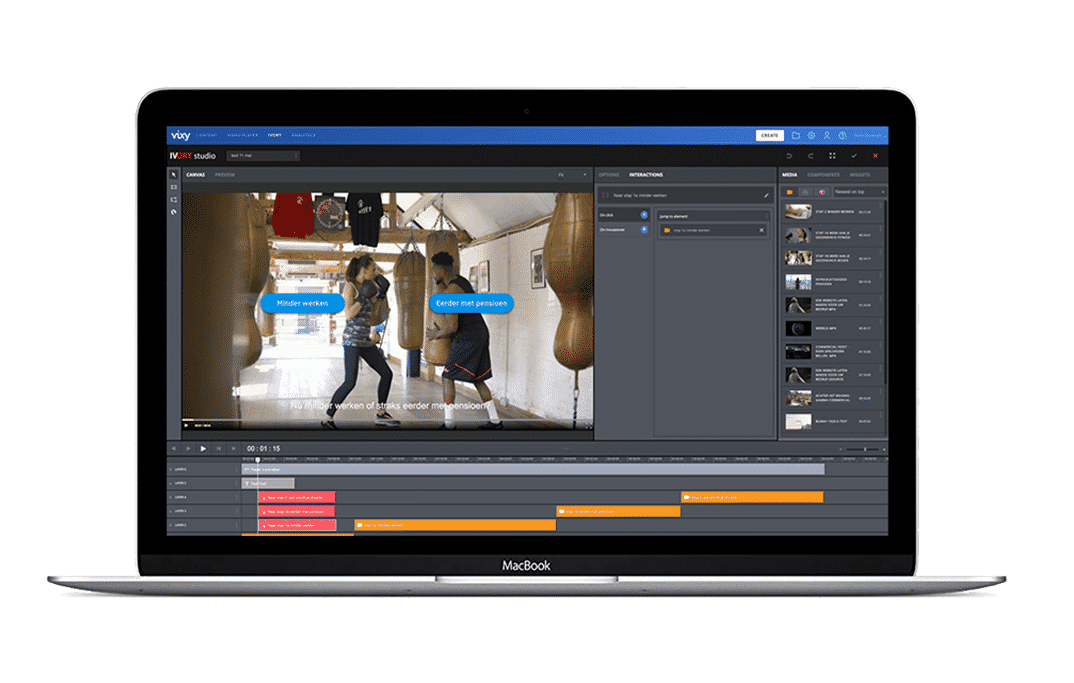 What is interactive video?
Interactive video is an innovative form of video that attracts and keeps the attention of your viewers. They are dynamic videos in which the viewer is given a certain degree of direction. The viewer can determine what happens through his or her choices.
How to make interactive videos?
Adding interactive elements is a simple process with our interactive player studio with timeline functionality. Thanks to the intuitive design and the drag & drop interface, you can create interactive and personalized videos in no time.
Drag and drop interactive elements on the timeline of your video. Add buttons, product images, quiz questions, contact forms, menus, video-in-video and more.Make a step-by-step customer service video (Branching). Thanks to its simplicity, even the novice user can create beautiful personalised and interactive branching videos.
Interactive video ideas:
Customer Support: training your customers step by step by sharing interactive customer service videos and course material about your products and services.
HR & Recruitment: stand out from your competitors. Attract attention from new and qualitative talent with interactive recruitment videos.
Engagement: involve viewers in the watching process, turn them from passive to engaged viewers. Increase their time on site and make it fun to watch videos to the end.
Conversion: generate leads, newsletter subscribers and increasing the number of appointments via interactive fill-out forms in your video player.
e-Learning: offer flexible learning by dividing the video material into multiple chapters, add buttons to share, repeat or skip specific parts. Ask questions and give extra explanations with video-in-video.
Buttons, links & product overlays: increase conversion and boost sales
Interactive video turns viewers into buyers. You can easily add calls-to-action yourself, such as buttons, links, products, ads and brochures – resulting in higher click-through rates (5%-12%).
Think of interactions such as opening an external website or app, placing a product in the shopping cart, linking to other videos, downloading documents or opening an interactive video menu.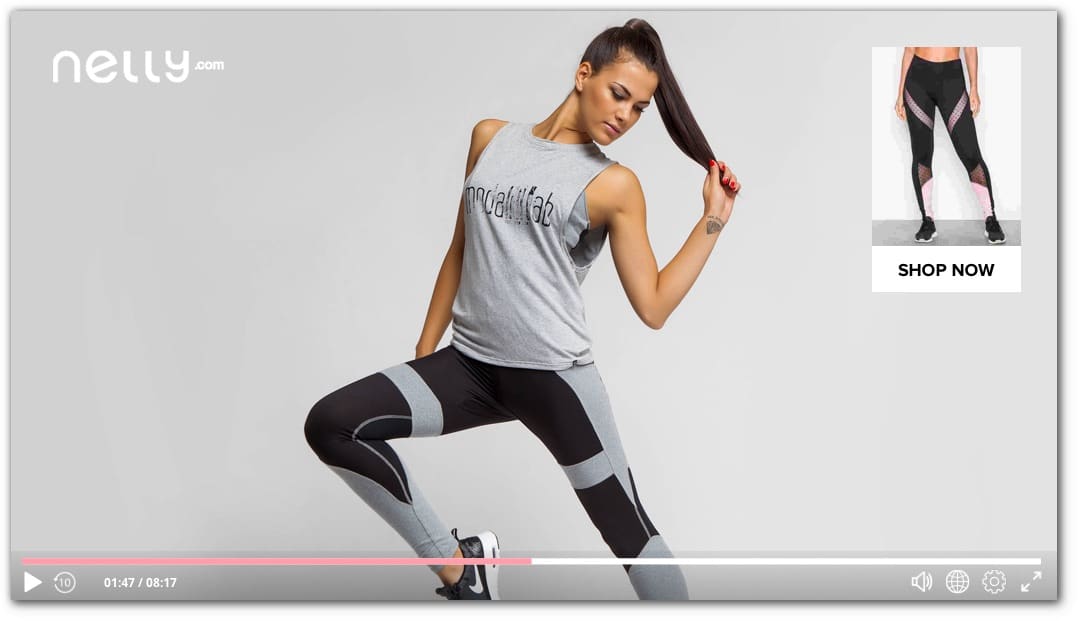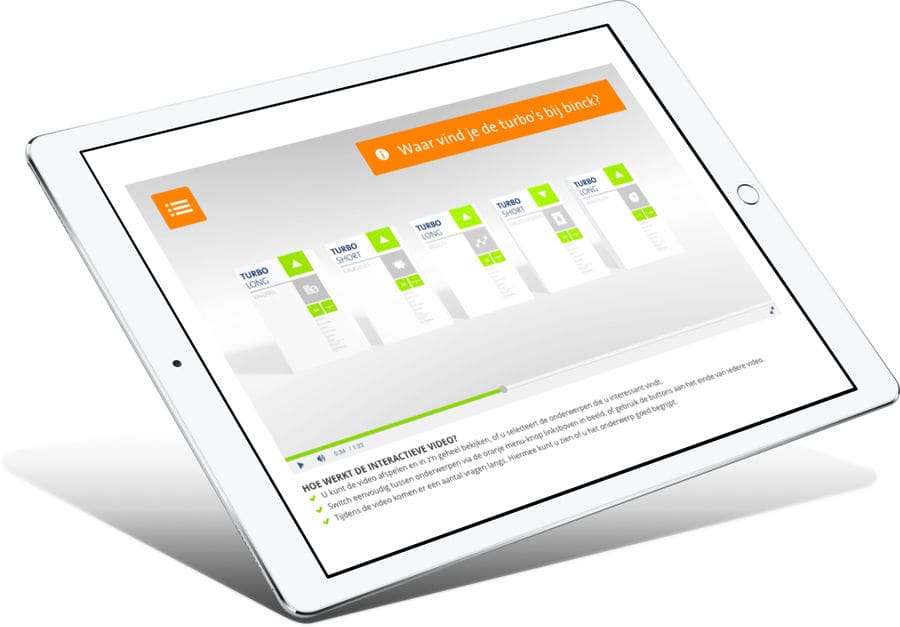 Branching (dynamic videos): explain a service, increase satisfaction and reduce costs
With video branching, an interactive structure is added to your video so the viewer can determine what content is relevant.
The viewer only watches what they find interesting, resulting in higher completion rates, increased customer satisfaction and a reduction in traditional customer support channels and costs.
Our event tracking feature shows you which videos the viewers find interesting and what they're clicking on, so you can further improve your video campaign.
Contact forms: ask questions, capture relevant data and increase leads
Fill-out forms are an easy and effective way to share knowledge, generate leads and simultaneously expand your database for email marketing.
You can easily add contact fields to your video player so that viewers can directly leave their data. This allows you to actively encourage downloading a white paper, planning an appointment, subscribing to the newsletter or getting in contact with your sales and support division.
VIXY lets you add your own contact forms with ease.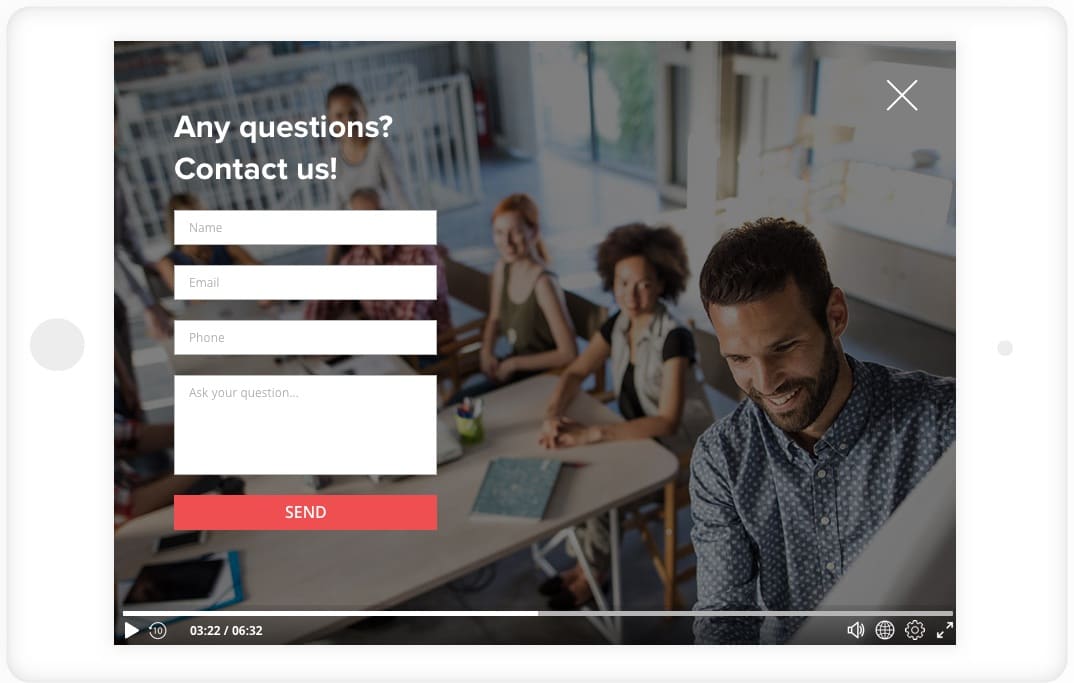 Quizzing and questions: ideal for e-Learning & gamification
Video Quizzing seamlessly integrates multiple choice questions into a video at any time. A quiz can be used to increase engagement, test knowledge and retention, collect data and more.
Ask the viewer multiple choice questions. You can use this for learning applications or gamification of your video. Keeping scores is also an option.
Measure every interactive element and improve your video campaign
Use our reports to acquire business insight, better understand trends, and see how successful your content strategy is.
Increase your knowledge of your best-performing content, the viewing behaviour of your users, the channels and devices that your videos are viewed on, geographical playback, conversion ratios and the customer journey of the visitors and viewers on your website.
Furthermore, you can choose to sent all events and conversion metrics back to the Google Analytics property of your website or app.
Create your first interactive video!
Request a 21-day free trial for our interactive video software and see for yourself how easy it is to get started with creating interactive videos.
Our client cases
Our driven, experienced team will gladly work with you and help you take the next step in your video content strategy. Read through some of our clients' inspiring stories!