TVOD, SVOD, AVOD: Video revenue model comparison
TVOD, SVOD or AVOD: How to choose the right video revenue model?
In your search for viable revenue models for online video content you have undoubtedly come across the terms TVOD, SVOD and AVOD – or transactional-based video on demand, subscription video on demand, and advertising-based video on demand. In this article we are going to dig deeper into these three different business models and show you how you can use them to monetize your – valuable training, entertainment or educational – video content. To generate more with your videos, it is important that you use a suitable revenue model.
Consumers get their video content when they want, not when a content owner decides to deliver it. The term used to describe this generation of entertainment is 'video on demand' (VOD). Today, this form of video streaming has surpassed cable subscriptions worldwide and only keeps growing in the near future. But probably you are already aware and realize that now is the best time for you to seize your video streaming business opportunity.
In one of our previous post we explained all you need to know about OTT TV. In short, the term OTT (over-the-top television) is used for watching movies, series, and TV (video content) over the Internet directly to the viewers. It is helpful to understand what this term means, as it encompasses the playing field in which the three video revenue models AVOD, SVOD, and TVOD operate.
But save that article for later and ♫ let's talk about s….. :  video business models! ♫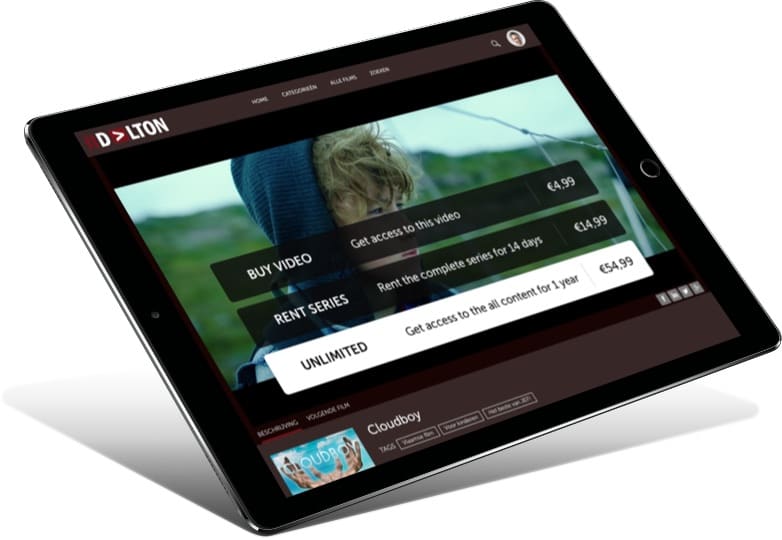 What video streaming business models are there?
The increasing appeal of OTT is fundamentally changing the way video is sold, produced, and consumed. For the end user, it's all fairly seamless and invisible, but beneath the technology there are a range of business models that control our access to on demand video content. The available options can largely be broken down into three revenue models:
TVOD – transactional video on demand. In this setup, viewers pay a one-time fee to watch your content live, download it, or rent it.
SVOD – subscription video on demand. This is what companies like Netflix and AppleTV do. They charge a recurring fee in exchange for unlimited access to their content.
AVOD – advertising-based video on demand. Much like pay-TV, the AVOD model relies on advertising partners for funding. The most notable example in the online world is Youtube's video business model.
Of course, you can combine the abovementioned monetization options to create a unique business model for your brand, e.g., pay per view + subscriptions.
Now, let's explore each of these video streaming business models in detail.
TVOD – transactional video on demand
TVOD stands for Transactional Video on Demand. With TVOD, the viewer pays for every individual video that he wants to see (pay-per-view) in this video distribution model. Known examples of this include Apple's iTunes and Google Play. 
From the consumers' standpoint, TVOD is the perfect way to access entertainment of their choice. They aren't bothered with monthly subscriptions that give them a large quantity of content they will have to filter through just to find something that matches their taste.
There are two very frequent applications within transactional video on demand:
Download To Rent (DTR): the video is made available for a period, e.g. 48 hours.
Electronic Sell Through (EST): you purchase the video for unlimited playback. TVOD services tend to offer more recent releases, providing rights holders with higher revenues, and giving consumers timely access to new premium content.
Most TVOD providers are focusing on sports-related content like live broadcasts of soccer or football games. As nowadays video consumption is largely driven by streaming, many consumers are looking for services that will offer both sports content and the convenience of high-quality streaming.
TVOD benefits: When to choose TVOD as your video revenue model?
Easily deliver more value since each video has its own price, allowing people to get exactly what they are paying for.

It's ideal if you're only looking to sell or rent one video or a group of videos like a course.

With a niche market in full view, you can maintain a smaller library than other platforms. Therefore you can set a lower price instead of charging more for a subscription fee and losing potential customers. 

Have more flexibility with your pricing and offer content that's available for a limited time or let your customers keep it forever.
SVOD – subscription video on demand
SVOD stands for Subscription Video on Demand. SVOD allows users to consume as much premium content as they desire at a flat rate per month. Research shows that SVOD in the US will grow by 33% from the end of 2021 to 2026, reaching 450 million subscriptions. The report also found that one SVOD household in the US will pay for more than 4 platforms by 2026!
The best known examples of subscription video streaming services are Netflix, Apple TV, and HBO On Demand. With SVOD platform Netflix, for example, you have unlimited access to watch series and films at a price of €9.95 per month. 
Viewers typically have a wide range of videos to choose from, which encompasses various genres and topics. Because of SVOD's payment model (monthly or annual subscription), viewers can access videos an unlimited number of times.
With SVOD, there is far greater freedom to opt out, as consumers aren't tied into a long-term contract. This offers greater flexibility to users, and providers of SVOD are continually challenged with retaining consumers, by providing exclusive new content, aggressive pricing schemes – and probably both.
SVOD benefits: When to choose SVOD for video monetization?
SVOD is a the best way to generate recurring revenue and build a sustainable video business model. If viewers retain their membership, the money never stops rolling in.

It's a great way to build a community around your exclusive content.

SVOD couldn't be any easier for viewers and content providers alike. Viewers remain in constant control of what they watch. With a large catalog, they have plenty to choose from.
AVOD – advertising-based video on demand
AVOD stands for advertising-based Video On Demand. Viewers can watch videos for free but ads are shown at different moments in the video.
A portion of the ad proceeds is then returned to the content provider. AVOD is a video good revenue model at the moment that you manage to get a lot of views with video content that is interesting for a wide audience. The largest AVOD platform is Youtube, but there are many smaller websites that use advertising, such as news sites and show business. 
You increasingly hear the term 'AVOD' and that's not without reason: it is a distribution form that is booming. Let's be real; people love free stuff. So AVOD will always be a popular option for online video streaming. They simply must watch a short ad that they may be able to skip, depending on the arrangement between you and the advertisers. AVOD viewers make up more than 50% of digital video viewers. Premium content owners rarely use AVOD as it generates lower amounts of revenue than SVOD and TVOD. 
AVOD benefits: Why choose video advertising as your video business model?
It's easy to attract and hook new viewers because there's nothing to pay.

Most ad spots on traditional TV are not relevant to the individual and can be a hit or a miss. AVOD ads offer higher personalization and customization of the ad-delivery experience, allowing marketers to speak "directly" to an individual as opposed to speaking into the void.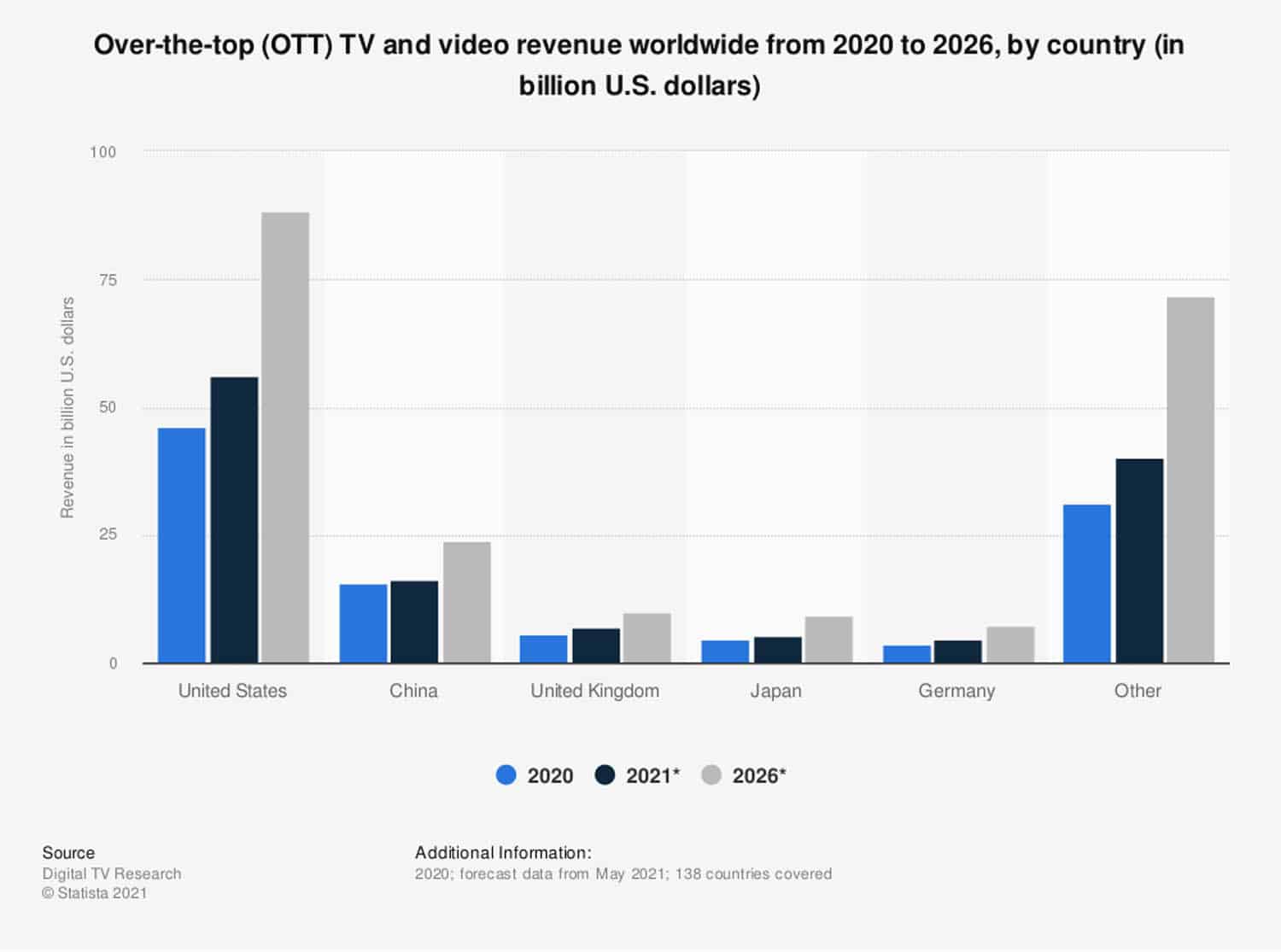 Combining video business models
The great thing about TVOD, SVOD, and AVOD video business models is that they can be combined and mixed & matched to create the best video streaming business opportunity for your business. Utilizing a combination of these models is typically the option of choice when your streaming service is doing remarkably well, and you want to expand your reach and increase revenue. 
Amazon Prime is a great example of the TVOD + SVOD model. Amazon Prime is a monthly subscription service that gives you access to a wide selection of movies and TV shows to watch at no extra cost. However, they also have another wide selection of movies and TV shows available for rent or download.
Hybrid video model benefits
The SVOD + TVOD hybrid model is a flexible way of building a stable and consistent income over time that lets you capture short-term and long-term clients.

AVOD + TVOD or SVOD is providing users with a 'try before you buy' option is likely to evoke trust, and if the content meets viewers' expectations this can turn to a solid loyalty.
OTT platforms offer a business opportunity worth pursuing
In sum, video streaming is a business opportunity worth pursuing. The good news for you, as an entrepreneur, is that you are not too late to start. The demand for streaming services is currently on the rise and will continue to grow in the next few years. People tend to subscribe to multiple services at the same time, which means that new companies will be able to attract viewers.
Businesses can develop their own VOD delivery systems by using enterprise video platforms. To build a profitable OTT platform, your best bet is to pick between SVOD, TVOD, or the SVOD + TVOD hybrid model.
VIXY provides a cloud-based platform for distributing large volumes of video content, including B2B licensing for high value broadcast clients as well as B2C consumption by a wider audience. Our platform support SVOD, TVOD and AVOD business models. To find out more about how VIXY media management and distribution solution can unlock the full potential of your video, talk to us.
Contact us if you need any advice on your OTT strategy.
Launch your own OTT TV Platform
Curious what your video streaming platform will look like? Feel free to request a demo! We're looking forward to discussing your project and requirements.