OTT TV: All you need to know about over-the-top video
What is OTT TV?
OTT stands for "over-the-top," the term used for the delivery of film and TV content via the internet. Traditionally you were required to subscribe to a traditional cable or satellite pay-TV service in order to watch your favorite series and movies on your TV set-top box at home.
But with the increase of broadband speed and it's adoption, companies like Netflix and Hulu changed the way we consume our entertainment. We can now watch whatever we want, whenever we want. The video streaming service Netflix made it clear that a successful video service could be delivered 'over-the-top' of the public internet, rather than through the expensive, closed networks of broadcasters and telecom providers. With their disruptive model Netflix now has 93.8 million subscribers globally.
So how bad is this for the telecom providers? Because OTT TV apps and services are delivered over the internet, users still need a broadband connection, which they get from their telecom providers. The most likely outcome would be that the traditional distributors will continue to play an important role in the growth of OTT. Mainly because they specialize in areas that TV networks don't have an expertise in, including sales, marketing and customer management.
The growth of the OTT market, what is next?
Experts say that within the next five years, viewership hours of live-linear streaming over-the-top (OTT) content will surpass those of traditional broadcast TV. So now that the market is open, everyone wants a piece of it. No one wants to miss out on not having their app on the home screen of a popular TV service. And that's why over-the-top is the sexiest term in entertainment right now.
Big companies like HBO and Amazon entered the market after Netflix led the way. Recently Disney announced that they as well are about to enter the OTT TV market with their own platform. Disney wants to take the opportunity to make more money through its own service than through licensing its content to Netflix. And that could be a wise decision, as they have a tremendous amount of video content available that serves a niche market (mostly children).
Earlier this week, Apple announced to set $1 billion budget available to create original TV shows and movies, meaning they're are getting ready to compete with Netflix and Amazon. As a result, it will become harder and harder to get noticed as more players get into the field.
How do OTT platforms bring their content to the user?
OTT platforms all use an online video platform, or OTT backend. An OTT backend typically handles all the media, users, subscriptions, security and rights of the OTT platform. The backend communicates with the different consumer devices. The IAB defines OTT devices as those that "can connect to a TV to facilitate the delivery of Internet-based video content. Also referred to as Connected TV.
The most common hardware devices used for streaming are currently streaming boxes/sticks (Apple TV, Google Chromecast and Roku) followed by smart TVs and Internet-connected gaming consoles. There are some development challenges to bring your content on every device, because each device has their own development stacks for creating apps.
As the market develops and households begin streaming content across an increasing number of OTT TV apps, user experience in the app is becoming a more important factor.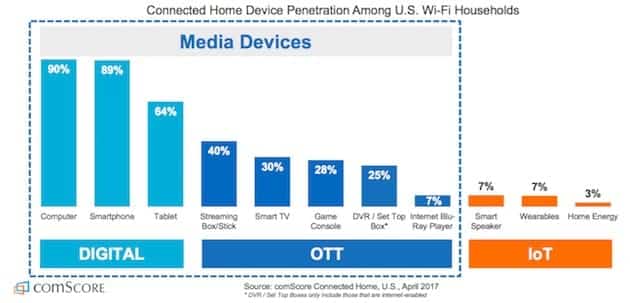 OTT TV business models
Just as media companies have done throughout history, over-the-top TV services are likely to experiment with a variety of business models. They can largely be broken down into three revenue models:
SVOD: Subscription-based services (such as Netflix). The best known examples are Netflix, Hulu, and HBO On Demand. You have unlimited access to series and films at a price of €9,95 per month. The Netherlands also has several providers such as Videoland On Demand, RTL XL and Pathé Thuis.
TVOD: Transactional services such as iTunes and Google that allow users to pay for individual pieces of content, also known as pay-per-view. Cable providers as KPN and Ziggo in the Netherlands also offer the playback of TV-series and films from their set-top box.
Free / AVOD (Advertising Video On Demand): ad- or branded content supported services.
Most OTT TV services offer a subscription model. As subscription streaming video options expand, consumers are becoming less likely to rent digital video. Digital video rental (TVOD), which has never been that popular, is expected to continue to decline to less than 5% of total OTT revenue. Niche SVOD services carry the big potential.
A study from Parrot Analytics suggests that by teaming up with a more popular OTT service, the niche SVOD providers stand to improve the size of their target audience, therefore increasing the chance of their content falling into the laps of the right people.
Conclusion
The OTT and SVOD industry is evolving and is gaining increasingly more commercial power each and every day. When content owners and service providers are able to overcome the technical challenges, they have a huge opportunity in front of them. Focus on growing, producing great content, and protecting your subscriber base and increase the average revenue per user.
Contact us if you need any advice on your OTT strategy.