How to sell videos online
Who hasn't increased their media consumption during the pandemic? It will come as no surprise that the global media consumption has increased significantly since the COVID-19 outbreak almost 2 years ago – especially among the younger generations Gen Z and Millennials (WHO, 2021).
And video is no exception. In fact, a survey conducted among this target audience revealed a 61% increase in video on social media apps during COVID-19 (Statista, 2021). Additionally, 56% of the respondents claimed to watch more videos on streaming platforms on television – while 52% were more inclined to stream videos on their smartphones.
In turn, more video consumption entails dynamics, changes, trends, and opportunities. In this case, revenue opportunities by selling videos online.
So in this article, we will look at how to sell videos online, different ways to monetize video content, and what to take into account when selling video content online.
Selling videos: an introduction
To highlight the importance of video and why there are so many monetizing and business opportunities there, here are some video trends and stats that are worth mentioning: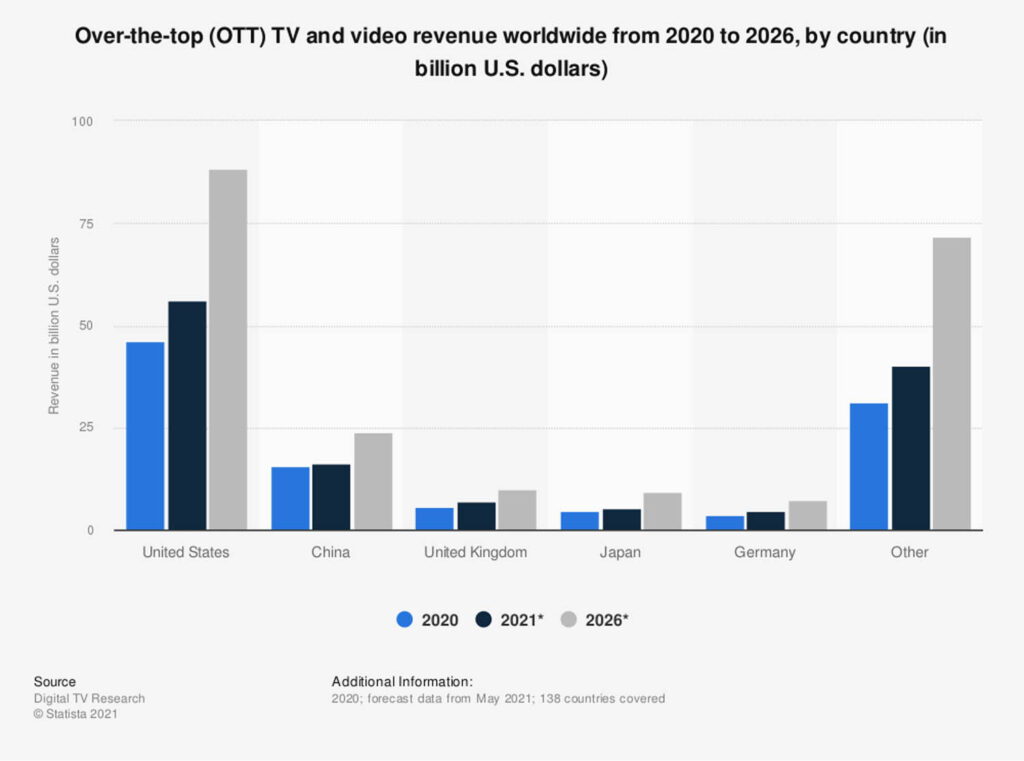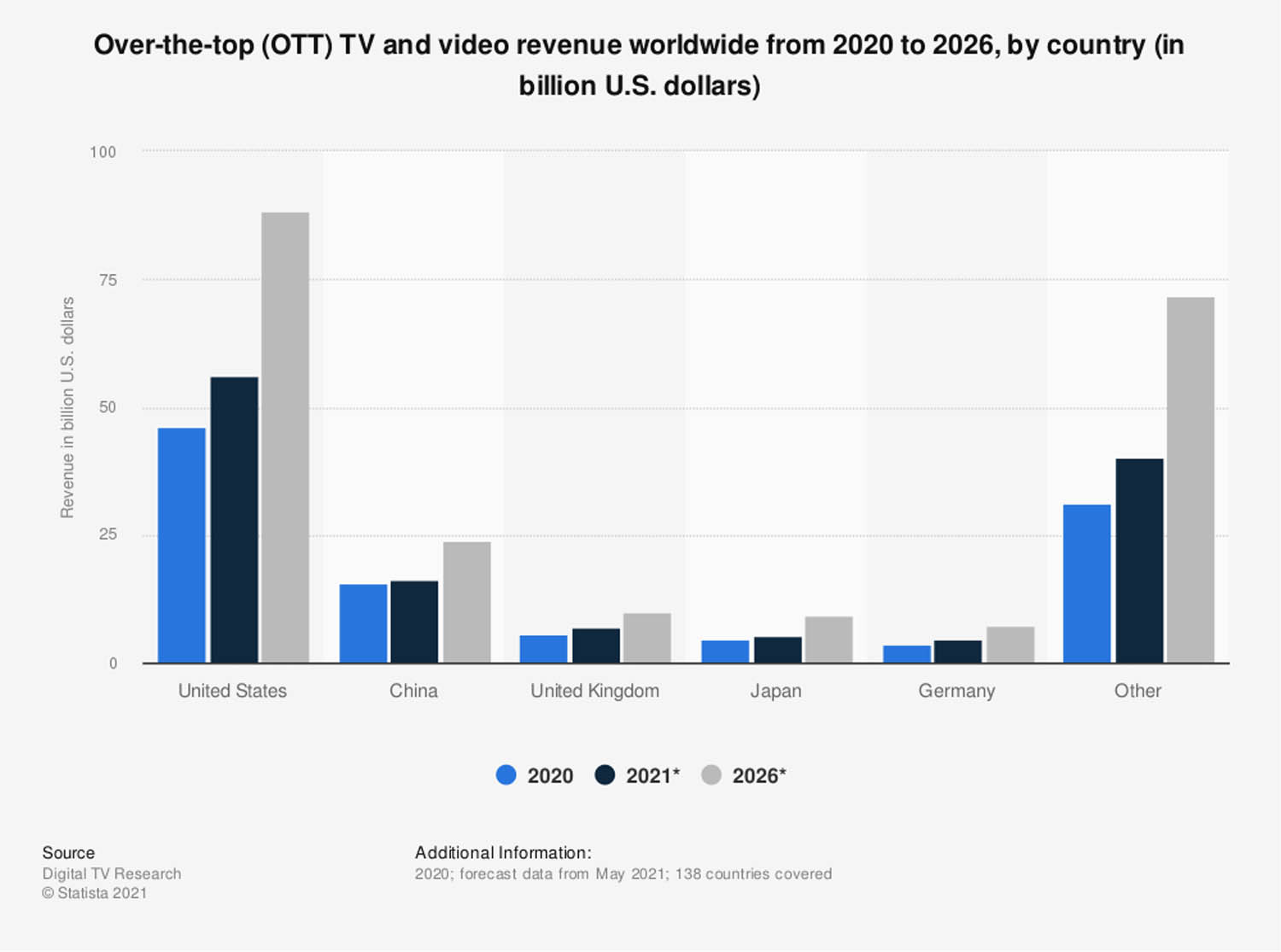 OTT TV (Over-The-Top TV) is here to stay! The worldwide market value as well as the revenue are predicted to double between 2020 and 2026.
Six steps to sell videos online
There is no doubt: video is hotter than ever and has provided us with lavish opportunities. It is no wonder that more and more people and companies are starting to jump on the bandwagon and start selling videos online.
But how to get started? How to sell your videos online in a way that works for you and increases your revenue?
To help you hit the ground running, we've outlined an easy-to-follow roadmap, in which we discuss all the points of attention as well as considerations and examples.
Step 1: Find and define the right niche
Funnily enough, the first step in discovering how to sell videos online does not concern videos. We start at the very beginning. In this first step, you identify the target market. With a vague idea of what type of video you want to sell (spoiler: the extensive version will be in the next step!), decide to whom you're selling.
Do your research to get a clearer picture of your target market. Do some market research to identify the target audience. Who are they and what are their needs, pains, gains, desires, and problems? Get clear on this so it will be easier to create your content. No inspiration? Get started with a SWOT analysis to identify the key players in the market. Find out what they are doing, who they are focusing on, and what niche they have chosen.
Still a bit vague on how to sell online videos to a niche market? One example is Fantube, an 'influencer broker' company, bringing together artists and fans. On their platform, they are selling personalized videos of artists to their fans. Fantube is in the niche market of a sweet combination of influencer marketing and fandom within the event industry. To learn more, read the full case on Fantube study here.
Take the following factors in mind while defining your niche: Demographics (age, gender), Geographics (Countries), Education, and Interests. But also ask yourself questions like 'what do these people or clients have in common', 'what problems can we solve for them', 'what are competitors doing not so well in this niche' and most important 'how can we create value for this niche'.
Step 2: Plan to create content that suits your niche
Start with some research to investigate what topics to post about. Use social media platforms to get inspired. TikTok can be a great platform if you have a younger target audience, while Linkedin or Youtube can be a source of inspiration for other topics. Are you planning to create video courses in the shape of e-learning or knowledge sharing? Then video courses websites such as Skillshare, Udemy, or Linkedin learning can be a great place to start when deciding on your topic.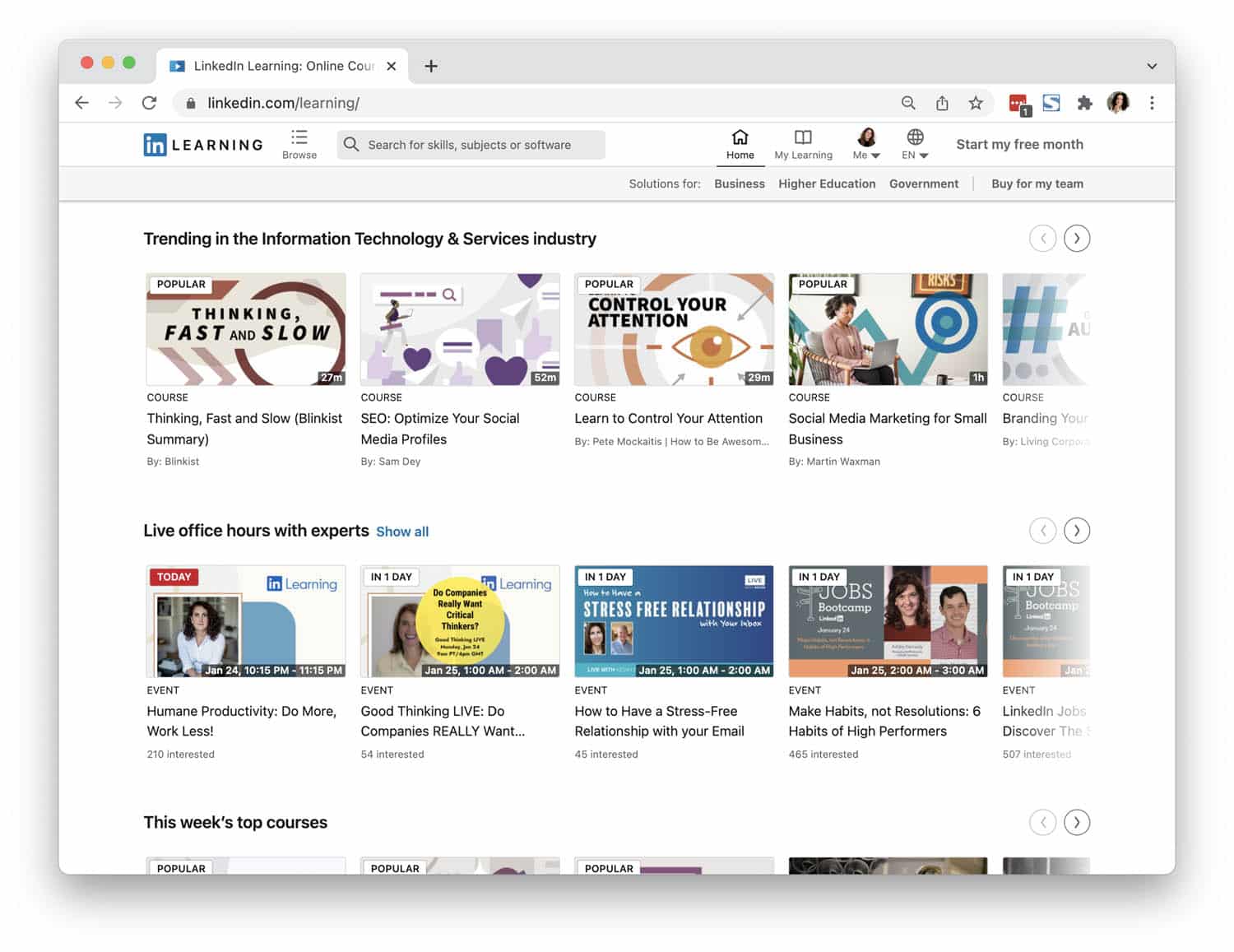 Linkedin Learning is a great source of online video topic inspiration
Step 3: Choose the right monetization model
Without monetization and marketing, no one will know about your beautiful video and it will not deliver you any money. So how do you make money selling videos? Here are some common video monetization models (SVOD, TVOD and AVOD) to consider.
Subscriptions (SVOD)
While SVOD might not sound familiar, we're sure Netflix, Amazon Prime, and Disney+ do ring a bell. SVOD stands for subscription video-on-demand and enables people to watch videos, films, tv series, and tv-broadcasts – you've guessed it – on-demand. Subscribers pay a (recurring) fee to enjoy access to premium content. Learn more about on-demand video content in our blog on 'sell videos online with SVOD'
Why should you care? SVOD is highly on the rise and has increased from 25% to 78% in 5 years (expressed in terms of consumers in the US using an SVOD service) (Statista, 2021). Also, the amount of services used per person has significantly increased. Research by Insider Intelligence in 2021 found that the average North American internet user used more than doubled the number of SVOD services to 4.8 services between 2016 and 2021 (Q2) (Insider Intelligence, Aug 2021).
The revenue behind SVOD is clear: charging a recurring fee, usually monthly or annually. While it's quite a challenge to become the next Netflix or Hulu, it is perfectly doable to sell videos online using your own SVOD. Take a look at The House of Yoga, for example. This is a subscription-based video channel with yoga videos where people can easily find inspiration and support that suits the yoga lifestyle, wherever and whenever they want. Read the full case study of House of Yoga here.
Pay-per-view (Transactional Video on Demand; TVOD)
Contrary to SVOD, the payment structure of TVOD involves a one-time payment. Customers make a one-time purchase to access specific content, which is why TVOD is also called 'pay-per-view'. For example, Amazon Prime offers viewers the option to buy a full season or individual episode of a tv show. Read more about TVOD and how it works here.
And just like SVOD, TVOD is on fire! While the worldwide TVOD revenue was $86 billion in 2021, it is predicted to rise to $136 billion in 2026 – a 58% increase in 5 years' time (Statista, 2022). This could be a great way to sell videos online if you have valuable and unique videos that people are willing to pay a fee for.
Advertising (AVOD)
With advertising, advertisers simply pay you for access to your viewers. This could work well if you have a big enough audience. Advertising can take different shapes, such as:
– Pre-roll, mid-roll, and post-roll ads: an ad before, in the middle, or after a video
– Take-over ads: the ad is literally 'taking over' the web page that the video is displayed on
– Companion banners: the ad is shown next to the video
– In-video overlays: an advertisement shown 'on top' of the video, as an extra layer
– Interactive ads: an ad utilizing all creative possibilities, interacting with the video
Want to learn more about making money with videos through video advertising (AVOD)? Read all about it here.
Freemium
The freemium combines 'free' and 'premium', offering users a free but limited version, with a more advanced and paid premium version available. The revenue model has been widely used in the online world – among others by Spotify, Dropbox, Mailchimp, Trello, and Hootsuite.
But it's not limited to large companies only. Ekhart Yoga is an online yoga video streaming service with on-demand video content. They make money with videos by offering free access to the beginning of the video clips and then charging for the full (longer) version of the videos, giving viewers a taste of what the content is like for free and then converting them into clients. Additionally, users can sign up for a free 14-day trial to view the full videos.
Bonus tip: freemium with a free trial for the premium version could be a great revenue model, as a recent study showed that the conversation rate among B2B services with a 14-day trial is as high as 68,8% (Recurly, 2021). The average trial length for OTT/SVOD is 15 days, but for the media industry, consumer goods, and consumer services, take into consideration that the median trial period is 30 days.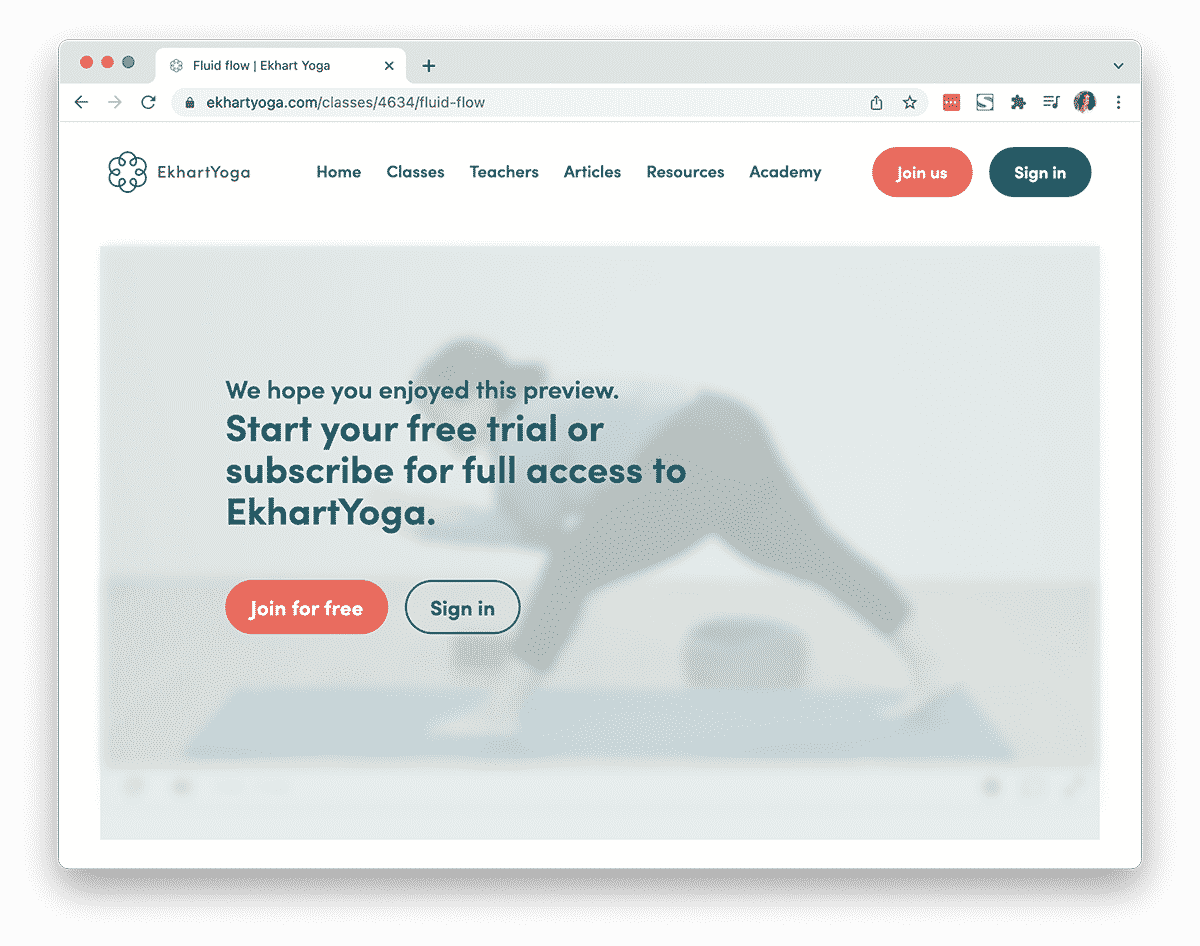 Online yoga video platform Ekhart Yoga offers viewers a 5-minute free preview, with the option to watch the full version if viewers subscribe or sign up for a free 14 day trial of the (paid) membership
Sponsoring
While sponsoring content might not sound too familiar, 'influencer marketing' might. When you create sponsored video content, you are basically getting paid for creating the videos, in the case of mentioning the brand you are being sponsored by. This can take many shapes – from full sponsored video content and online videos to just namedropping.
For example, BuzzFeed's Tasty US has worked with brands such as Del Monte and M&Ms to create videos for Tasty's 89 million (!) following on Facebook. The collaboration with Hershey's for their Marshmallow Kiss cookies generated over 17 million views and 115k views (Tubular Insights, 2017).
Online events (paid)
A final way to sell your videos online and to monetize them is through online events. The video revenue model can be through charging an admission fee to the viewers to attend the online event. An example of a live streaming event is the hybrid event of EduCampus at the beginning of the pandemic. Attendees paid an entrance fee to be able to view the different presentations given. Read more about the live stream event 'Effective Learning and Teaching' in this case study.
Use a combination of monetization models
A good example of how to benefit from various monetization models is the Independent Film platform Dalton.be. They combine both TVOD, SVOD and work with partners by selling videos online by subscriptions and pay-per-view. An individual film can be rented for 48 hours and people pay €2,- or €4,- depending on the duration of the film, but people can also subscribe for all films by paying €5,- a month or €50,- per year (2 months free). In addition, they partnered with public libraries in Belgium, which means if people have a subscription at the library they can also watch content on Dalton.be. To enable this feature, VIXY realized an integration with the public library platform OpenBib.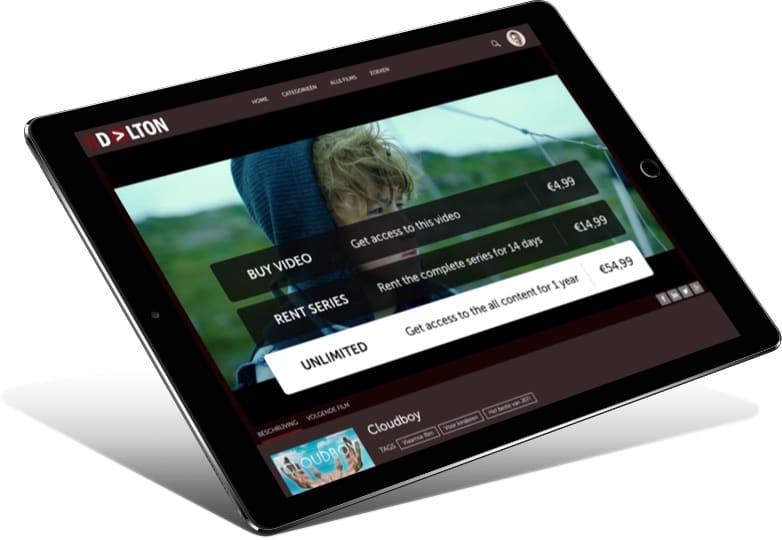 Step 4: Choose the right technique and platform
Once you have established to whom you're going to sell your video content, it is time to create the right content for them. There are a million aspects when creating high-quality video content, which we can't all discuss in this specific article. To touch the surface, we'll outline a few points of attention.
In the fourth step, think about how you are going to make this content and how often you want to make this content. Are you going to make it yourself or hire a video production agency? Get clear on what's most important to you and what's your budget. While self-creating might be a cheaper way to create videos, hiring a professional company will save you time and guarantee higher quality results. And if you really want to create high-quality content on a regular basis, it might be worth considering investing in an in-house production studio.
Whether you are creating the videos yourself or outsourcing them, find something that makes your content unique. Keeping this in mind and giving it a place in the content strategy will give you a massive head start compared to your competitors. What is special about your company, your product/service, or just YOU that people cannot find anywhere else? Do you have special skills or expertise you can utilize and emphasize? There are so many videos online that finding your uniqueness is a must. So sit down, write down some ideas, and get clear on this, before starting with the video content strategy. Thank us later.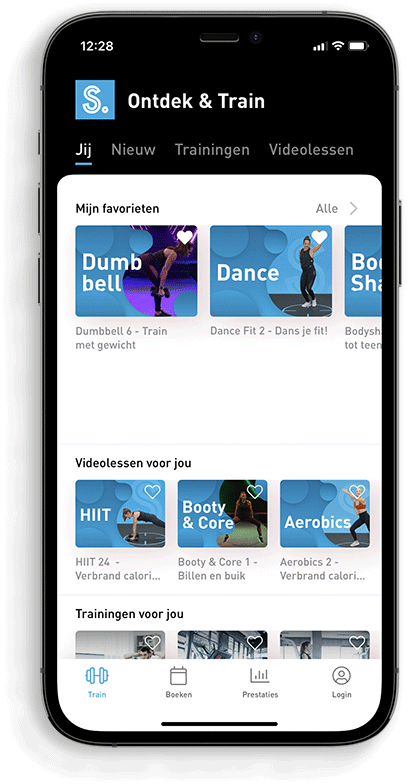 Now that you have already planned to create your content (in step 2) and found the topic and uniqueness, it's time to outline your content strategy. Get clear on the type of content you want to create. What is the goal of your videos and what time of video content suits this goal? Do you want to entertain, educate, explain, amuse, inform, inquire, or do something else? Examples of videos online are online courses, webinars, vlogs, travel videos, live streaming events, online sports classes, or instructional videos, just to name a few. Take the done research and strategy set-ups as a base for making your decision here.
A final tip for creating your video content: keep value, quality, and uniqueness in mind. Underpromise and overdeliver; create valuable, high-quality, and unique video content that truly adds value to the lives of your viewers. With millions of videos online, keeping this in the back of your head is of the utmost importance.
FunXtion delivers premium digital fitness content in the form of on-demand virtual classes, workouts, programs, and exercises for gyms, fitness companies, and health clubs, helping them to build greater customer loyalty, capture quality leads, and generate additional revenue. Hence, the type of content is based on the customer's needs. Read more about FunXtion in this case study
Step 5: Set up the marketing and promotion
While the marketing and promotion step might sound similar, they are very different steps in the video selling process. The video monetization step is about how to sell videos online and is decided upon before the video content creation step, while the marketing and promotion step comes after the video creation step. What both steps have in common is the variety of options. Here are some common ways for video marketing and marketing tools that will help you to sell your videos.
Affiliate marketing
Collaborate with a business related to your own and offer them financial benefits. For example, a sports company with its own video website could collaborate with a sports magazine, creating a special discount code for the readers of the magazine. When the readers enter the discount code on the video website, they can access the video material for free for 3 months or get a 50% discount for an annual subscription, just to name a few examples.
SEO/SEA
Get your online videos high in the search engines or generate traffic to your video website through advertising. With more traffic coming to your website and more people watching your videos, you become more appealing to advertisers or sponsors, broadening your video monetization options.
Email marketing
Create an email list with the email addresses of your potential customers, if you haven't got one already, to send them relevant information. Send people that you know are interested in your brand your freshly squeezed video content to add value to their business or life.
Partnerships
Use your network to team up with relevant brands that are willing to work with you. Contrary to the sponsorship monetization model or the affiliate marketing strategy. An example is the OpenBib partnership from the independent film platform Dalton.be where they enable people from public libraries to watch content, as mentioned above.
Snippets/sneak previews
If you have chosen the 'inform or educate' content goal and have created video courses, giving snippets/sneak previews at platforms such as Udemy or Coursera can be a great way to raise some brand awareness and promote your content.
Omnichannel/multichannel strategy
Use the omnichannel strategy to provide a seamless experience, regardless of the channel or device. Offer an integrated, seamless experience across multiple devices and touchpoints. What better way to promote your content than on your own platforms, such as your social media channels? Monetization works the best on your own website so use the omnichannel/multichannel marketing strategy to get people to view your videos and be able to sell videos online.
Step 6: Arrange the financial part
Once it's clear what you are going to do and how the implementation part is going to look, it's time to create a financial plan. For example:
How are you going to finance the whole project?
Are you going to involve investors or use your own money?
What are the technical requirements and how much does it cost?
Are you going to create the videos in-house (which requires a lot of developers) or hire an external party that can arrange it all?
Arranging the financial part of your selling videos is the final step in the online video selling process.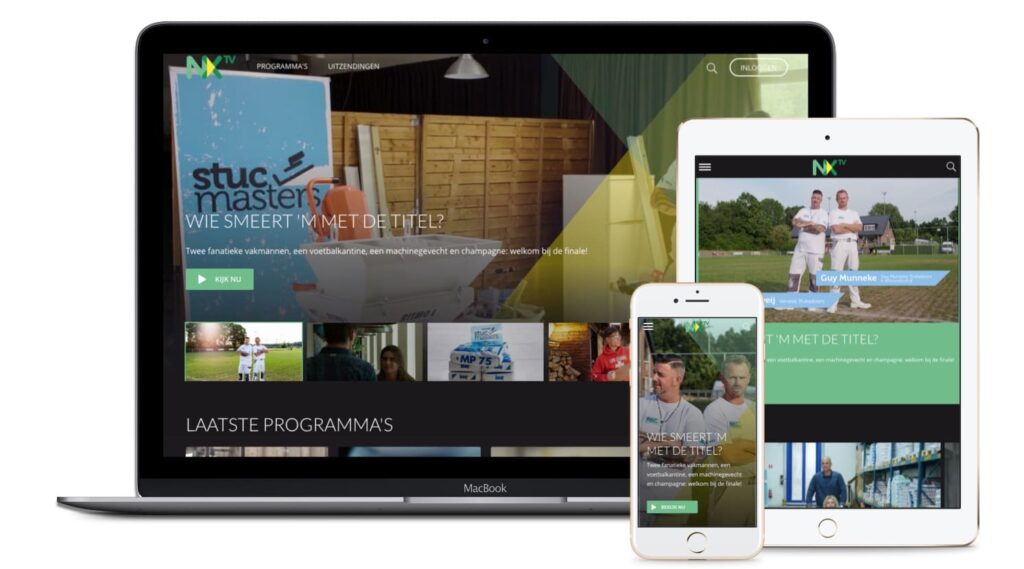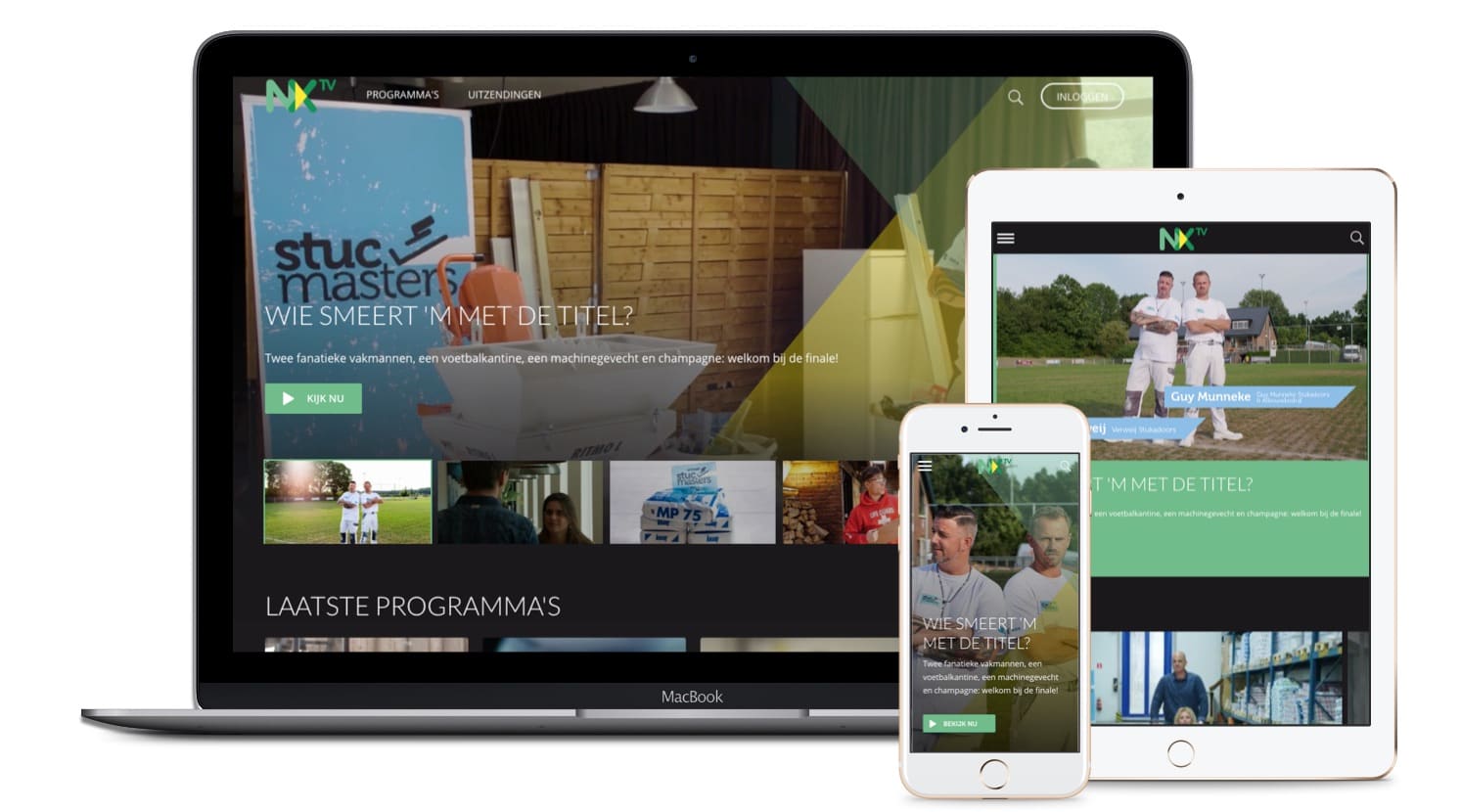 Why you should use your own platform
Where are you going to upload your videos? Often, businesses create a Youtube channel. While Youtube is cheap (in fact, free) and easy to use, other platforms are sometimes more suitable. For starters, it can be difficult to actually monetize your videos – which is kind of the core of selling videos online! Youtube mostly uses the advertising revenue model, which is not always appreciated by the viewers for your niche. While other  ways of selling your videos online are more likely to turn your viewers into customers or satisfied viewers than 'in your face' advertisements, on which Youtube takes some profit as well. Generally, the flexibility on these free platforms is limited and can get expensive when moving away from the free version and scaling online.
A smaller yet more client-focused partner such as VIXY can help to create an appealing video experience for the viewers on all mobile devices as well as a profitable video business for you, making your content stand out from the rest. Brand the videos the way you want to create a pleasant and consequent viewing experience – contrary to other platforms with large watermark logos and only default colors and fonts.
Last but not least, when you upload your videos to a free video hosting platform, you give away the rights over the content. With VIXY, you keep all the rights concerning the videos and metadata and you can subscribe to a data processing agreement. All content on your video channel will be owned by you, making it more strategic with regard to video monetization.
Your own video platform allows you unlimited flexibility, better SEO rankings, clarity on hosting your videos, intellectual property rights and a technical party that is there for you and allows you to grow and flourish. The technique is yours, the videos are yours, and the successes are yours. So while out-of-the-box solutions such as Vimeo might sound appealing, choose your video hosting platform with your end goal in mind and consider in an early stage what's the best option for you.
Conclusion
And there you have it, a ready to go roadmap to start selling your videos online. Whatever direction you are choosing, make sure to get your priorities straight and make your decisions with your company goals as well as your target audience in mind. With all that's happening in the world of video and the miracles of generating an income online, it would be a shame not to take advantage of the endless opportunities that video is offering!
Launch your own OTT TV platform
Curious what your video streaming platform will look like? Feel free to request a demo! We're looking forward to discussing your project and requirements.