Best Live Streaming Platforms to Consider in 2022
People now prefer live streaming videos over other mediums when consuming content. Want to connect with your audience and engage with them in ways that drive revenue for your business? A live video is just the thing to grab and hold their attention.
Which begs the question: How do you pick the right live streaming platform for your business?
With that said, my bet is you want something that:
Fits your budget.
Meets the requirements of your live streaming project.
Scales and adapts to your changing business needs.
But with so many choices and features to consider, it may take you hours (or even days) comparing and analyzing various options before making an informed decision. And it's time you may not have.
But don't worry, we did all the research for you. In this blog post, we break down the top live streaming platforms that deserve your consideration this 2022!
But first, a refresher.
What is a live streaming platform?
A live streaming platform is a solution that allows you to upload and broadcast video content to an audience in real-time.
The operative word there is "live." A live streaming platform's main function is not to record videos and then upload them for later viewing (although modern live streaming platforms offer features that allow you to do that in the form of on-demand video assets).
A live streaming platform can help you stream content such as:
Interviews
Gaming sessions
Any business that wants to generate leads, sales, and repeat business will do well to deliver live streaming videos to their target audience. And you need a live streaming service or video streaming platform to do that.
When to choose a free live video streaming platform?
You're probably thinking: Why can't I just stream my videos on social media platforms like Youtube or Instagram?
Of course you can! But before you use a free live streaming platform, it's important to know at least what you're signing up for.
To help you arrive at an informed decision, let's go over the pros and cons of using a free live video streaming services.
Pros
They have immense reach. Free live streaming platforms are essentially social channels, which is to say that the majority of your audience is already there. As such, these platforms offer a great place for you to build a digital footprint and generate social engagement.
They are free. If you're a small business with a limited budget, free live streaming platforms offer you a way forward to build an audience.
Cons
You have copyright limitations. Without the right licenses for copyrighted music, your live streams may be removed or muted. This happens more often than you would think.
Ads will appear on your live streams. Ads tend to annoy viewers, and you get only a small share of the revenue from those ads.
There are limitations on monetization. Free video platforms require that you meet certain conditions before you can earn money from your content.
When to choose a professional live video streaming platform?
Here are good reasons to choose a professional live streaming platform over a free one:
You get high-quality streams. Most paid platforms use a robust and flexible infrastructure and a content delivery network, allowing them to deliver high-quality seamless videos.
You get to stay on brand. Customize your video player with your branding elements and add interactive elements to create a cohesive branded experience
Create high-value monetization opportunities. Such as selling tickets, subscriptions or just providing access with unique tokens.
You get more in-depth video analytics.
You receive reliable customer support and possibly help with the live production & streaming aspect
You get to deliver distraction-free streaming experiences.
You have a special request for broadcasting your live stream that is not covered in a standard live streaming setup. Such as protecting your stream with a watermark or streaming live with multiple subtitle or audio track.
You get an effortless workflow from live to on-demand – from streaming your event live, recording the event and publishing the content as on-demand without any hassle.
Features to consider when comparing live streaming platforms
Finding the right mix of live streaming features is key to choosing the live streaming platform that will move the needle for your business. Here's a nice breakdown of features you need to consider when doing a live streaming platform comparison:
1.    Streaming quality
The quality of your live streams has a significant impact on the experience of your viewers, and by extension, your revenue.
Does the platform use a global CDN, robust live encoding & delivery and high-quality streaming flavors? Is it using the latest live encoding codecs?
2.    Security options for publishing the live stream
How do people get access to the stream? Is the stream publicly available, or do people need to log in with a password, unique link, or unique code? The live platform has to support these options.
3.    Branding capabilities
Does the platform allow you to customize both the platform and the player so that the viewing experience matches your corporate brand identity? Does it let you embed your brand logo as a watermark to protect your video content and help you stay on brand? A good professional live streaming platform also gives you the option to integrate your brand colors, graphical layouts, and upload background images. It's important that the platform is completely white label so every video experience you deliver stays on brand.
4.    Interactivity & live chat
Which interactive elements does it support? You want one that lets you add clickable CTAs to get your viewers to take your desired action, whether it's to download a PDF, sign up for an event, or go to an additional page such as the biography from the speakers of your event.
Find out what level of engagement is offered by the platform. Does it support live chat or polls? Does it allow admins to have some kind of chat moderation feature to filter incoming messages?
5.    Video monetization
How do you earn money from your live streams? Is it easy? Can you sell tickets for your event? Does the live platform integrate with payment and/or ticketing providers? Can you later make the videos available as on-demand streaming with an SVOD (subscription) or TVOD (pay-per-view) model (think HBO Max or Pluto TV)?
6.    Live recording
Does the live platform offer an automated workflow that eases the transition from publishing a live stream to recording it and then making it available as an on-demand download?
7.    Analytics
At the end of the day, your videos need to deliver ROI. Whether your goal is to generate leads, retain customers, or measure engagement, you need in-depth video analytics to help you track key KPIs and generate the insights you need to steer your video marketing efforts in the right direction.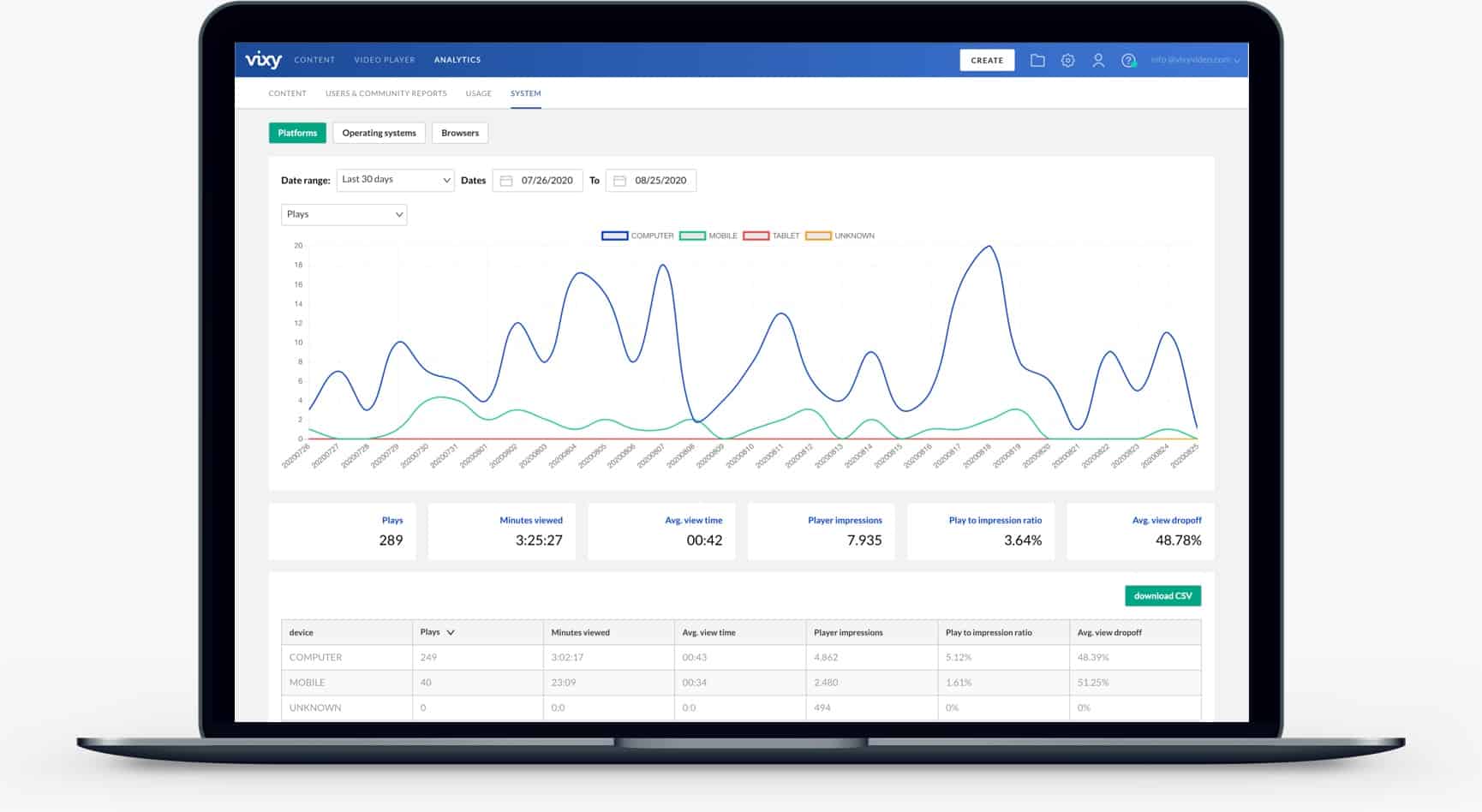 Best Live Streaming Platforms to Consider in 2022
Let's get to the fun stuff.
You now have a general idea (at the least) on which features will matter to your video marketing campaign. That knowledge will help you make an informed decision on which live streaming platform will fit your business needs and budget.
Here are the top live video streaming platforms you should look into.
1. VIXY Video
Overview and Company History
Founded in 2010, VIXY Video is a video software company based in Hilversum, and is part of NEP the Netherlands. Since its launch, VIXY continues to deliver millions of streams to more than 150 countries each month, serving companies such as Basic-Fit, ING, Goodlife, Philips, Shimano, Royal Convertgebouw Orchestra, NCOI, Ekhartyoga, and many others.
Basic Functionality
If you need a one-stop solution for live broadcasting your events, VIXY livestream platform is a solution you can rely on. Both the player and page are fully whitelabel and can be branded, they use a global CDN for delivery, secure streaming with unique tokens and integrate with ticketing companies and include interactive options such as live chat, polls and questions.
VIXY Video's most distinguishing features are its versatility and live streaming quality. Which is a big deal.
VIXY Video is secure, keeps you on-brand, and has key features that help you create a new level of engagement. Better yet, VIXY makes it easy for you to monetize your engaged users.
Key features
Fully whitelabel. Both the live streaming player and live event pages are fully customizable with your brand and include beautiful image uploads adding your logo, font and color scheme.
Secure live streaming. Host secure live events with ease and provide unique access codes to each user for entering the live stream.
Unlimited live streaming. For one fixed subscription you can stream unlimited live streams each month.
Live chat features. From live chat, to polls questions and surveys at the end of the video stream. The platform provides all the video tools you need.
Interactive features. Keep users engaged by creating interactive videos with robust interactive elements and timeline functionality.
End to end solution. Effortless workflow for live streaming your event, recording the stream and publishing the stream later as on-demand video.
Global CDN. Use the best global CDN for delivering your live streaming to users all over the world. VIXY's live streaming platform doesn't compromise on live video stream and the quality.
Scalable Provide live streaming to your audience of up to 50.000 participants  simultaneously without the quality being compromised on when there is an increasing amount of viewers. You can also request more viewers.
Live monetization. Generate income easily through the platform's multiple monetization options (video advertising, pay-per-view, ticketed live stream events, etc.)
Powerful video API & SDK's. Integrate VIXY's live streaming capabilities into your own website or app.
GDPR compliant.
Advanced features. Such as preventing your live stream from ripping with a unique watermark token in the stream for each user (sometimes used for business events or launching new products).
Pricing
VIXY Video has 3 pricing plans to stream video:
Startup Plan. Includes 100 GB of storage space and traffic of 300 GB per month.
Professional Plan. Includes 300 GB of storage space and traffic of 2.000 GB per month.
Enterprise Custom. Unlimited storage space and traffic per month.
VIXY's live streaming service is an add-on which is available for €250,- Monthly, that enables you to host unlimited live streams.
See VIXY's pricing page for full pricing details.
2. DaCast
Overview and Company History
Since its 2010 launch, DaCast has positioned itself as a high-quality streaming solution that offers competitive pricing. In early 2019, the company strengthened its position in the OTT industry when it acquired 'vzaar', a video hosting platform for businesses. The company serves more than 300,0000 professional broadcasters and businesses worldwide.
Basic Functionality
DaCast is an end-to-end live streaming solution that provides secure video hosting. The video platform's strengths lie in its user-friendliness, flexibility, and high-quality streaming. DaCast is also a great platform for beginners as it eliminates friction in setting up a live stream. You can literally start a new live stream in minutes!
Key features
Secure video hosting
White label capability. Maintain ownership and control of the video experience by eliminating ads third-party logos.
Privacy and security. Keeps your videos secure via HLS encryption, password protection, HTTPS delivery, and more.
Video content management API and player API. Build your own video comment management system.
HTML5 player. Stream videos directly from your website with ease and more control.
Subscription management system supports SVOD, AVOD, and TVOD (online pay-TV services).
24/7 support
Pricing
The pricing plans for DaCast come in 4 levels.
As expected, the higher the cost, the more features you get, with bandwidth and storage size being the distinguishing feature between the 4 levels. If you have high-volume needs, you'll have to contact the company so they can set you up with a custom plan that can meet your needs.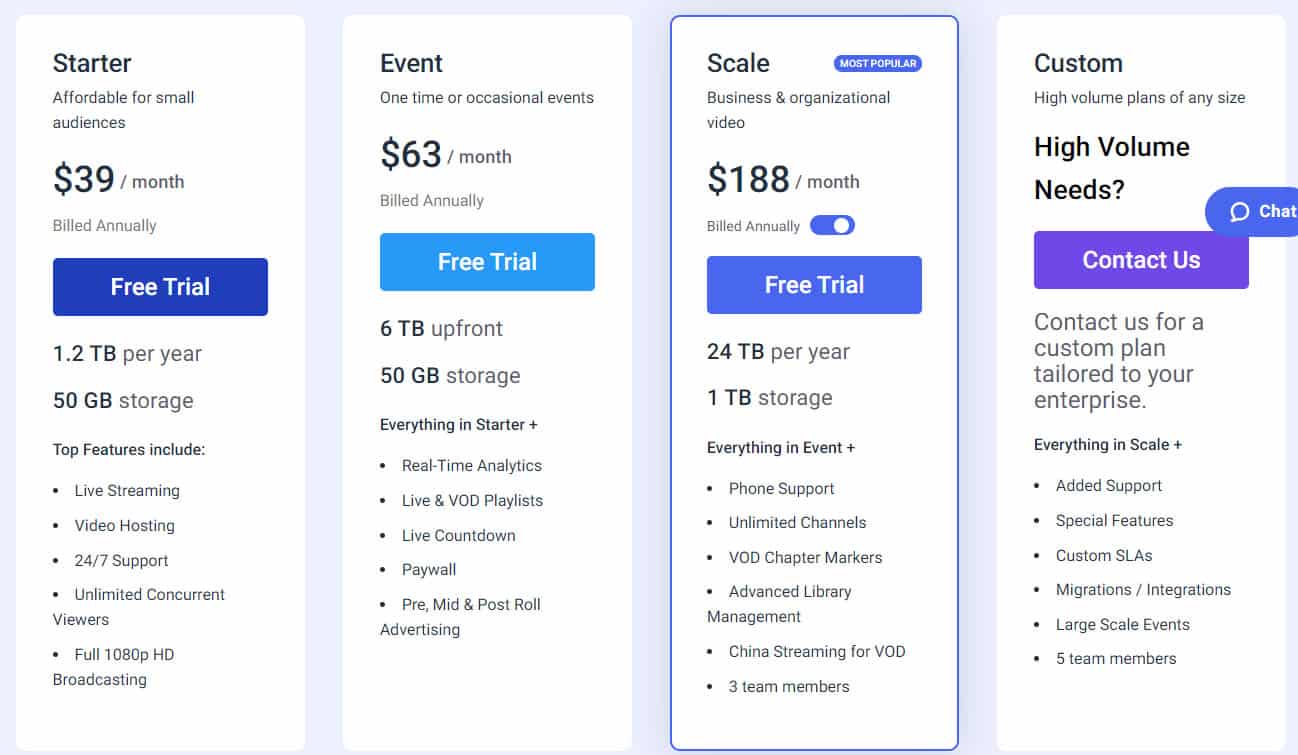 3. Vimeo
Overview and Company History
Vimeo originally launched as livestream.com in 2004 to make it easy for creative professionals to showcase their work through videos. Vimeo was the first video company to support HD video. The company later acquired VHX, Livestream, and Magisto, and launched a host of new products to help creative professionals create more engagement with live streaming content.
Basic Functionality
Vimeo makes it easy for any video content producer to create, manage, and share high-quality videos. The platform built a reputation as "Youtube for serious video producers." But that's an unfair comparison considering that Vimeo is fully white label, not to mention its robust OTT platform.
Key features
Superior viewing experience. Stream ad-free at full HD even with limited bandwidth.
Add branding and rich media. Incorporate your own logo, on-screen graphics, etc. into your videos.
Livestream Studio. Tell compelling stories with video via the platform's native encoder software.
Security and privacy. Control who sees your videos with single sign-on authentication (SSO), embed permissions, private live streaming, and more.
Pricing
Vimeo has three pricing plans.
Vimeo charges $75 per month for the Premium plan, which includes both live streaming and VOD support.
The Enterprise plan includes dedicated support, advanced security and control for virtual events, corporate communications, and training. For custom pricing information, you have to contact Vimeo.
Vimeo OTT lets you launch a subscription channel and monetize your content with any app. Starting price is $1 per subscriber per month. For more details, go to this Vimeo OTT pricing breakdown.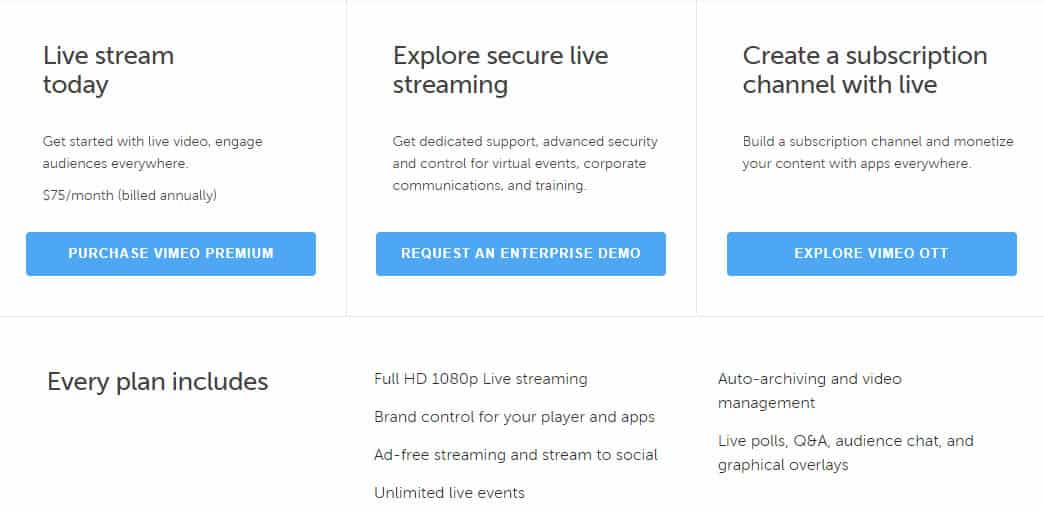 4. Brightcove
Overview and Company History
Being launched in 2004, Brightcove is one of the first video platforms to enter the scene. In fact, the Boston-based company hit its stride just when most consumers are turning to mobile devices to watch online videos. Even better, Brightcove helped companies from around the world take their live streaming to the next level, scaling their businesses efficiently as new technologies and new customer expectations emerge through the years
Basic Functionality
Brightcove excels at delivering the flexibility that businesses and content creators need to create unique and flawless viewing experiences, while allowing them to scale effortlessly as they adapt to their organization's changing needs. The platform's Video Cloud studio is a video producer's dream, making it easy for organizations to set up, manage, and monetize live video events.
Key features
Video Cloud Studio.
Live redundancy. Prevents downtime during live streaming.
Live clipping for social. Create and publish clips on social media while live streaming.
DRM-encrypted live streaming. Safeguard revenue and protect content from piracy.
Live to VOD workflow. Rendering of VOD assets is frame-accurate, boosting viewer engagement for later playback.
Monetization options. Comes with pre-roll ads, sponsorship bumpers, server-side ad insertion with SCTE support.
Pricing plan
You need to contact Brightcove for pricing details. The company does offer several pricing plans, which include:
Starter: 5 users, up to 50 videos, up to 50 viewers, includes up to 8 hours per year of SD live streaming, viewer tracking
Professional: unlimited videos, 100,000+ no overages plays, 10+ users
Enterprise: unlimited videos, 100,000+ no overages plays10+, unlimited upload and analytics-only users, 50+ viewers, unlimited HD Live streaming, viewer tracking, multi-account environment
5. Muvi
Overview and Company History
Muvi is an Albany-based company registered in the state of Delaware. The company is guided by a singular vision: to disrupt the OTT video and audio streaming market by offering cost-effective solutions for businesses, content owners, and producers.
Basic Functionality
Muvi is an end-to-end OTT platform that offers VoD and live streaming solutions. The platform comes with tools and features that allow brands and creators to launch their own OTT channel and monetize it easily. And all of it can be managed using a single CMS. No coding knowledge is required. The platform is also known for making it easy for producers to launch multi-screen white label videos without external support.
Key features
Low-latency live streaming. Process a high volume of data with minimal delay (10 seconds latency or less).
Live webcast
Adaptive and auto-scalable live streaming. Works great for grand events
24×7 White glove support
Built-in Multi-DRM Security
Geo-blocking
Live analytics
Earn revenue via PPV, SVOD, or Video advertising.
Live DVR Control. Let your audience Pause, Rewind, Play, etc (control the video as they would a DVR)
Pricing
Starting price is $399 per month for the Standard package. The Enterprise package is priced at $3,900 per month.
Mobile and TV apps require additional fees.
Comes with a 14-day free trial.

6. IBM Cloud Video
Overview and Company History
IBM Cloud Video (formerly Ustream) was founded in 2007 as a solution to help soldiers stationed in Iraq communicate with their loved ones at home. IBM acquired Ustream in 2016, making it part of the IBM Cloud Video business unit. The company now has more than 180 employees in its San Francisco, Los Angeles, and Budapest offices.
Basic Functionality
IBM Cloud Video is an all-inclusive platform providing businesses with scalable cloud-based video solutions. The platform offers reliable live streaming and video on demand (VOD) solutions while giving users the flexibility needed to host and manage complex broadcasting setups. You can watch as well as search for any video content online using this tool.
Key features
Enterprise video streaming services. Built to address the unique needs of hosting, managing, and broadcasting videos in an enterprise
Enterprise content delivery network. Provides access to a network of servers to reduce load times and boost website performance
OTT video management. Easy management, storage, and distribution of video assets
Intelligent automation and distribution services
Video monetization. Such as pay-per-view, SVOD, ads
Pricing plans
IBM pricing plans come in 4 different packages:
Silver: This package is ideal for small businesses and is priced at $99/month
Gold: Perfect for medium-sized businesses. Priced at $499/month
Platinum: Great for those who stream frequently. Priced at $999/month
Custom: Please contact IBM Cloud video for custom plan pricing
7. JW Player
Overview and Company History
JW Player started out in 2005 as an open-source project. In fact, it became one of the leading open-source video players for Flash. In December 2015, the company dropped its open-source license. Since then JW Player has pioneered many key innovations in the video streaming industry, including HTML5, Chromecast, and more.
Basic functionality
JW Player offers a comprehensive video platform that allows every type of business to connect with its audiences and boost its revenue. The platform's best feature is its HTML5 video player, making it easy for businesses to integrate videos into their website without relying on code. Streaming quality is top-notch thanks to its adaptive streaming technology.
Key features
HTML5 video player
Multi-bitrate HD encoding. Lets you deliver the best possible viewing experience to a great number of viewers.
Password-protected video sharing.
Video monetization. Maximize revenue with ad-supported video.
Video intelligence. Use data and insights gathered from viewer behavior to deepen audience engagement.
Pricing
A 30-day free trial subscription comes with a full API and SDK access, a new non-commercial license, and 25 GB hosting bandwidth and 75 GB streaming.
Starter plan is $10 per month, and comes with HTML5 Video Player, video gallery, and 150 GB hosting bandwidth and 500 GB streaming (50,000 plays).
The Enterprise plan has custom pricing. Contact JW Player if you have specific video needs the Starter plan can't accommodate.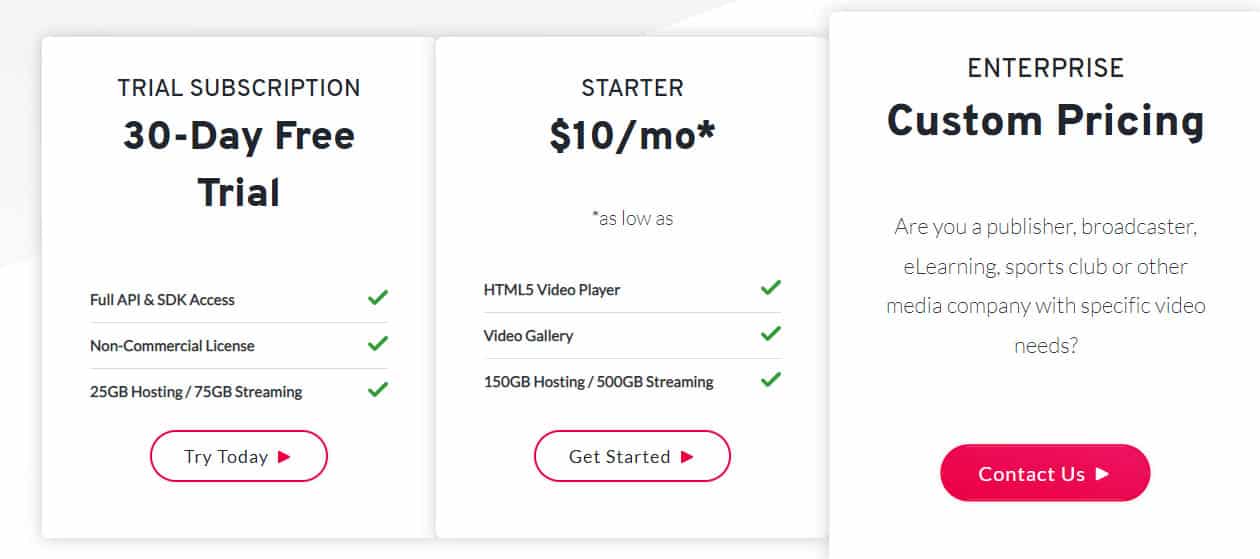 8. Youtube Live
Overview and Company History
With more than 2 billion monthly users, it's safe to say that Youtube is the most popular entry in this list. Nearly two years following its founding in 2005, Google acquired Youtube, turning the platform into the undisputed leader in online video. As of May 2019, more than 500 hours of video content are uploaded on Youtube every minute.
Basic Functionality
Youtube Live is a free service that allows you to broadcast videos to people around the world in real-time. It's also easy to get up and running. Since Youtube Live is a free service, Youtube has partial rights to your content.
Key Features
Great reach. Second largest search engine after Google
Livestream via webcam, mobile, and encoder streaming
Free to use
Ads, Superchat and Super Stickers, and Channel Memberships
Live chat moderation tools
9. Facebook Live
Overview and Company History
Facebook, like Youtube, doesn't need an introduction. That said, its live platform Facebook Live is not without its humble beginnings. Launched in August 2015, Live was made available to celebrities only, starting with Dwayne "The Rock" Johnson. The platform increased in popularity through the years. In 2016, Facebook Live became available to non-celebrities as well, and the live streaming platform has started blowing up since then.
Basic Functionality
Facebook Live allows Facebook users to broadcast live videos to their audience. While the livestream is ongoing, the audience can engage with the video via reactions and comments. People who engage with your videos can also receive notifications from the live stream.
Key features
It's free!
Live Chat
Privacy and posting settings
Tag friends and choose locations
Add filters and other effects
Over to you – conclusion
So there you have it – the best live streaming platforms that deserve your attention. Now it's time for you to make a choice.
Final piece of advice? Choose the live streaming platform that will benefit your audience the most. While there is no perfect live streaming platform, you can choose one that's perfect for your audience's needs.
With that said, if you want to keep serving your audience, you need to do what's necessary to make your business thrive. How to pull that off? Give your customers a branded experience and monetize their engagement.
Stream your first live event!
Want to give your audience a live streaming experience that will keep them coming back? Book a demo with us and we'll be happy to show you how!