VIXY and IVORY launch most comprehensive interactive video solution
VIXY and IVORY bring the best of both worlds together in the most advanced and user-friendly online video platform. Alexander Roossien (founder of IVORY) and Niels Buningh (co-founder of VIXY) about their partnership.
A powerful partnership
VIXY offers major brands such as Basic-Fit, Binck, NCOI, and OHRA an advanced platform to professionally manage, stream, and analyze video. In turn, IVORY offers users an innovative tool to easily create interactive and personalized videos. Two strong players in the online video market, each with their own expertise, are now joining forces.
Full integration
Niels Buningh, co-founder of VIXY: 'We were extremely impressed with the simplicity at which even the most novice user can create beautiful personalized and interactive industry videos with IVORY. We therefore considered IVORY as a valuable addition to our platform.'
That interest was mutual. Alexander Roossien, founder of IVORY: 'We viewed VIXY as an ambitious party, which is growing fast, just like us. By not only joining forces, but also seamlessly integrating our platforms, we are becoming the unquestioned frontrunner in the field of interactive and personalized video. This way, we can serve an even broader market.'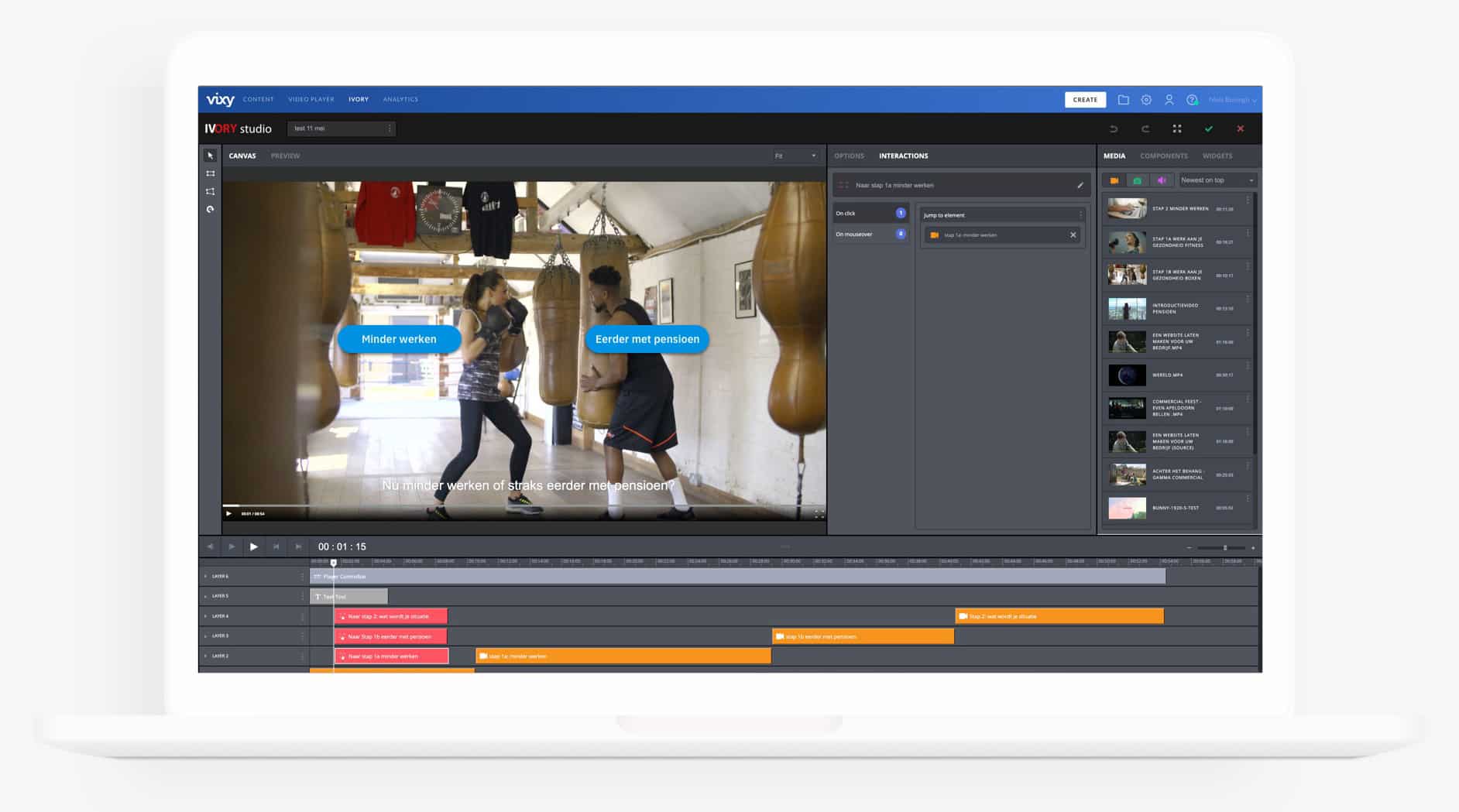 Most user-friendly solution
'Videos that are interactive and personalized aren't new', Niels continues. 'What is new is the simplicity with which you van create interactive video yourself, combined with the scalability of the VIXY platform. This allows us to market interactive video well and enables users to have access to the most complete solution available in this field.'
Adding interactive elements is a simple process. Thanks to the intuitive design and the drag & drop interface, you can create interactive and personalized videos in an instant.
From a fun way of communicating to a real business opportunity
'Providers can communicate on a demand-driven basis by using interactive and personalized video,' Alexander explains. 'You turn the passive viewer into an active user. Because the user only sees what is relevant, you are able to keep his attention longer. In addition, every click becomes a touchpoint and in this way allows you to collect data about the user. In this way, audiovisual communication not only becomes a fun way to convey your message – it also becomes a real business opportunity and serious online marketing tool. KPIs such as return on investment and conversion rate, which in the past were difficult to determine for video, are now set in stone.'
Making boundaries disappear
Niels: 'Our aim is always to offer the fastest and scalable video streaming platform possible. As a result, our focus has never fully been on the extensive possibilities of interactivity. At IVORY, we saw just the opposite: full focus on user-friendly interactivity.
By combining the best of our worlds, those boundaries disappear. This matches very well with our shared ambition to become the most widely used video platform in Europe. As a club, we also fit together very well: in addition to our growth ambition, we share our enthusiasm and our desire to do things together. We don't like isolated teams. In sum, it's just an ideal fit. '
Shaking up the market
'Our joint proposition will cause the necessary shake-up in the market. The use of interactive video does not have to be as expensive as some market parties would have you believe,' Niels concludes. 'By making the use of your product inaccessible, you actually slow down innovation. We believe that by using a fair price and providing good support, we make our platform accessible and affordable for a wide target group. In this way, we can continue to innovate in order to meet the needs of the market even better. You can already start with interactive and personalized video for € 99 per month on top of your existing VIXY license. That's how we make sure that you are provided for when you are a small business but are still welcome when you have grown.'
Interested?
Do you want to start with interactive and personalized video, just like Binck, ING, NPO, PostNL, Samsung, and Vandebron? Just send us a message and do not hesitate to contact us. We are happy to tell you more about the possibilities of our advanced and user-friendly interactive video platform.
Branching (via flow chart)
Branching means creating branches in a video, where each viewer goes their own way and composes their own video. Imagine it like a customer journey, but within a video. You can let the viewer decide what he or she wants to see.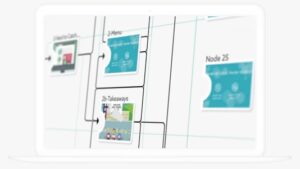 Quizzing & questions
Interactive Video Quizzing integreert naadloos meerkeuzevragen op elk moment in een video. Deze kunnen worden gebruikt om de betrokkenheid te vergroten, kennis en retentie te testen, gegevens te verzamelen en meer.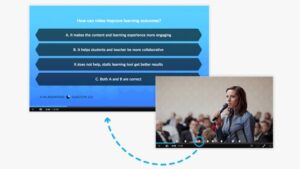 Personalized video
Personalized video is one of the most effective ways to personalize your marketing and sales. You can personalize text, images, audio and scenes in a video. Take it a step further by using the customer data.