How Enterprises Build Trust With Video Streaming
The modern customer relationship is all about trust — it's what makes customers stick around, and it's what drives revenue.
According to Salesforce's recent survey, 88% of consumers believe trust is more essential in these rapidly changing times, while 71% have already switched brands within the past year.
However, many brands are struggling to earn the trust of their target customers. Adobe Summit's 2022 Trust Report found 75% of businesses have had a hard time building up their clientele since the pandemic.
If you want to earn the trust of your audience, you have to show rather than tell.
And what's the best way to show your audience that you're worthy of their trust?
One word: Video
Why enterprises use video to build customer trust
If you're looking to buy a new car and you're concerned about safety, which brand would you choose? The one with a printed brochure filled with facts and figures about the car, or the one with a video of the car being subjected to rigorous safety tests?
We're pretty sure you'll choose the latter. And you're not alone.
In fact, recent research by Wyzowl shows that 89% of customers will buy a product or service after watching a brand's video.
And no surprise there. Video brings an interactive, personal touch to communication between brands and customers, enabling businesses to create a sense of connection with their audience.
It helps you build relationships by introducing your brand story and values in an engaging way.
When people are engaged, they're more likely to let their guard down. What more if you use video in ways that demonstrate not just your expertise and ability to solve problems, but also the human side of your business?
The possibilities are endless.
How to use video to build customer trust
But not all videos are created equal. To earn the trust of your customers, you need to create videos that speak to their wants, needs, aspirations, and sensibilities.
Does that sound like a lot of work? It's not as difficult as you think.
Here are five tips for creating video content that builds customer trust.
1. Highlight customer stories with video
Customers love success stories, especially those that highlight the struggles they are currently facing.
Success stories make them feel like their needs can be addressed and inspire them to take action (and in the process make them consider buying your product).
Highlighting customer stories in your videos gives your audience a better understanding of how your products or services have impacted individuals like them. This not only builds your credibility as a brand but also creates opportunities for building an emotional connection with your customers.
So feature customer stories in your video content to show how you can help your target audience succeed, and craft those stories in ways that connect with them.
Pro-tip: Customers want to hear directly from other customers. Make sure you feature real customer testimonials in your video content to connect with viewers on a more personal level. With a variety of visuals and real-life stories, you can create compelling videos that instill trust in your brand.
Case study: ASML, Creative Animal and VIXY worked together to organize a unique live event combining augmented reality and a secure video streaming platform.
During the event, participants were given access to a secure video stream from the location via their own device. The high quality of the stream made it seem as if the participants were there on site. Augmented reality enabled the participants to participate interactively in the event and even see eachother on a virtual arena. During the event all the global participants could ask questions directly to the management and get in touch with each other.
The relaxed atmosphere, the setup of the event with AR and the no-nonsense attitude of the speakers & live audience generated good laughs. This unique event was not only technically advanced, but also offered an entirely new experience to the participants. Using the latest technologies, they could remotely participate in a live event as if they were there themselves and get involved with the company on it's latest developments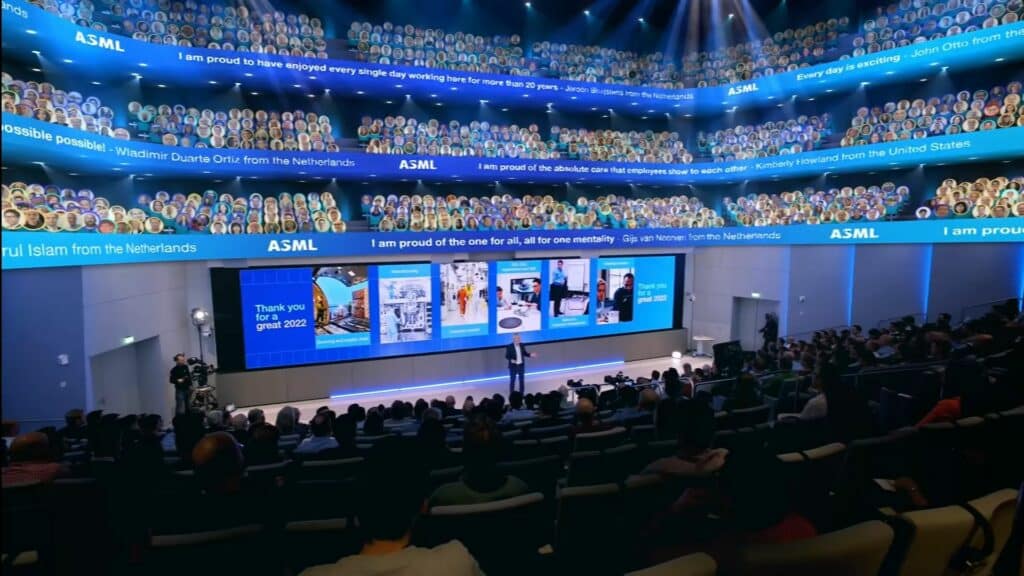 2. Invest in high-quality video production
An online video is an effective way to showcase a brand's products or services. But you can even do better by conveying its values, personality, and commitment to your customers.
If you want your audience to see, hear, and "feel" your brand, you must invest in high-quality video production.
When your videos look polished, reliable, and professional, it shows that you're serious about the value you offer and that you respect the needs of your customers.
To create a high-quality video, take the time to do the following:
Research and hire a reliable video production company that understands your brand, mission, and goals.
Invest in good equipment and tools, like lighting, cameras, lenses, stabilization systems and more.
Consider music and sound design carefully — they can be an integral part of storytelling.
Last but not least, choose a video hosting company that is reliable.
And by reliable we mean a platform that:
Offers extensive features for customizing the look and feel of the video player and matches the brand identity.
Lets you stay in control of the video playback and the viewing experience, such as what happens when the viewer finishes the playback session?
Offers features like full HD streaming, plugins for subtitles, showing related company videos and securing the video stream with a password.
Has a good customer service record and a customer support team that is willing to provide technical support if needed.
By investing in high-quality video production, you'll be able to create content that will leave the audience with a positive impression of your brand. This, in turn, helps build a deeper connection and earn their trust.
3. Invest in secure video streaming
In today's digital age, companies must offer a wide range of streaming services to connect with customers and promote their products and services. Live events, virtual town halls, broadcasts, and OTT TV are essential for businesses looking to leave a lasting impression.
But with the increased use of video content comes a need to protect it.
During Q3 of 2022, approximately 15 million data records were exposed worldwide through data breaches, representing a 37 percent increase from the previous quarter.
This is a clear indication that companies need to take video security seriously. If a video is not properly secured, it can be used to extract sensitive data and cause irreparable damage to a business's reputation.
When that happens, you lose the trust of your audience, and you may not get it back.
So when you're selecting a video hosting solution for your video streams, choose one with features that ensure the security and privacy of your content.
Here are some important security features to look for:
Encrypted streaming: Protects your videos from unauthorized duplication and distribution, keeping your data secure and giving you peace of mind.
Access control: Allows you to manage who can view your streams, giving you full control over who has access to your content.
SSL certification: Secures the data transmitted between your website and your viewers, ensuring that your data is always protected.
Geo-blocking: Restricts certain regions from viewing specific content, giving you the power to control who sees your content.
User authentication: Requires users to enter login credentials before viewing any content, adding an extra layer of security to your streams.
IP address restriction: Limits access by blocking certain IP addresses from accessing your stream, ensuring that only authorized viewers can access your content.
Paywall integration: Allows you to require payment from viewers before watching a video, giving you control over who accesses your content.
Threat detection: Monitors incoming traffic for potential threats like malware or viruses, ensuring that your content is always secure.
Watermarking: This is another security method we (VIXY) developed and implemented ourselves for live streaming events such as for Shimano's product launch in 2022 and 2023. For each viewer, an unique watermark is created during the encoding process which shows their own code in the stream: making it virtually impossible to record the screen without revealing the person behind the recording as that would reveal their own code.
To summarize it up: the security of your stream is just as important as the quality of your videos. If you want to earn and maintain the trust of your audience, invest in a secure streaming platform.
4. Add brand elements to your videos
If you were to picture your brand in a single frame, what elements would you include?
Would it be a logo, an eye-catching font, or even an attention-grabbing color palette?
Whatever the elements may be, incorporating them into your video content is one of the best ways to put your brand's stamp on it.
According to The State of Brand Consistency report by Marq (formerly Lucidpress), brand consistency can result in a 33% increase in revenue.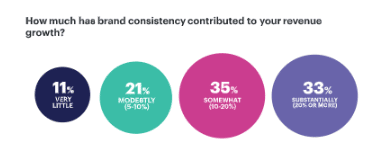 This goes to show that if done well, adding brand elements to your videos (or any type of content, for that matter) helps to foster brand recognition and trust among your target audience.
How do you incorporate branding elements into your videos in ways that instill customer trust?
Here are a few tips:
Choose colors that match your brand identity: Whether you decide to use the same colors featured in your logo or opt for a vibrant palette, make sure the colors reflect your brand and represent the message of your video.
Use logos, fonts and other design elements throughout the video: This will help to create a sense of unity and consistency, establishing your brand identity.
Use a watermark: By placing a small logo or watermark in the corner of your video, you're giving viewers a subtle reminder of who you are.
Create custom graphics to supplement your video: This is a great way to add a personal touch to your videos while still maintaining a professional look.
Use music and sound effects that reflect your brand: Music and sound effects can help to set the tone of a video, so make sure they're in line with your brand's overall message.
Use sub-titles and multi-audio streams: This makes your videos more accessible and helps to engage viewers, especially those with hearing impairments and who speak a different language.
Pro-tip: If you want to create fully branded video experiences, invest in a whitelabel player. This way you can customize your player with your own colors, logo, and branding elements, giving your viewers a one-of-a-kind experience they can only associate with your brand.
5. Get interactive to control what next steps viewers take next
We live in an era where tapping screens and swiping left and right have become second nature. As media consumers, we've grown accustomed to having ownership over how we experience content.
In a study conducted by Spiel, 87.7% of respondents noted a growth in online sales after incorporating interactive video into their sales strategy.
If you want to truly engage and captivate your viewers, give them the power to take control of their journey. And that means you need to start thinking of ways to make your video content interactive.
By adding interactive elements to your videos, you are creating opportunities for two-way interactions that build stronger connections.
So, how can you get interactive with your videos?
Here are a few ideas:
Add quizzes or polls: Add quizzes or polls to make your viewers think about specific topics related to your brand, or you could even add multiple choice questions that give viewers instant feedback.
Incorporate Q&A sessions and live chat: By hosting Q&A sessions and live chat into your videos, you enable viewers to ask questions and get answers in real-time. It opens up opportunities to help prospects any objections they may have about your product or service, plus it's a great way to demonstrate you're listening to customer feedback and taking it seriously.
Add clickable hotspots: Adding clickable hotspots in your videos will allow viewers to find additional information, or even take them directly to related products or services.
Binckbank (now part of Saxo bank), a Netherlands-based online broker and a VIXY Video client, knew how to leverage interactive videos to engage and connect with their audience.
By linking their various tutorials together, they enabled viewers to choose what they find most interesting, click on various layers, and decide which topics they want to see more videos about. This keeps the videos relevant and interesting, which results in them being viewed longer and better.

No matter what techniques you use to make your videos interactive, it's important to make sure they are intuitive and easy to use. That way, viewers can enjoy the experience without feeling overwhelmed.
6. Personalize your videos
Customers don't appreciate it when brands speak to them as if they're a faceless entity. Who would?
In fact, recent studies have shown that 74% of consumers find it frustrating when the content they see on a website is not relevant to them.
You want your audience to pay attention to what you have to say (or sell)? Then create personalized content that speaks to them, and that's tailored specifically to their needs.
That way, customers feel they are valued and understood, and it sparks a deep sense of connection that instills trust.
[Image source]
When it comes to personalization, video is where it's at. Why? Because it provides a unique combination of visual and auditory elements that can engage and entertain viewers in a way that other content forms cannot.
So, how can you use personalized video to grow your business?
To get started, incorporate customer data such as their name, location, or interests to create videos that speak to them on an individual level.
Here are some examples of how you can use personalized video to improve your marketing strategy.
Use personalized text: Use a customer's name or other information to incorporate personalized text into your video content. You can use this text to provide additional information, such as an offer code or discount code, that will encourage users to take action once they watch your video.
Use scene segmentation: You can use scene segmentation to create personalized videos that are relevant to the needs of specific customer segments (like showing scenes with children playing in the background if the viewer is a parent).
Incorporate personalized images: You can display images that are relevant to the viewer (like a picture of a dog if the viewer has a pet) or their interests (like showing pictures from travel destinations they've searched).
With a little creativity and some planning, you can create personalized video content that will not only delight your viewers but also win their trust.
Using a video hosting platform with automated video personalization features can also help you create personalized video content at scale. VIXY is a video hosting platform that allows you to create videos and automatically personalize them for your audience based on their viewing behavior, interests, demographics, and more.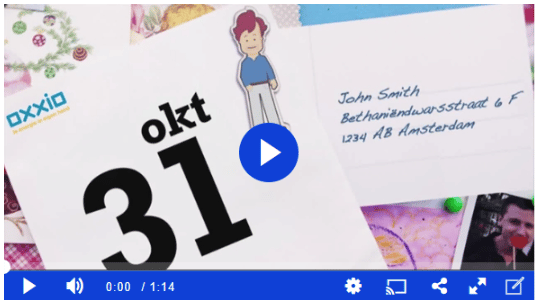 Final Thoughts
Earning the trust of customers can feel like an uphill battle. But you need to do it to create lasting relationships with them.
Video offers a great opportunity to make a big difference in how we "show instead of tell" the trustworthiness of our brand. And by following the tips discussed in this guide, you can give your brand a human face your customers can trust and become loyal to.
It might feel daunting at first, but by having all these tips in mind and taking action, you will be able to build genuine trust between your brand and clients. Boost your online video experience with VIXY and win the trust of your customers in no time!
Start streaming video with a professional video platform
Curious what your video streaming platform will look like? Feel free to request a demo! We're looking forward to discussing your project and requirements.