How live streaming can help your gym and fitness business survive and thrive in times of social distancing
The coronavirus pandemic has left many businesses operating on life support. If your gym or fitness business depends on members being at your physical location, chances are your business is taking a hit too.
It's hardly surprising. After all, who in their right minds would visit the gym for a calorie-crushing workout during these trying times?
Right now, safety is everyone'sthe number one priority. But you can't help asking: Will I have a business to go back to once this global health crisis is over?
As your members drop off one by one, you wonder if you'll be able to pay your rent and utilities in the next few months. The hardest part is not being able to pay your fitness trainers and employees—all hardworking people who now find themselves without a paycheck.
What can you do to keep your business alive?
The solution: Take your gym sessions and fitness classes online.
How At-Home Workout Videos Are Keeping the Fitness Industry Fit
If you haven't offered remote at-home workouts before, now is an excellent time to do it. Heck, it was a great idea even before the COVID-19 pandemic hit. In fact, online fitness classes are one of the main reasons why the fitness industry has boomed over the last several years.
With that said, the fitness industry also suffered economic setbacks as fitness and health clubs were forced to close up shop due to the coronavirus outbreak. Case in point: one of our clients, Basic-Fit, the largest fitness chain in Europe, closed all 828 of their gyms as social distancing measures were enforced in their part of the world.
But there's a silver lining in all of this. As it turns out, people are finding new and creative ways to stay fit while staying mostly indoors. As such, gym establishments and fitness clubs saw an opportunity to keep engaging their members and even grow their audience: live-streaming and on-demand fitness classes.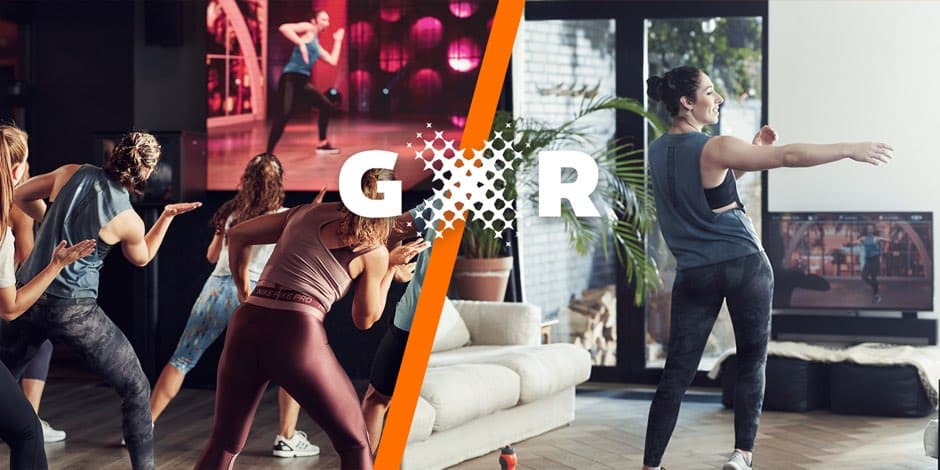 Basic-Fit's GXR: Live and on demand fitness classes
Because why not?
"If people can't go to the gym, they might as well bring the gym to the people!"
Many fitness companies—especially those who already had a digital platform in place before the outbreak—have benefited from the digital push by varying degrees. Fitness company Beachbody for instance, generated a 200% growth in subscribers since they took their workouts online. Fitness bike maker Peloton also saw its stocks increase to 37% since they beefed up their digital platform in response to the outbreak. Daily Burn, a virtual workout provider, saw a 268% year-over-year increase in membership signups in mid-March. Last but not least, our client Basic-Fit saw their streaming numbers soar in the period from March to April 2020 — all thanks to a company decision to launch a mobile app that comes with live and on-demand videos and guided audio training sessions back in 2018. Thanks to that digital push, the fitness chain is able to keep their business afloat and help their 2.3 million members stay fit amid the coronavirus outbreak.
These results are a clear sign that fitness brands can adapt and find new profitable revenue models in difficult times. After all, humans are social creatures, and live streaming and "follow along" video content allow them to satisfy their need for social interaction.
Live-Stream Workout Classes: Why You Need to Get On Board the Hype Train
If you're not fully equipped yet for live-streaming and VOD (video-on-demand) services, you may find yourself at a disadvantage. After all, overhead costs like rent, payroll, and utilities may leave you little in terms of financial resources. You want to be careful where you're spending your money if you want to maintain your business's daily upkeep.
Chances are the idea of offering virtual fitness classes has already crossed your mind, and you need to know the reasons why it will be a smart investment and a good decision on your part, considering the circumstances.
Five reasons why sports & health brands should start their own streaming service:
It provides a perfect opportunity to reach new online audiences.
It helps you keep your customers and build brand loyalty.
It gives you a bunch of data to help you better engage with your audience.
It provides you the opportunity to help out.
It gives you an additional source of revenue.
Let's go over them one by one.
1. Provides an opportunity to reach new audiences
People have their own way of coping with stress and anxiety, but a good percentage of them will want to resort to physical exercise. However, some of them won't know the difference between a back squat and a deadlift. Or maybe they do, but are not exactly sure if they're doing them correctly. Some already know the basics, but crave the structure and the sense of accountability and community a fitness class provides.
With gyms and fitness clubs currently closed up for the foreseeable future, people are more likely to search online and see what options are available to them.
This is where you come in.
As a fitness expert and provider, you are in a unique position to offer them what they need: your guidance and expertise. Offer them fitness classes online and they will likely jump at the opportunity. That means new audiences for you. And if these workouts are high quality, it's very likely that they'll come back for more, either online or—once the pandemic is over—in-person, or both.
Better yet, they might share the experience with their peers via social media or in-person (from 6 feet away, of course), resulting in more (potential) clientele.
2. Helps you keep your customers and build brand loyalty
Your members signed up for a membership for one thing only: to stay fit by attending your fitness classes and workout sessions in person. But with social distancing measures in place, they might think they have no good reason to keep their membership. Some of them might already be asking you for a refund.
Do you want your business to survive throughout this pandemic? Give them a good reason to keep their membership! And what better way to do that than by offering them online classes and workouts, either through live remote training sessions, on-demand videos, guided audio training classes, or even healthy cooking videos?This way, not only can you deliver the services they've paid for, but you can also help them cope with the coronavirus outbreak, become part of a social online community, and ultimately stay fit!
3. Gives you a bunch of data to help you better engage with your audience
Before you can take your fitness classes and workouts online, you need a video hosting service. Now here's a cool thing about video hosting services (the good ones, at least): they not only help you upload or live stream your training and workout videos, but they also give you a ton of data that will help you better engage and connect with your audience.
These data are gathered from two sources: user analytics and video analytics. If user analytics give you data at the user level (number of videos watched, number of views, average viewing time, etc.), video analytics give you data at the video level (number of unique viewers, average viewing duration, conversion ratio, etc.).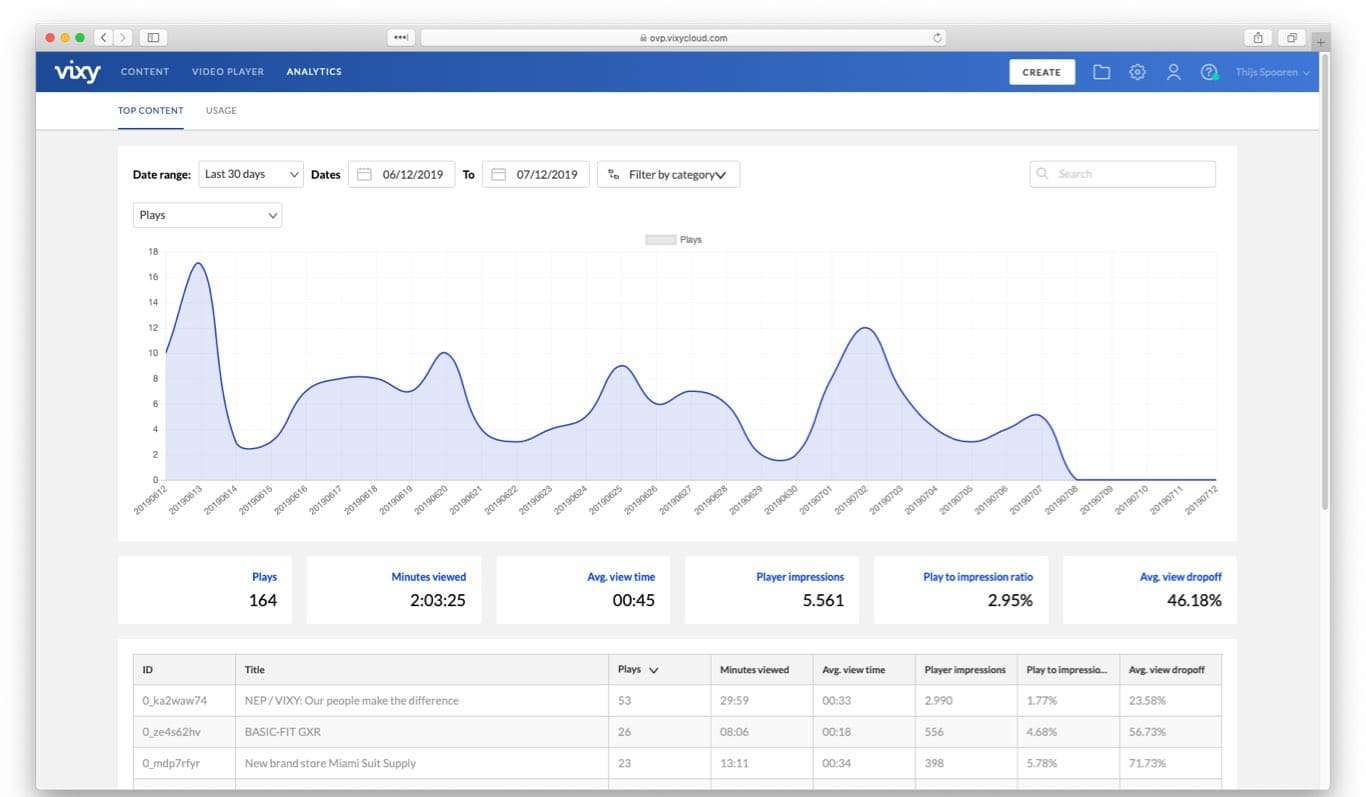 How do you know which sports programs or workouts are the most popular among your audience? You look at the video analytics data. Want to know how many times a particular user from Amsterdam has watched your 30-minute Yoga video? All you need to do is look at the user analytics data. And so on.
Remember, both types of data have equal value in terms of helping you understand your audience. They, after all, give you valuable insights as to what works and what doesn't. With all that data at your disposal, you're in a much better position to make smarter and more impactful decisions in your fitness video campaign!
4. Provides you the opportunity to help out
As a fitness establishment, you have a platform that can help make people's lives better and easier during this chaotic time.
For one thing, you're not just keeping people in shape, you're also helping to keep the coronavirus strain at bay. After all, regular exercise can boost our immune system, helping us stave off pathogens. Moreover, by keeping people physically active, you're offering them a healthy and effective way to manage stress and anxiety. And the way things are now, a dose of calm is exactly what the doctor ordered.
5. Gives you an additional source of revenue
You don't need to be familiar with Netflix to know that Video on Demand (VOD) is all the rage. By offering your members another way to engage with your services, you're not just getting an additional source of revenue, you're also driving traffic and awareness for your brand. Granted, there's an adoption curve involved, but with some consistent effort, your investment will translate to big wins in the long run.
Next steps: Strategy and Roadmap
So now you know how this trend has started, how it can be an essential aspect in surviving this pandemic as a gym or fitness business, and how live streaming can add value to the customers of sports and health brands.
Ready for the next steps? In our next blog, we discuss a few strategies to win over your streaming audience. To make it more practical and approachable, we have created a roadmap on how to set up your fitness class live streaming service. Read the blog here to discover these strategies and the roadmap!