Live streaming for gym and fitness businesses: Strategies and Roadmap
One industry hit hard by the coronavirus pandemic is the gym and fitness industry. In the previous article, we extensively described the benefits of taking gym and fitness classes online. Have a read at the previous article first so you know the background behind live streaming for the gym and fitness businesses.
Now, it's time for the fun stuff: exploring strategies to win over your streaming audience and diving into the steps of setting up your own live-streaming and video-on-demand. What four strategies can help your business survive during these times and what are the minimum technical requirements for taking your classes online? Dive right in!
Four Strategies To Win Over Your Streaming Audience
Are you ready to give your fitness platform the digital push needed to stave off your coronavirus-induced business slump?
You need to make a few adjustments to make this work. After all, things are different now, and different times call for different measures.
To this end, here are essential strategies that will help your business survive, and even thrive, during these tough times.
1. Reduce costs
The coronavirus pandemic has triggered a massive amount of layoffs and furloughs around the world. As a result, most people don't have the financial resources to pay standard rates for, well, anything. This is a problem. Why? Because the moment you stop engaging your members and potential customers is the moment you sound the death knell of your business.
To keep your business afloat, you need to offer them remote workout sessions and make them financially acceptable to your audience. By cutting the costs of your services and offering incentives, you can reinforce your business's bottom line despite the economic downturn.
The key is to be generous with your offerings while maintaining positive cash flow through it all. One way to do this is to offer free trials to go along with your live-streaming and/or on-demand video services. The House of Yoga, for instance, gave everyone access to their collection of remote classes every week while offering unlimited access to their entire collection for €35,-
instead of €70,-.
Peloton also offered a generous 90-day trial while offering several paid packages via its digital platform at the same time.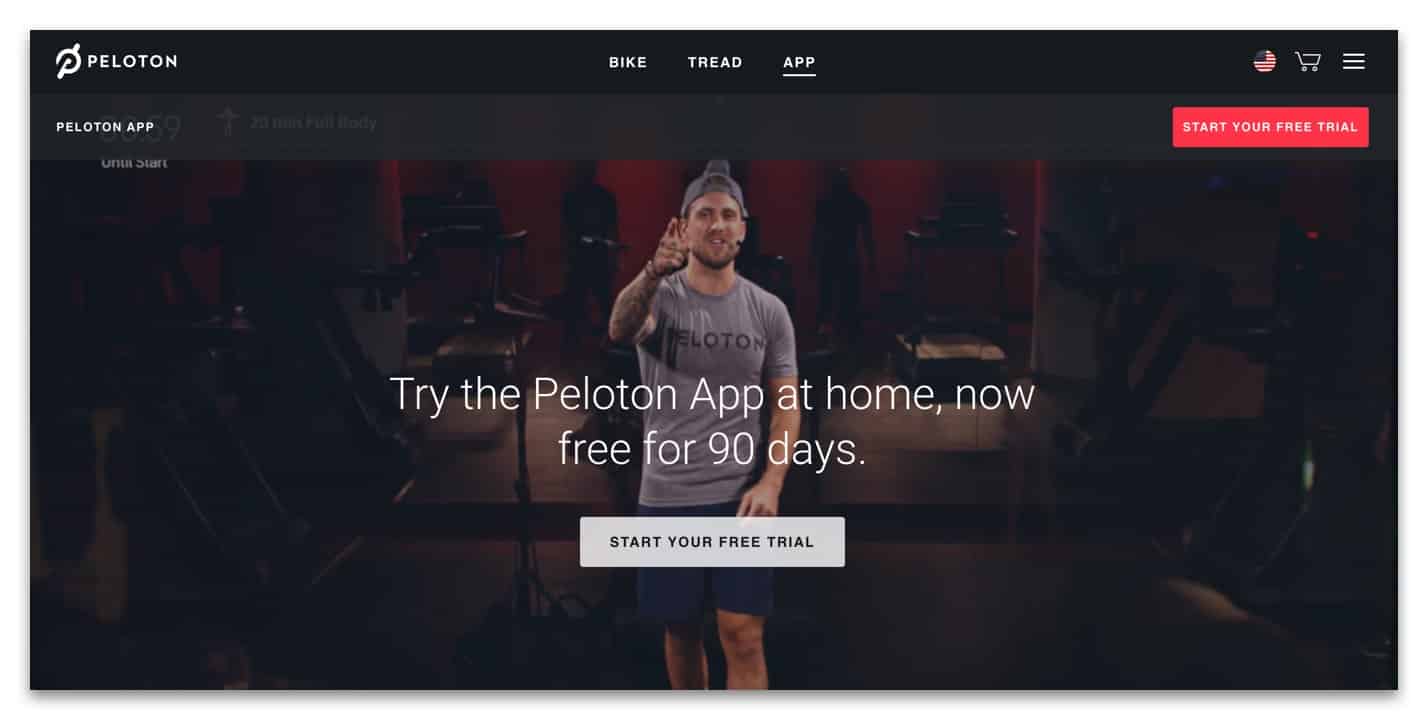 2. Create challenges
Everyone is dealing with a myriad of life disruptions these days, and it can be difficult for you to keep everyone engaged and motivated as a result.
One method that has proven to be effective here is gamification. It's an innovative methodology that uses typical game-world elements in business contexts for stimulating user's involvement and personal growth. In other words, it helps you keep them motivated. Which makes sense, considering your main goal here is to keep your audience engaged and interested.
To keep them focused, the "game" needs a structure (use points, badges, charts, and leaderboards) so participants know where they stand in terms of the game's challenges, outcomes, and goals. And this is important: create small "achievable" challenges. This way, they can keep their mind focused on the milestone ahead of them and not feel discouraged.
Setting milestones or challenges gives your audience a sense of achievement, however small, that will help keep them going. Giving them a specific goal to accomplish will not only give them a much-needed distraction from their real-life worries, but it will also help motivate other participants.
Going the virtual route may pose challenges for participants who want to keep track of their milestones and achievements. Thankfully, trainer apps like Trainerize and Funxtion feature milestone badges that will help them do just that!
3. Give them some words of motivation
A little "pep talk" can go a long way in helping your audience cope with the coronavirus pandemic. Before starting every session, take the time to connect with your audience. Right now, some people are feeling isolated and anxious, not to mention bored. Ask them how they are doing. Provide them with some good advice and some words of encouragement. Always listen and empathize with them. Trust me. It will make them feel better and more primed to do their squats, push-ups, and crunches. Better yet, they will be more likely to come back for another session since you took the time to connect with them on a personal level.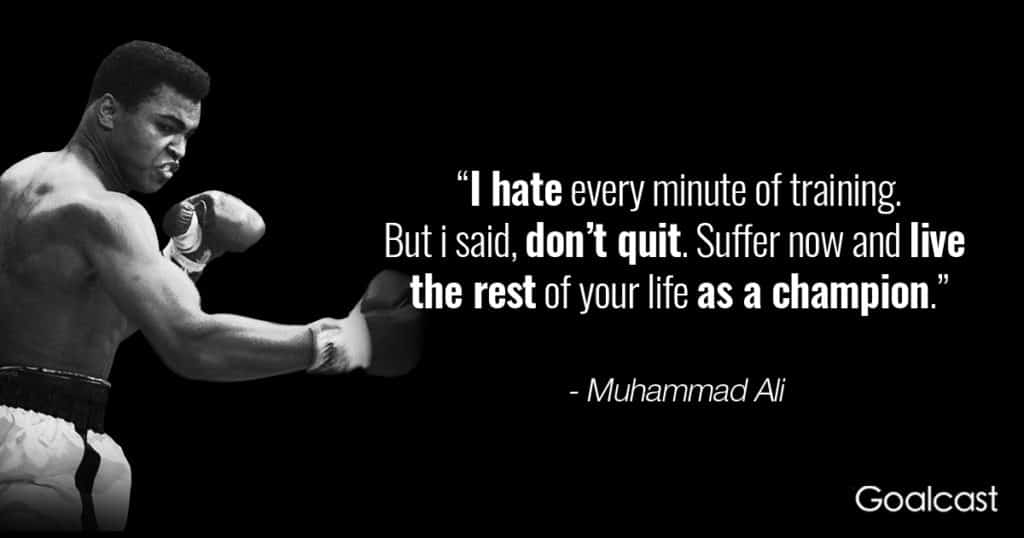 4. Give them no-equipment exercises
Due to the restrictions caused by the outbreak, people have limited access to gym equipment and can't go outside for a run. As a fitness provider, you can provide them with what they need to stay active: quality exercises they can do at home, even with no equipment.
Florida-based fitness franchise Orangetheory Fitness, for instance, has been posting 30-minute daily workouts on their site for free. No equipment needed!
Without access to an exercise ball, an indoor bike, or a foam roller, some of your customers will be at a loss on how to keep themselves fit. So it's your job to remind them that there's such a thing as such as crunches, push-ups, wall sits, burpees, and wall sits.
"Your body does not need weights to change; it requires resistance,"Born Fitness head coach BJ Ward says in an interview with Consumer Reports. "When machines, dumbbells, and barbells are not available (or you're avoiding public places), your body weight can be used to create an amazingly effective workout."
Besides, many gym equipment alternatives can be found in any regular home. Why use a step machine when you can use the stairs? No dumbbell set? Two milk jugs filled to the brim will do. Need a medicine ball? Ask your 7-year-old if he has a basketball or a soccer ball lying around the house.
[Source: Facebook, Blink Fitness]
How to Set up Your Fitness Class Streaming Service in 5 steps
Let's get to the fun stuff. So, what do you need to do to set up your own live-streaming and video-on-demand fitness classes? What are the minimum technical requirements? Dive right in.
1. Create a landing page
In marketing speak, a landing page is a page on your website that's designed to convert visitors into leads or customers. For your landing page to be effective, make sure that the web copy speaks directly to your audience's needs and that it touches on how your live-streaming and/or VOD training classes will address those needs.
Some information on the measures your business is taking in response to the coronavirus crisis will go down nicely as well. More importantly, your landing page needs to be clear on what your visitors need to do to access your at-home fitness classes.
When creating a landing page, make sure to include the following:
Who are you? What does your brand stand for?
What do you do? What is your brand mission?
The reason why you're conducting online workout sessions
Indicate how much you're charging.
And this is important: make sure that your landing page comes with a lead capture form where willing participants can enter their information and their email address. This way you can continue to provide them with email updates about your upcoming workout sessions and other offerings you may have.
2. Choose your revenue model
How would you like to charge customers for them to gain access to your remote workout sessions? There are different revenue models to choose from, which are:
Transactional Video on Demand. Also called "pay-per-stream," this revenue model is set up so that you can charge customers a fee for each stream.
Subscription Video on Demand. Customers pay a weekly/monthly/annual fee to gain access to all your streams. Make sure you set it up in a way where members who have already paid before the pandemic hit can get free access.
Ad-Supported Video on Demand. You can give users free access to all your workout videos while earning revenue from Ad-publishers.
Donation-based. This was briefly touched on earlier. Check out this guide by Punchpass for more information.
3. Set up the platforms and equipment you need to stream video content
There are many ways to publish live streams and on-demand video content.
In fact, anyone who has a smartphone and an internet connection can start one thanks to Facebook Live, Instagram Live, Periscope, and many other video platform services out there.
You also have the option to build a fitness studio to give your virtual classes a more professional experience and atmosphere. The problem is setting up and maintaining one will probably require you to hire people, which, as you already know, is not a viable option at this time. Asking your trainers to go to your studio to provide virtual classes will only put them at risk. Want a cautionary tale? Peloton, who used to record its live-streaming classes in its New York and London studios, canceled its live classes when one of their employees tested positive for coronavirus in early April.
You don't have to cancel your live classes, however. Why do that when your individual trainers can record live streaming sessions in their respective homes (or personal studios)? That's exactly what Basic-Fit did.
You don't need to buy expensive equipment to publish live streaming and on-demand video content. That said, you need to meet some minimum requirements for your remote at-home sessions to run smoothly.
You'll need the following:
High-quality video camera (minimum of 5 megapixels)
– Your smartphone
– Computer or laptop built-in webcam
– An external webcam to connect to your computer (preferably including a capture card)
– DSLR camera with an HDMI output
High-quality microphone
Lighting equipment
A tripod (or the alternative)
A video encoder (this is a hardware or software device that converts your video into a digital format to enable streaming)
Stable internet connection (at least 5 Mbps so that the stream doesn't buffer, drop off, or become intermittent
4. Choose an online video platform
Next, you need an online video platform that will host and publish your videos. This platform could be an app, site or software that serves as the streaming destination that allows your videos to be available to customers.
There are many free popular online video platforms you can use, including Facebook Live, YouTube, Periscope, Instagram Live, and more.
Using a free video platform like YouTube has many disadvantages, however. If you want your fitness videos to serve your business and customers better, you're better off using a dedicated (or private) online video platform like VIXY Video. And when we say "dedicated," we mean dedicated with a capital "D."
Here are some of the things a dedicated video platform can do for your business:
Allows you to provide immersive and branded experiences. A dedicated or private video platform gives you better control over where and how your live stream and on-demand videos are presented. No pop-ups, no ads, and no competing streams that might potentially distract your audience and cause them to go somewhere else. Your video player is also customized to reflect your brand identity, resulting in immersive workout videos that will turn your viewers into raving fans (and make them spread the word).
Get to know your audience better. Unlike free video platforms, a good private video platform comes with a monitoring and analytics feature, giving you access to viewer numbers, behaviors and engagement statistics, among many others. These data will prove invaluable to your VOD platform because they provide you with key insights that will help you create video content that will resonate with your target audience.
Helps drive more revenue. If you provide your audience with a great workout experience, they will be excited to hear about your other offers. As such, you need a platform that allows you to present relevant offers within your videos, whether it's an in-video ad, a CTA button, or a pay-per-view. In other words, a private video platform makes your offers intrinsic to your videos, making them stand out and high-converting.
Gives you complete control of your media library. When you upload your videos on YouTube, you're giving up some of your exclusive rights to the popular social video platform. By using a dedicated online video platform like VIXY Video, your video content remains your business asset, and you can ensure that your videos won't be used in a way that will compromise your business and branding efforts.
5. Spread the word
Are you all set up? Excellent! Time to spread the word about your newly-launched live-streaming and on-demand workout classes.
To get the best possible turnout, use all available channels, including:
Email marketing
Social media
Your website
Community forums
Text messages
Tell them in person
Oh, and a dose of video marketing shouldn't hurt if you want big, big gains over time.
Once your customers have been alerted, it's time for you to go live and give them a workout they will never forget.
Conclusion
As a fitness provider, you're not only enhancing people's lives by giving them a top-notch fitness experience, but you're also instilling in them a sense of community—and perhaps even family—that they will carry with them throughout their lives. But as it stands at the moment, the coronavirus pandemic is keeping you from fulfilling your brand purpose.
But then again, you can't let that stop you. Times are hard, but you're too fit to quit. You have a job to do, so turn on that camera and start beasting it up! People are watching.