Sell videos online with subscription video-on-demand (SVOD)
View product
VIXY makes professional video management accessible for your organization. You can count on reliable video hosting and ultra fast video playback worldwide with VIXY.
Easily determine where and when your video can be watched, enrich your video player with interactions, generate leads to your site and link your video player with the ad network of your choice.
So what is SVOD?
Video on Demand (VoD) enables consumers to watch videos, films, TV-series and TV-broadcasts whenever they want. It allows them to access videos at their own leisure, from any device. SVOD stands for Subscription Video on Demand. It means that a user can watch an entire library of videos for a small recurring fee. This may be charged daily, weekly, monthly or annually.
Subscription video on demand is probably the most commonly used video monetization strategy across the world. The best known examples of SVOD services are Netflix, Hulu and Amazone Prime. Soon also a Disney streaming service will launch. With Netflix you have unlimited access to series and films starting from €7,99 per month.
SVOD services are projected to become more and more popular as time goes on. For example, in the UK the amount of  SVOD subscribers topped pay-TV subscribers. Studies suggest that the European SVoD market is set to double by 2022, expected to reach $6.8 billion in profit in 2022, a significant increase from $3.9 billion in 2017. In The Netherlands there are also has several streaming providers such as Videoland On Demand or NPO plus. Both SVOD platforms are hosted and streamed from the same infrastructure as VIXY in Hilversum.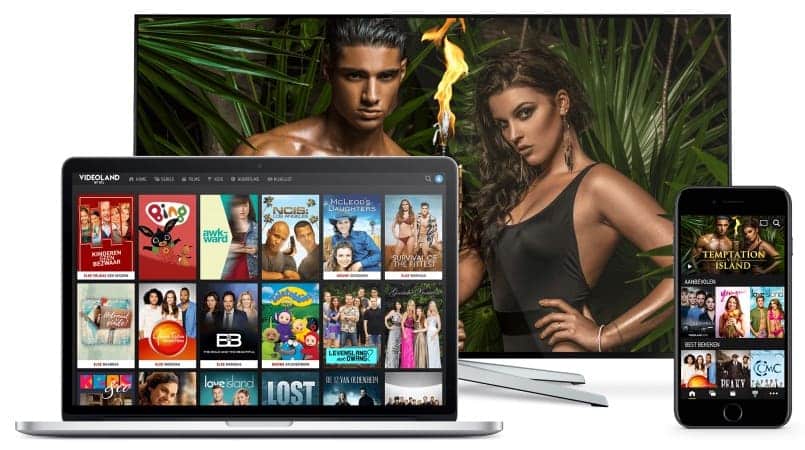 How to launch your own Netflix-like video streaming service
Building SVOD sites like Netflix is a lot of work. For that you require a massive amount of resources, both equipment wise as well as technical manpower. VIXY therefore created a solution that enables you to launch your own on demand video platform more cost effectively.
The video on demand platform VIXY created is completely white label and customizable to your corporate identity, with your logo and color scheme. This way, you can offer the viewer a unique and consistent SVOD viewing experience on every device. It brings the technique of generating income with your video content within reach.
Is launching a SVOD service only for the big players?
VIXY works for listed companies such as Basic-Fit. On Basic-Fits' video platform over 1.3 million members can stream virtual group lessons and over 200 videos of fitness exercises. But do you have to be a million dollar company to start your own service? If you want to start as a SVOD provider, rather than looking to add as much content as you possibly can to your service, try to focus on key markets instead, delivering the kind of content that will strike a chord with your audience.
We strongly believe that when you are in the right niche, SVOD can be a sustainable business model for a great variety of services, also for smaller business. For example our clients Ekhart Yoga and The House of Yoga both targeting yoga minded people, are very successful within their own specific segment.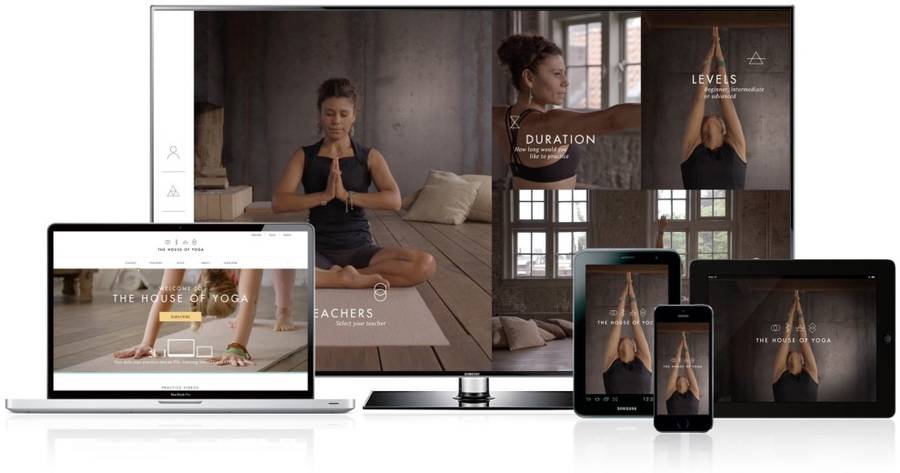 What SVOD pricing strategy should I choose?
As a content owner you want to generate income by selling subscriptions. So how to price and position your SVOD offering? What pricing strategy do you use to bring your video content to your users?
Basic research is always a good starting point! Check out the price of subscription video services similar to yours, and take into consideration your audience's willingness to pay. This can be done by studying the market and by asking your audience through surveys and direct contact.
The more niche the content, the higher the price an audience will pay. Generally we've seen niche episodic content priced between $5 – $7 per month, fitness and instructional content at $10 – $15 per month, and educational content even higher. VIXY provides you with the tools to experiment with multiple pricing strategies. It even allows you to combine your subscription strategy with pay-per-view (TVOD).
TVOD and AVOD (advertising) business models
TVOD, or transactional video on demand as it is known, is the opposite to subscription video. With TVOD, consumers purchase content on a pay per view basis. It is a proposition that can also be combined with SVOD. Learn from our client Dalton Distribution, a film distributor, how to run a successful TVOD and SVOD business.
AVOD refers to advertising, or ad based video on demand, and is free to consumers. AVOD is typically employed by traditional channels, and as these move into online catch up TV, it's likely we will see more of these in the future. However, premium content owners rarely use AVOD as it generates lower amounts of revenue than SVOD and TVOD.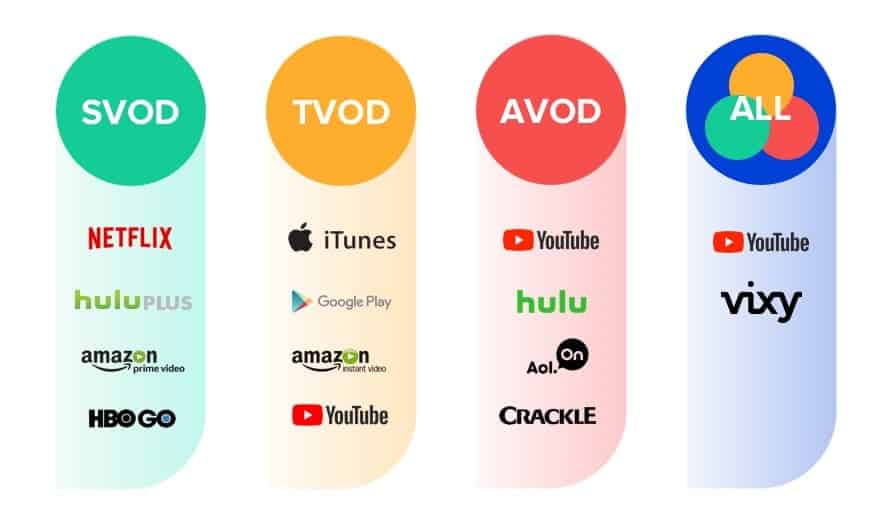 Take away any payment thresholds, support local payment methods
In The Netherlands, iDeal is most used and trusted to pay with online. To take away the biggest threshold for someone to subscribe to your service, make sure you can offer the locally preferred payment methods. Online payments on the VIXY solution are therefore processed and registered completely via the payment provider Adyen.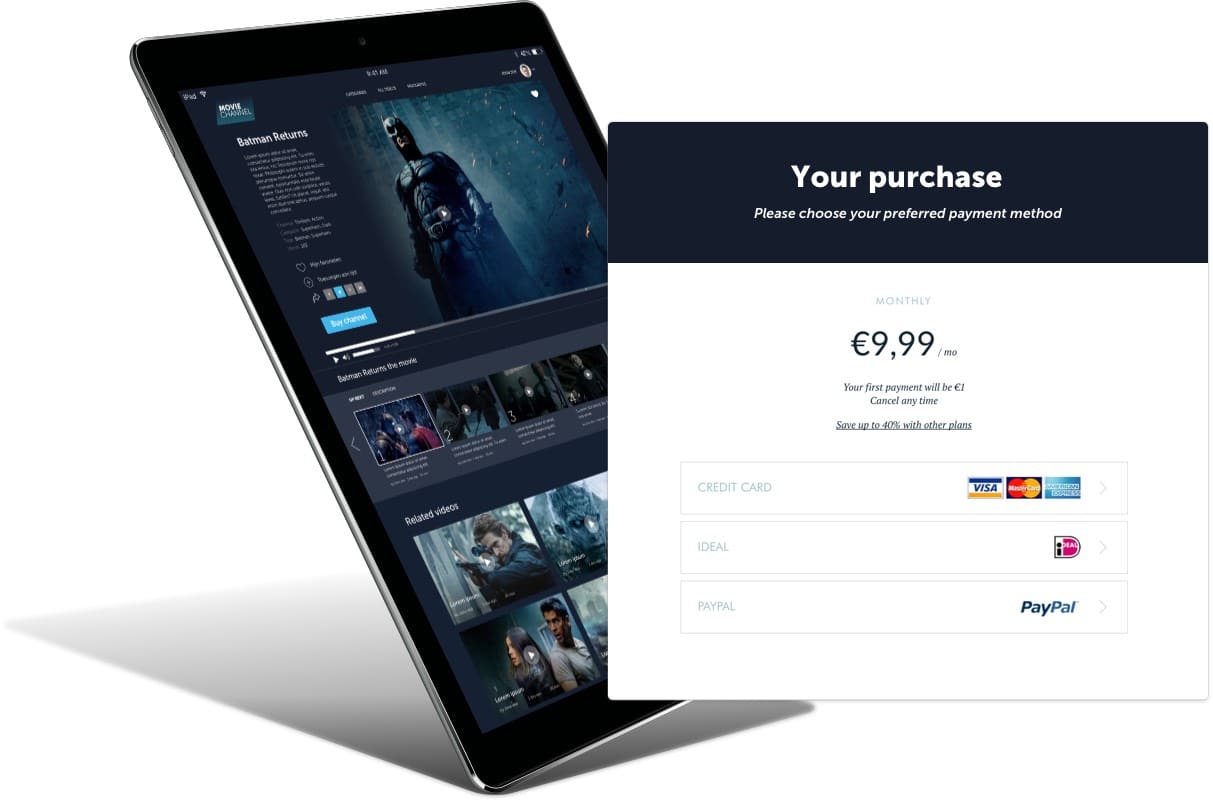 Analyze and improve your SVOD service and pricing
For many businesses, the goal is creating recurring revenue. Without income, you continually need to bring in new business. A subscription/membership model generates revenue over the long run. Cost-effectively, it's far more valuable to keep an existing customer than to attract a new one. By helping to reduce interruptions and increase engagement, VIXY's analytics provides SVOD publishers with the clearest path to greater subscriber satisfaction and retention.
For every on-demand stream, there are millions of complex factors – like variable bitrate and resolution encoding, multi-path delivery over different core backbone networks and a wide variety of video viewing devices types – working against its ability to be delivered smoothly to its intended target. Advanced analytics help you to monitor the quality of service at all time. Quality of experience and engagement are key to subscriber satisfaction & retention.
Investments show that major SVOD providers have to focus on reducing subscriber churn, pleasing niche audiences and boost subscriptions. So increase your insight on the number of registered users, the number of subscribers and for which videos these users have purchased products and/or services. Filter by completed payments and categorize users by demographic data such as age, membership type and country.
When subscriber growth is rapid, and churn is under control, a subscription price increase may well be justified, and needed, to ensure continued growth and ongoing UX and service development.
Contact us
Please contact one of our online video experts. We'd be happy to give you personal advice about how you can get the most out of your video content.