Vimeo OTT Review: Pricing, Pros & Cons and Alternative Solutions
If you're using video to grow an audience and increase sales, chances are you're considering using Vimeo OTT as the platform to distribute your content.
And why not? Since its founding in 2004, Vimeo OTT has become a popular platform for creators and businesses looking to monetize their videos online without relying on third-party platforms.
However, as an organization with unique needs and challenges, you may still be wondering whether Vimeo OTT is the right platform for your business.
Does it have the custom integrations you need to streamline your video workflows? Is it secure enough? Does it offer the monetization tools you need to make your content profitable? The list goes on.
So in this piece, we take a look at Vimeo OTT and its best features to help you answer these questions. We'll also discuss some of the drawbacks of using Vimeo OTT and see if another platform may be better suited for your needs.
Vimeo OTT 101
Vimeo over-the-top (OTT) is a paid end-to-end solution that lets you launch a subscription service and channel. Want to serve video content specifically for your subscribers and get the tools you need to manage, promote, and monetize it? Vimeo OTT has it. And more.
You can customize your channel with your own branding, add new content on a regular basis, and get access to analytics tools to help you measure subscriber growth over time.
Here's a list of what you can do with Vimeo OTT:
Capture and share videos from one dashboard
Stream live events
Create your own streaming app
Make your own website for hosting video content.
Upload, host, and manage videos
Monetize your videos
Use built-in templates for creating videos
Discover and watch videos.
Track subscriber growth and churn over time
Host and manage your video library from a single place
Vimeo OTT Pricing
How much does Vimeo OTT cost? The video service offers the following pricing plans:
Starter. $1 for each subscriber per month (or create a one-time purchase or rental product)
Enterprise. Custom pricing model.
(It bears noting that while the Starter plan doesn't have a monthly fee, processing fees and taxes may apply. To get a full breakdown of fees, we suggest that you visit this page.)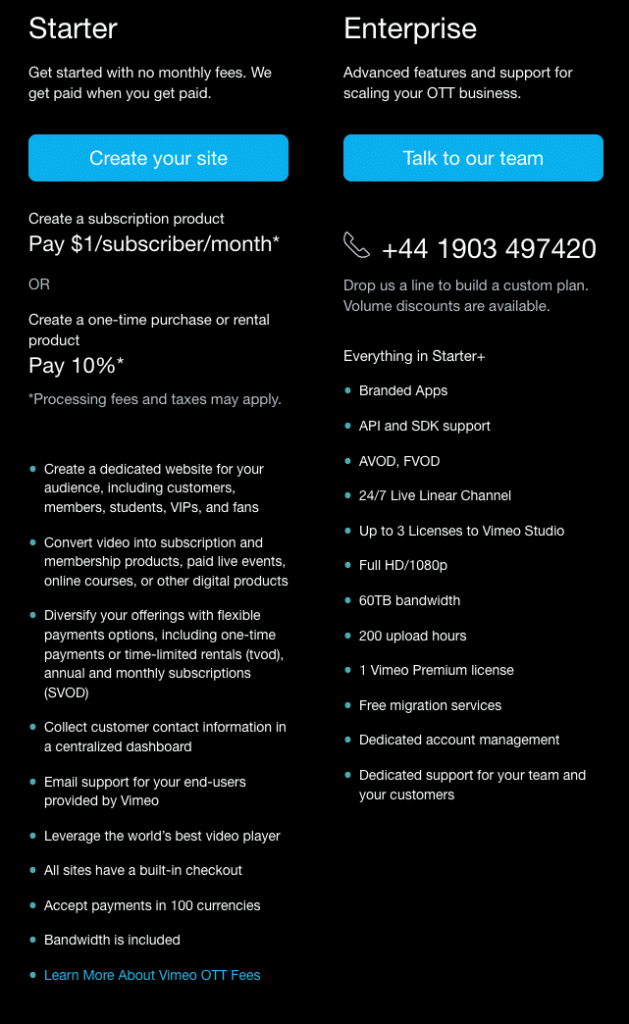 The Starter plan offers access to web-only apps, allowing you to create a dedicated website for your audience. You can monetize your content using two models: pay-per-view (TVOD) and subscription (SVOD).
The Enterprise plan includes all the features of the Starter plan. In addition, you get branded apps, API and SDK support, a 60T bandwidth, plus AVOD and FVOD as monetization options, among many others.
Vimeo OTT: The Pros
Why should you sign up for Vimeo OTT?
Here are some of the advantages of using Vimeo's OTT solution:
Easily distribute your video content across devices and apps, including iOS, Android, Apple TV, or Roku.
Upload video content easily using any device and from any cloud storage service, including Google Drive, Dropbox, and OneDrive.
Customize the video player so it reflects your company's branding.
Stream live events such as webinars, product launches, or video conferences.
Get insights into your audience's preferences via the platform's video analytics dashboard (the stats you get access to depend on your plan level)
Easily track, organize and analyze content from a single interface.
Monetize your video content using multiple monetization models (SVOD, TVOD, AVOD, and PVOD)
Vimeo OTT: The Cons
If you're wondering if there are good reasons not to go with Vimeo OTT, here's a list of the video platform's disadvantages:
Customer service could use some improvement — lots of canned responses.
Uploading can be slow at times.
Video buffering is an issue for some users (based on comments we heard from some potential clients).
Customization options are lacking — you have to use Vimeo's templates for your player, which may not fit your brand and needs.
Their analytics are limited and do not provide a full picture of your audience's engagement.
Could use more Livestream features (especially on the client side).
Overall, Vimeo OTT, particularly the Starter plan, is a great option for those who want a simple, easy-to-use platform with low monthly costs.
However, if you need more robust features and customization options, and want an OTT solution that grows with you and your business, then you may be better off with a different provider.
Which brings us to VIXY Video.
What is VIXY Video?
VIXY Video is a video software company based in Amsterdam, The Netherlands. Since its founding in 2010, VIXY has given video content owners and publishers the tools to professionally manage, publish, and analyze video.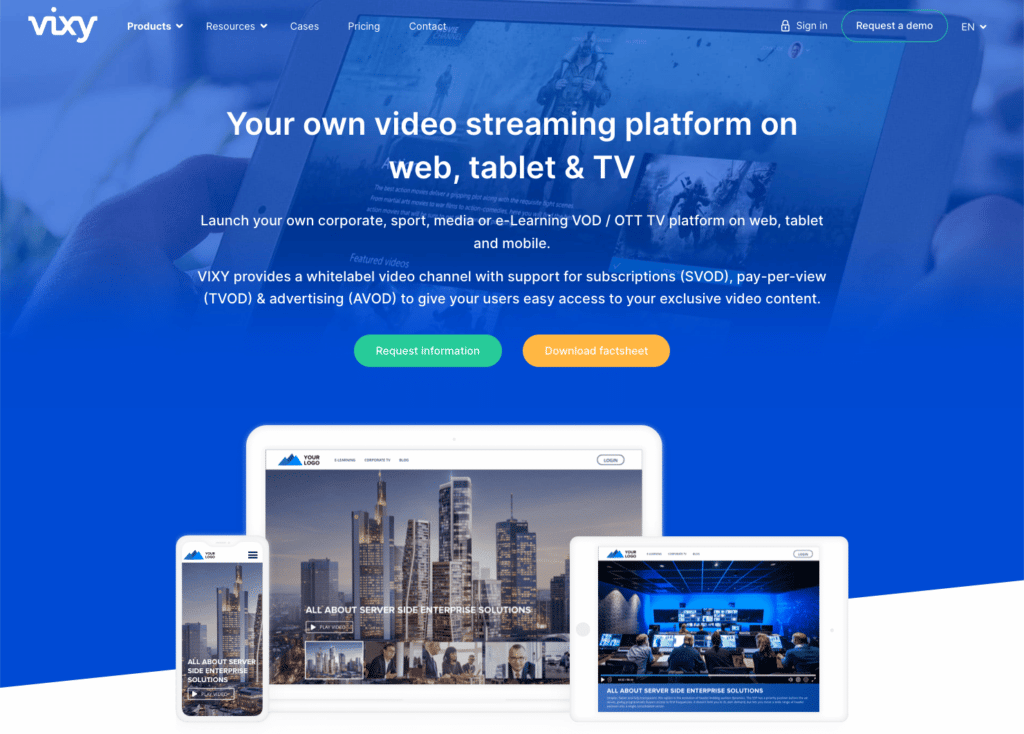 Thanks to VIXY's premium infrastructure, which is hosted at NEP in the Netherlands, the video company is capable of uploading, processing, and distributing large amounts of videos.VIXY's clients include Ekhartyoga.com, Basic-Fit, Concertgebouworkest, NCOI, OHRA, and ING Bank. With the company's all-in-one video platform, VIXY gives video content producers, e-learning companies, film distributors, and media production houses the end-to-end solution they need to launch their VOD/OTT TV service and take it to the next level.
Here's a list of what you can do with VIXY Video:
Video management. Manage and organize your video library using a central media library.
Reliable video hosting. Make your video will be accessible to viewers, regardless of what device they use.
Fast streaming. Enjoy fast and reliable streaming thanks to VIXY Video's advanced content delivery network.User analytics. Get deep insights into the viewing behavior of
your users.
Ultra-fast HTML5 video player. With rapid player rendering, you're guaranteed to deliver fluid viewing experiences.
Fully white-label service. Create video players with a design and functionality that are perfectly suited to your needs.
Flexible monetization options. Choose from a variety of monetization options, including ad-based (AVOD) and subscription-based (SVOD) models and pay-per-view (TVOD).
Live streaming platform for broadcasting and selling live events. Set up secure live events and generate revenue by selling tickets.
Advanced analytics. Get the insights you need to improve your video marketing strategy and create better content.
Video API Integrations. Get access to hundreds of video API services to easily integrate all your video processes into your OTT app
Video transcription and subtitles. Generate transcripts and subtitles for your videos in a few minutes.
Interactive Player Studio. Create interactive videos with a simple click-and-drag interface.
VIXY Video On Demand / OTT TV Pricing
Starter. €995 per month.
Enterprise. Custom pricing model
With VIXY Video's OTT starter plan, you can fully customize your video experience and create your own branded video player. You get to choose from a variety of monetization models to fit your business needs, from subscriptions (SVOD) to pay-per-view (TVOD) to ads (AVOD).
VIXY Video's Enterprise plan offers custom pricing that is tailored for any business, large or small. Whatever requirements your business needs to deliver high-quality branded video experiences, VIXY Video has a custom solution that will fit your needs.
VIXY Video: The Pros
Manage and publish video content with ease on any device using a single media library and the tool's sleek drag-and-drop functionality.
Cater to different viewing preferences by creating subchannels, series, and playlists.
Enjoy lightning-fast uploads, processing, and distribution even when dealing with large quantities of videos.
VIXY API opens up hundreds of integration opportunities, reducing time to market and cost-of-ownership
Whitelabel HTML5 video player lets you create your own branded video channel, allowing you to deliver unique and memorable experiences.
Add interactive elements to create interactive and personalized videos that keep your audience glued to their screens
Offers flexibility on how to monetize your video content, from subscriptions (SVOD) and individual purchases to rentals and pay-per-view (TVOD) to ads.
Gain deep insights into user preferences by accessing stats and analytics at the user level.
Enjoy reliable, responsive customer support — with SLAs in place, VIXY's support team is on top of everything.
Get support from a dedicated account manager that helps you grow.
VIXY Video: The Cons
Pricing for startup plan may be restrictive for some small businesses and creators.
Final word
Vimeo is a great platform for those starting out. It's affordable, easy to set up, and provides you with the tools you need to grow your own OTT streaming platform.
However, if you're looking for an OTT solution that gives you more flexibility and control, and that scales along with your business, then Vimeo may not be right for you. And with user penetration of OTT video expected to hit 53.0% by 2027, picking the right OTT solution is crucial to get a big piece of the pie. If you want an OTT platform that offers Vimeo"s best features but is more versatile, secure, and packed with engagement-boosting tools—and more importantly, one that can support your business as it grows — then you're better off with VIXY Video.
Looking for a Vimeo OTT alternative to help you launch your own OTT platform and get more out of your video content? Our dedicated, experienced staff will be happy to help you get started.
Launch your own OTT TV Platform
Curious what your video streaming platform will look like? Feel free to request a demo! We're looking forward to discussing your project and requirements.