VIXY video platform release 9.0
View product
VIXY makes professional video management accessible for your organization. You can count on reliable video hosting and ultra fast video playback worldwide with VIXY.
Easily determine where and when your video can be watched, enrich your video player with interactions, generate leads to your site and link your video player with the ad network of your choice.
Kaltura Core Update
In this new release, many new great features have been added to the video management system. The main Kaltura Core update we have implemented so far is the basis for this update. From now on, for example, it is possible to show related videos in the video player, in a more clear overview and to design your own HTML5 player in our Universal Player studio.
Responsive HTML5 player with better performance
A fully responsive HTML5 video player, tested* and labeled as one of the best in terms of reliability, security and loading time. The new HTML5 player offers the fastest response time compared to video players such as YouTube, Brightcove and Blue Billywig (see table below). Users can now easily customize the video player in the Universal Player Studio and add extra elements to the video player such as buttons and a logo. With Google Analytics you can easily link the video yourself to your own website or application: this makes measuring the conversion of viewers in the video to visitors on the website possible. The video player also supports advertising via VAST 3.0, subtitles, related videos and much more.
* Test carried out by Kaltura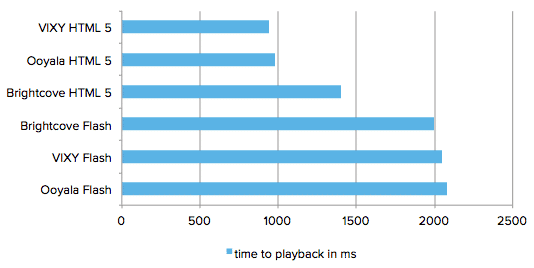 New encoding flavors ensure even better video quality and a lower bitrate
New encoding formats have been added to the VMS. Videos are now converted by our video encoding even more compactly, resulting in higher efficiency when it comes to content streaming. This means streaming with a higher quality at the same or even lower costs.
Realtime analytics for live video and extra insight on browser & device level
With the video analytics of the VIXY VMS it is now possible to filter the results down to device and internet browser. This allows you to see exactly where the highest consumption and viewing behaviour takes place, so that your video campaigns can be tuned for better performance. Live reports have also been added that provide real-time insight into the number of viewers of your webinar or webcast.
Universal Player Studio: design your own HTML5 player
Design your own HTML5 video player or HTML5 video playlist to match your corporate identity. The Universal Studio offers comprehensive tools for changing and adding components such as subtitles, aspect ratio, logos and downloading and skipping video clips.
Support for Apple HTTP streaming protocol (HLS) and dynamic streaming (HDS)
HLS (HTTP Live Streaming) is a streaming protocol originally developed by Apple, offering several benefits for live Streaming in comparison to the already existing RTMP streaming protocol. HLS works on most mobile devices and tablets, where RTMP is not always supported. In addition to the core update of Kaltura, we have taken the necessary steps to enable HLS live streaming via the VIXY Video Platform.
User entitlement
User entitlement is a fancy word for advanced user management at video display level. From now on, there are more options within our platform to grant certain rights to different users so that only part of the content is displayed for some of them. For example, this is ideal for customers and production parties who manage multiple media titles or projects and want to give users access to the in the system to upload, edit or publish videos that belong to these media titles or projects. These users will therefore only see a selection of the content from the media library.
New integrated social sharing plugin (Facebook, Twitter & LinkedIn)
VIXY is one of the few platforms that offers cross-platform interactivity in the video player, our interactions are also available as inline playable elements within the timeline of social media sites like Facebook. In-video interactions on social media are ideal for higher engagement from followers and fans with your product and/or service, and then convert them to website visitors and subscribers while watching the video.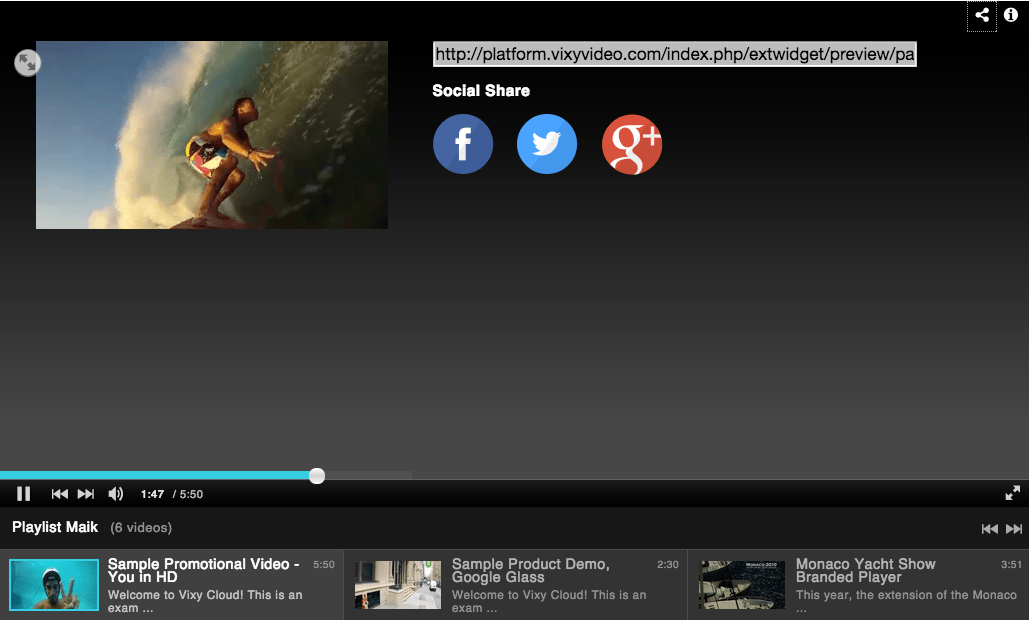 Related videos in the video player & intelligent video playlists
With VIXY it is now possible to automatically show multiple video fragments within the frame of the video player. These can also be displayed automatically afterwards. This functionality makes it easier for users to let viewers watch certain video fragments. Think about, for example, a selection of videos that belong to a series, such as a workshop, teaching package or lesson plan. Related videos can also be used to let users navigate through chapters within the video. This is very useful for service videos, where you let the user navigate through successive steps to eventually guide them to the solution to his/her problem.
A video player with related videos can easily be embedded in your website with a single embed code. If you're offering online videos for a fee, it naturally is interesting to offer a series of video clips for a fee (pay per view), this works in the same way as offering pay per view content for one single video.
Support for VAST advertising 3.0
VAST (Video Ad Serving Template) is a protocol, widely accepted throughout the advertising industry for managing and serving video advertisements. The VIXY video player now also supports VAST 3.0. This means that more data (so-called tracking events) are fed back into the ad serving network and users can skip linear advertisements. Linear advertisements are also called pre, mid and post roll advertisements.
Aside from all these additions, numerous bugs and issues have been fixed to the VMS. For example, the rendering issue in Google Chrome has been resolved and you can now create an unlimited amount of categories and filters within the platform. Finally, some changes have been made to our API and the API client libraries have been updated.
Contact us
Please contact on of our online video experts. We'd be happy to give you personal advice about how you can get the most out of your video content.